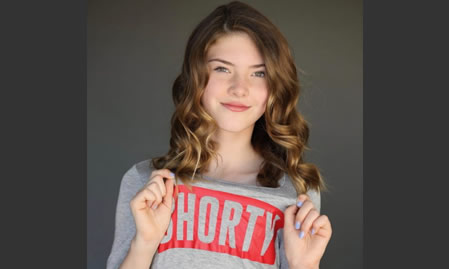 Get Shorty: Carolyn Dodd Interview
Derived from the slick '90s film and Elmore Leonard crime novel, Get Shorty is a not to be missed crime caper – Series 1 now streaming on Stan. Effervescent Carolyn Kelly Dodd is solid as Emma, otherwise known as Shorty, a kid dealing with adult situations holding her own opposite a high calibre cast including Ray Romano and Chris O'Dowd among others.
A singer and writer, talking with her, I soon knew her adoration of the acting craft equals off screen as it does on. Inspirations are Jim Carrey and Mitzi Gaynor, she 'badly' wants to visit Australia and catch up with friends the Baldwins (not those Baldwins).
A lovely conversationalist, Carolyn attempted an Aussie accent (not bad) but was unable to say if there is a Season 3. We did talk Get Shorty: Season 2 (On STAN August 12) while enthusiastically finding out her ultimate dream co-star is fellow Kentuckian, Jennifer Lawrence.
You're Emma but you're actually Shorty, the namesake of the show.
Carolyn Dodd – I didn't know I was Shorty until the table read. I got there and right at the finish, the last line was by shorty, to me. When asking the director if it was Amara (Lidia Porto), he exclaimed, no it's you (laughs). That's how I found out I was Shorty.
Why did you pursue acting?
CD – When younger, I had no interest. I just thought acting was weird and not for me. So out of the blue after watching a movie, we were handed cards from people asking: 'Do you want to be an actor, sign up for this'. Mum took a card to be polite, I was like no thanks. Two weeks later, mum was wondering if I was sure I didn't want to try it out for the summer. Agreeing, I went. It was acting/modelling – hated modelling, loved acting. It ended with an award ceremony where mum quietly explained, 'Now sweetie, you're not going to win but congratulate the ones who do'. It turns out I won, confused if I should congratulate myself (laughs).
Did you land the project through stringent auditioning?
CD – Taped an audition with casting director. A week later got the call back while I was filming Cupids Proxy (2017). Turns out my reader was director Adam Arkin, I had no idea he was a big movie star with all this Chicago Hope career. I came out on a high thinking that's the best reader I ever had (laughs). Only another week after, got the call back for a contract. No chemistry read or further tests, I booked it immediately.
Have you seen the original 1995 film?
CD – I had seen it, an amazing movie.
You're young, though the role calls for adult reactions. Is that hard?
CD – I'd like to think I'm a pretty mature person in real life. It is all about balance, she is dealing with her dad, mum fighting alongside other incidents. I feel she is the adult person in that situation. It is not hard to channel that at times, looking around, she really does need to be the adult. Emma is so great, she knows what to say. I love being her.
Must be fun having Lucy Walters and Chris O'Dowd as your parents?
CD – Best parents for the show, love them so much in real life plus on camera. Whenever I'm in a scene with them, I instantly turn into Emma. Their acting is amazing, so great having them to easily bounce off in scenes. Our chemistry is effortless on screen because off screen we all are close.
Tell me something about Chris maybe nobody knows.
CD – Chris and I joke around all the time, kind of like that crazy uncle you might have (laughs), breaking out into song and dance together sometimes. He sings between scenes then I start turning the set turns into a musical. In a scene for Season 2, there was a snake wrangler and Chris was wondering if the snakes would be interested in a little girl to eat because we have one right here while pointing to me. He truly makes me laugh.
How cool is Ray Romano?
CD – He is exactly how he is on Everybody Loves Raymond, I always joke to him about his hair as they do it so crazy in Get Shorty. Everytime I see him, I go: Hey Ray, nice hair! He never fails to have a classic response to make me laugh. Actually, I've been a fan of his since 11 years old watching the show so when I heard he was in the show, instant thoughts were, I've got to book this. At a table read the first time we met, he came up to me saying: Hey Shorty (laughs, oh my god), but now I know him as my friend Ray.
You really do have a great connection with Lucy Walters.
CD – Incredible Lucy, I love her like a second mum to me.
Who would you hope to work with sometime?
CD – Jennifer Lawrence, we are both from Kentucky. I saw her in a farmers market in Kentucky once, it was unforgettable (laughs). And if she is reading this, Hi, this is Carolyn your new best friend.
Is it distracting having to do three hours school work a day on set?
CD – Not really, it's a refreshing break if i'm doing a dramatic scene. I like getting away from it, the study's helping me focus actually.
What can we expect from Emma in Season 2?
CD – Yes lots more to do, especially the second half because early on, she is going through a change phase in her life. Also figuring out the secrets of dad's job unravelling while dealing with mum and their parental problems (laughs). Much more escalated, everything happens.
What else is different moving onwards from Season 1?
CD – Mostly we filmed in Albuquerque which i did enjoy but some of this one, we filmed on the Paramount lot. So amazing as I've never really done that before. I feel this season, the cast is basically family now. We bonded so much wrapping Season 2. I put together a video of them all dancing with me, total fun.
Why should people be excited for Get Shorty: Season 2?
CD – You never know what's going to happen. If you think something, the total opposite may happen. So many heart-wrenching things you feel for the characters from great relationships to confusing ones. An amazing show to get into, I feel the viewer is a part of. Other than the killing and stuff (laughs), we don't want to be part of that.
Bonus Question: Because I first saw you in Cupids Proxy (2017), would you ever like to be a lead in a major romantic comedy or write one like one of my favourites, Pretty Woman (1990)?
CD – Yes (enthusiastically), would love to do that as a contrast to much of what I am doing – dramatic comedy and Chicago Med (TV) as a messed up character (laughs), so will jump into any RomComs.
Get Shorty: Series 1 – Now streaming on STAN (Series 2 from August 12th).
Shane A. Bassett
Sydney Unleashed is one of Australia's premier entertainment publications exploring the latest in lifestyle trends. From Sydney's finest restaurants, cafes and bars to the hottest in gadgets, products, and home entertainment, Sydney Unleashed is your one-stop lifestyle platform.