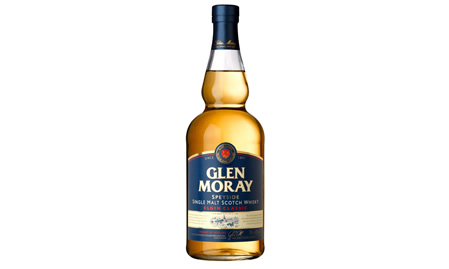 Glen Moray Celebrates 120th Anniversary
Glen Moray has been producing fine Single Malt Scotch Whisky from Elgin, the capital of Speyside, Scotland's most famous whisky region, since 1897.
This year, Glen Moray are celebrating their 120th birthday by releasing a limited edition whisky called MASTERY. With only 1,000 bottles available globally, MASTERY is crafted from five different vintages to encapsulate the very essence of Glen Moray's proud Speyside traditions.
Set to launch in mid-August, MASTERY represents the pinnacle of craftsmanship and lives up to its name in every possible sense. By tirelessly experimenting with blending various combinations of Glen Moray whiskies, current Master Distiller Graham Coull didn't stop until perfection was achieved. With all the care and thought behind MASTERY, each bottle is presented in individually numbered decanters housed within a premium leather box; truly a whisky beyond compare.
According to Graham Coull, the release of MASTERY is incredibly timely given the substantial growth of whisky consumption in Australia, and around the world. "The single malt category as a whole is doing brilliantly well. According to the Scotch Whisky Association, Australia is now the 9th largest market proving that consumers here are much more adventurous now than ever before. The world has become a smaller place, and whiskies from all over the globe are now accessible which means an exciting time for innovative new whiskies like MASTERY."
With over a century of experience under their belt, Glen Moray has continuously developed their craftmanship in the pursuit of utmost quality, skill, technique and flavour. Operating in Elgin, the epicenter of Scotch whisky, Glen Moray age the bulk of their spirits in ex-bourbon barrels sourced from North America, whilst also embracing innovation and experimentation by using a wider array of casks including ex-rum, brandy, cognac, sherry, madeira and port.
The heart of MASTERY is formed by Madeira casks which relate back to the genuine traditions of Glen Moray. Graham wanted to include some of the oldest whisky in the warehouses by combining 20% Port cask-matured whisky from 1988 and 80% of whiskies dated from 1994 or earlier. Linking the five Master Distillers that the distillery has had during its existence and the work of Graham himself, MASTERY reflects the high levels of experience and knowledge of all those involved to create complexity, rich body and mouthfeel; a whisky truly sublime.
MASTERY joins an exceptional portfolio of Speyside Single Malts that illustrate Glen Moray's inherent expertise including the Elgin classic, Heritage and Reserve ranges along with the specially created Master's Edition. The Elgin Classic collection comprises of whiskies crafted to combine innovation, heritage and traditional techniques that results in an intriguing range for novices and enthusiasts alike. Then, by carefully maturing in the unique Speyside climate, the Elgin Heritage collection includes whiskies with a well-rounded character and complex finish.
The Elgin Reserve range is great for whisky aficionados with its 25 year old Portwood finish. Finally, the Master's Edition is double matured in the finest American oak barrels and finished in Sherry casks to create a whisky with incredible depth and flavour.
Only 8 bottles of MASTERY are available in Australia at selected Dan Murphy's stores nationally from mid-August 2017. The Glen Moray Elgin Classic, Elgin Heritage and Master's Edition collections are available at Dan Murphy's nationally.
Sydney Unleashed is one of Australia's premier entertainment publications exploring the latest in lifestyle trends. From Sydney's finest restaurants, cafes and bars to the hottest in gadgets, products, and home entertainment, Sydney Unleashed is your one-stop lifestyle platform.