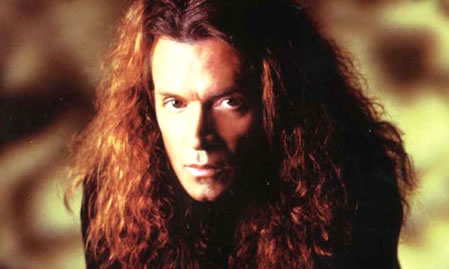 When it comes to hard rock vocalists, there's only one who has earned the moniker of 'The Voice Of Rock', and that's Glenn Hughes. With a career that spans well over thirty-five years, which has included stints with groups such as Trapeze (1969 to 1973), Deep Purple (1973 to 1976) and Black Sabbath (1986), Hughes is nothing short of a living legend within the classic rock scene.
Over course of the last fourteen years, Hughes has continued to forge out a successful solo career (aside from his numerous guest contributions), and in 2005 he released his stunning tenth solo release 'Soul Mover' to overwhelming high praise from both critics and fans alike.
A year after its initial release, 'Soul Mover' has finally been given a long overdue release here in Australia, making it the first solo album from Glenn Hughes to ever be made available locally.
Relaxing at home in LA (where Hughes is outside relaxing with his dogs in what is said to be another beautiful day), I caught up with the legendary vocalist/bassist to talk a little about the success of 'Soul Mover', it's belated release here in Australia and the many projects he has lined up and due for release in the very near future.
"I'm really excited about 'Soul Mover' coming out in Australia because it's my first proper solo release there as a solo artist outside of the import market. Australia is a market that's been really good for Deep Purple for all these years, and it's somewhere I haven't been in a long time. I'm blushing because I believe it was 1975 when I was last down there. It's ridiculous and stupid. Most people buying the album probably weren't even born then! All I can say is that it's better late than never! (Laughs) And I can't think of a better way to introduce my solo career than with 'Soul Mover'. I'm happy to finally be able to give something to my old fans, and introduce myself to some new fans."
Although there's no denying that Australia still holds a huge following for Deep Purple and for classic rock in general, Hughes isn't just aiming for that core market exclusively.
"I obviously have an older audience in most parts of the world, but there seems to be a turning point now where my audience is starting to get younger. A lot of that has to do with the people I'm currently playing with (which includes Red Hot Chili Peppers guitarist John Frusciante and drummer Chad Smith), and the music that I'm recording now. I would say that the music I'm currently making is probably more mainstream than most artists of my generation or peer group, but it's also a lot more modern sounding. I love all my peers because I have a lot of friends in the industry but I'm actually shooting for a new marketplace. I mean I've been going to Japan on a yearly basis for about the last ten years but I myself have never really pushed my manager to go down to Australia or until now. I was speaking to my manager about a year ago and it was him that said to me that we should really get to Australia because not only is it a great country, but also because they have a great grasp on the sort of music I'm making. It was that conversation that actually started this whole thing off."
Although there was plenty of talk about Hughes making his way down to Australia to coincide with the release of 'Soul Mover', it never eventuated – much to Hughes' disappointment.
"That was the rumour because I was the first one to start that! We thought we would be down there by March, and then by April, but we simply couldn't make it due to prior commitments. But while we can't come down right now, we will be trying our hardest sometime after the new album, which has just funnily enough been finished (comes out in July). By then, Australian audiences will have a double dose of Hughes. It's my strongest desire to come down to Australia to play. I really have fond memories of being down there last time and I think Australians have got a good sense of melody and soul. So I'm really looking forward to bringing my brand of music down there."
The new album Hughes is talking about is no less the highly anticipated 'Music For The Divine'.
"The album will feature Smith on drums again of course. He's my best buddy. We hang out together a lot, we go on vacations together with our wives and we do dinner together. We actually care for one another as people. It also doesn't suck that he happens to be in one of the biggest bands in the world either. But even if he wasn't, for me, pound for pound and dollar for dollar, Smith is the finest rock drummer since John Bonham. So having him onboard is amazing. He really pushed me musically on 'Soul Mover', and he pushed me even further than before on 'Music For The Divine'. My band (completed by long-time guitarist/song writing partner JJ Marsh) is a pool of artists that make music for themselves. I don't make music for some guy in a suit in some company in New York. I'm making music that is for me', and hopefully people will feel that. There's a lot of passion in the music. Having Smith with me as co-producer this time around meant that there was a lot of back and forth with the songs that have were written, a lot more pre-production, more mix time and more fun. We might be taking the process more seriously this time, but at the same time, there's a whole lot of fun and funk going on. I think you can hear it. I'm really happy with the songs. I always like to change a little direction from album to album. There won't be a second 'Soul Mover' album coming out, or a son of 'Songs In The Key Of Rock' (Hughes' solo album from 2003), or even a 'Burn' (the Deep Purple album of 1974) or 'Stormbringer' (also from 1974)! It's not going to happen because I'm continually growing as a human being, and I love mixing all genres of music from the rock to the funk to soul."
In a sense, it's that mixing of various musical genres that has kept fans second-guessing what they can expect from Hughes with every new release. But at the same time, Hughes admits that at times it's also been a double-edged sword as well.
"I've been doing this a long time, and although there's been a lot of managers and record labels throughout my vast solo career, there's always been elements of rock, soul, ballads and some late night/jazzy/funky kind of things. It's kind of been a bittersweet thing because it's hindered me success wise because I've been hard to pigeonhole style wise. There are artists out there that do something really well and they stick to that formula. Without naming names, there's more than a few of them out there that have a certain sound and style that is theirs, and they stick to that like a security blanket. I'm a child of the '60's. I'm from Britain, so I'm a northern lad. I grew up listening to The Beatles since I was ten years old, and when I listen to albums like 'Magical Mystery Tour, 'Abbey Road', 'The White Album' or 'Sgt. Pepper's Lonely Hearts Club Band', even today, I hear four guys re-inventing themselves with each album. They're all very Beatles sounding, but they're also very different from one another. I try to do that with every album I make. The albums I'm making right now are more organic, acoustic, personal and stripped down than possibly some of the stuff I had done in the past. It's really more about the songs rather than the vocal histrionics, the guitar solo or how the drums sound. Yes, they're all important, but to me, a good song by a good singer is always stronger. The songs are so much more important now than they used to be for me. I no longer make music purely to pay the bills. I simply make the music I want to."
While it may sound like a premeditated move to change direction on every new album, Hughes insists that the direction of any album is generally dictated by one song that captures his current headspace.
"What I normally do is I write alone on an acoustic guitar. The first song I wrote for 'Soul Mover' funnily enough was the title track. I knew straight away that that song was going to be a strong contender for the album title. I just knew that it was a retro Hendrix like funk riff, and it set the tempo and the vibe of the rock spiritual funk sound on 'Soul Mover'. It was all about how I was feeling at the time. I then wrote the song 'Let It Go', which then made me write a song called 'Last Mistake'. From that point on, the album basically started to write itself. It's not a concept album, but my albums generally kind of gel lyrically in a sense. That was the way I wrote that album, and all the others I have done in the past. 'Songs In The Key Of Rock' was the same thing. Even 'Addiction' was like that. That was a time when I needed to address my addictions. That album was very therapeutic for me. It's a blueprint. I like to have some kind of direction, some idea of where I'm going now."
As you would expect, 'Music For The Divine' is a departure style wise from 'Soul Mover', but also a totally new direction for Hughes.
"It's in a different headspace again. Smith was way more involved in this process. I would go to his house three or four times a week to have lunch and whatnot, and every Sunday of last year that I was home, I would go over to his house and play him the two or three new songs I had written for the new album. I ended up with close to thirty songs in the end. I had also just bought a fifty-year old Martin acoustic, so the new album is deeply packed and dripping with the acoustic stuff. Don't be frightened when I tell you that because you'll feel the love from that. It's an album that has songs that would never have made it on there had Smith not been co-producer. There's quite a few songs on the album that are strictly acoustic guitar, bass and drum based, and one that's even just acoustic guitar and violin. When I initially started played the songs to Smith, he said to me, 'You have got to let the world know who you are now, because you're an artist that is varied in your music direction'. This new album is so deep in variety, and funnily enough, my first not to tip the hat towards Deep Purple. This is very much a mature solo album from me. It's almost like coming out. Every artist you speak to is always going to say that their new album is the best thing they have ever done. This album, for me, is the best album that I've actually performed, written and produced in my whole career from day one, and that's because it's so honest, and it tells you who I am. This is the start of me doing just that. On one track, I sing that I've been selfish and unkind. I'm just telling people that I'm real. It's just a very deep, funky, acoustic groove based album. There's a six-piece string section on there too. It's a very diverse album. I can't wait for people to hear the songs. It doesn't matter if a metal, funk, A.O.R. or rock magazine reviews this album, because it will appeal to them all."
Apart from the upcoming release of 'Music For The Divine' (not to mention his contributions to Phenomena's 'Psycho Fantasy' and Moonstone Project's 'Time To Take A Stand'), Hughes also plans to finally release the long awaited second Hughes/Thrall effort.
"I just got back from Las Vegas actually. Pat Thrall and I just finished the album off. That should be released in January 2007. The new Hughes/Thrall album is going to be a monster. You think that my new album 'Music For The Divine' is diverse, just wait until you hear this album! If you go back and listen to our first one (which was released back in 1982), you'll realise just how diverse that album is. There's heavy rock, tracks like 'Coast To Coast' and then there's all that super funky groove stuff going on. This new album is just the same, only it's twenty-four years later. So hopefully all the Hughes/Thrall fans that enjoyed the first one will be wise enough to know that we've grown musically in that time, and that we've intentionally pushed the envelope further. There's still the super funky stuff, but there's also some really intense heavy stuff, along with something extremely jazzy. But it's all Thrall and I. Hughes/Thrall for me has always been very artistic. We made that first album for ourselves, and we did the same thing with this one. Thrall was a bit worried that it was a little too left of centre because we really stretched out on this one, but I think fans will accept it as us. We made sure that the trademark hooks are still there."
Also tying in nicely with the upcoming new Hughes/Thrall release is the news that UK label Rock Candy Records plans to remaster and re-release the pair's 1982 debut, with the addition of a few bonus tracks.
"Well that's the plan but we'll see how it turns out because the original masters no longer exist. The guy that bought the studio we originally recorded in, which used to be called United Western Studios (and later changed their name to Ocean Way Studios in 1985), went into the vault and erased everybody's masters. He erased the two inches, the half inches, everything. I had somebody I know at Sony Records look through their vaults and they couldn't find the original masters. That's a fucking nightmare because we wanted to remix it. The remaster that's coming out will be run past Thrall and I because we wanted to remaster it ourselves at some point. But the people at Rock Candy Records (former Kerrang! journalists Dante Bonutto and Derek Oliver) are old friends of mine, so I have to give them a little trust because they're very much on the ball. They're fanatics about Hughes/Thrall too. I think the re-release will do well because we're providing the bonus tracks they're putting on there. I wouldn't want to re-release the album without the bonus tracks. I think that would have been rude. Two of those songs were written around the period of 1982-1983. 'Pay The Price' and a song called 'Still The Night', which I later recorded with Phenomena (their self titled debut from 1985) and John Norum (1992's 'Face The Truth'). Obviously the originals were Hughes/Thrall songs. The bonus tracks were re-recorded in New York about five years ago with the difference being that 'Still The Night' now has a slightly funkier arrangement. We probably won't make anything from this re-release monetary wise because we're still in the hole to CBS/Epic Records. We got a huge advance from that album! (Laughs) It simply didn't sell enough copies. But I'm not worried about making money because it's the new one I'm concerned about. We'll actually have that mixed in July and finished in August for a release early next year."
While having around five releases on the go is nothing new to Hughes, or the fans that have to try and track down all of his recording contributions, it does beg the question as to whether Hughes has ever considered taking time off, or whether he's aware of the term vacation.
"I think if you ask any other songwriter that's worth their salt the same question you just asked me, they'll give you the same answer I will. They have no say in the matter. It's almost like a channel that is switched onto you. Having my own studio, having all these instruments, being very clear headed and being a workaholic, which I love, makes it easy for me to be creative all the time. I'm a songwriter three hundred and sixty-five days of the year, and my wife is a music producer, so she actually pushes me in that direction. There's a lot of love in our house. I'm in the studio a lot – even on Christmas day. I really do like the song process, the writing of the grooves, the lyrics and the music. I'm going to be honest with you. Although I've been writing music all my life, it's only been in the last five years of my life where this tap hasn't been able to be turned off. And trust me; there are times when I like to escape it. I like to go to the movies but when the credits start to roll at the end of the movie, I'm actually starting to write another f**king song! (Laughs) I always starting to think to myself at this point, 'How can I stop this insanity?' It's a great gift, and I think you can actually hear it in those songs on the last couple of albums. It was a gift that was given to me freely. I didn't choose this. Every walk in life is great, whether that be being an attorney, Olympian, soccer players or whatever. I have been given this voice and the ability to write songs, which I'm really humbled by."
With Hughes constantly in a constant creative frame of mind, and countless vocal credits to his name, I had to ask if he actually felt he had anything left to achieve in a musical sense.
"You know, it's more a question of what I won't do. If you look over the last fifteen years of my career, you'll see that I've done a lot of work with a lot of artists that were kind of inappropriate. I diluted my unique gift. I've stopped taking sessions now that are going to dilute my creativity in order to pay a bill or something. No one is ever going to make enough money in their life, and the fact is that I have enough money in my life now to not have to worry about the bills anymore. I have been very lucky enough to sustain myself by investing in things the right way and working my ass off. I don't do things for money anymore. I do things for artistic reasons and that is the sole reason why I will only work with other artists today."
© Justin Donnelly
Sydney Unleashed is one of Australia's premier entertainment publications exploring the latest in lifestyle trends. From Sydney's finest restaurants, cafes and bars to the hottest in gadgets, products, and home entertainment, Sydney Unleashed is your one-stop lifestyle platform.