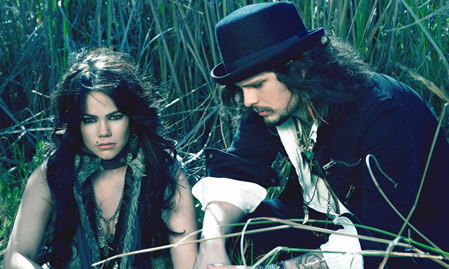 Fresh from their recent win in the World / Folk category at the 2013 Musicoz Awards, Northern Beaches outfit Gypsys Gift took some time out to chat with Sydney Unleashed.
How did you get your start in the music industry?
Gemma – As a young teen I was asked to perform a showcase of original material for the A&R of Universal Publishing in London. A reputable producer/writer was present and from then on we started writing together. It allowed me to develop into a professional artist at a young age and I learned how to take my career seriously. He was and still is a huge mentor and adviser to me.
Jimi – I was playing around Sydney in a Rock band during high school. From that band, I was asked to join another. Shortly after that we were signed to Sony and travelled to Los Angeles  to record with some of the best rock producers and engineers in the world. It was a crazy, amazing experience.
Best part of what you do?
Our drug is the stage; sharing our stories, having the audience connect and move with us. You can feel the energy in a good gig and share in the moment. It puts us on a high for days.
And the worst part?
The amount of hats an independent artist wears can be exhausting at times. On the other hand, winning at this year's Musicoz Awards made all the hard work completely worth it.
Any interesting experiences you can share?
We were invited to a mansion party, we didn't know the owners. Turned out to be a swingers abode! You can imagine our surprise when a man hopped into the spa to make small talk. We decided to scope out a hiding place, turns out this mansion had a secret door in a 3D wall. We stayed in the stealthy room til morning discussing music and other life matters. When the people fell asleep we felt safe to explore the home. Poured ourselves a bev and enjoyed a morning swim in the rain.
Favourite album of all time and why?
Gemma – "Rumours by Fleetwood Mac" it has a magical quality and infectious mood to it. I've been inspired my whole life by that one album.
Jimi- Hands down, Appetite for Destruction (by Guns N' Roses). Still my favourite album to this day.
Best live performance that you've ever seen?
Gemma – "Bob Dylan 10 years ago with my Grandad"
Jimi – I still think Steel Panther at the 'House of Blues' is up there.
Favourite bars/clubs/pubs to hang out in?
There is a new bar on the Northern Beaches called Moonshine. It's a music venue serving purely rum and cider; our new fav.
Take us through a typical day in the life of Gypsys Gift.
When we are in writing mode, we usually head down to the damn or the beach with the acoustic guitar. We find writing comes more naturally when we are amongst nature. We then usually head back to our studio where Gemma can develop the song on piano.
Any news or final comments?
We are so stoked to have won the 2013 Musicoz Awards for #1 World/Folk song "The Fight". We are releasing our first album Chapters in April 2014 and plan a national and international trip to spread the love, so make sure you keep up to date with shows, tours, releases and any other news on www.facebook.com/gypsysgift
© Danny Canak
Sydney Unleashed is one of Australia's premier entertainment publications exploring the latest in lifestyle trends. From Sydney's finest restaurants, cafes and bars to the hottest in gadgets, products, and home entertainment, Sydney Unleashed is your one-stop lifestyle platform.