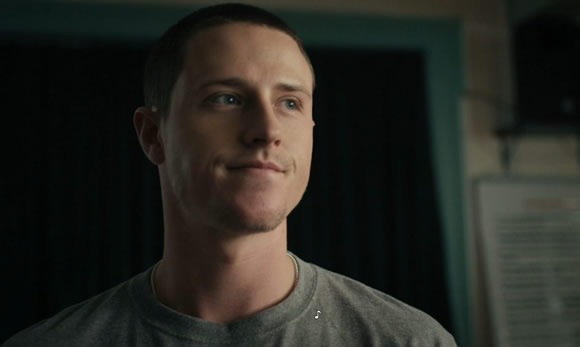 HIGHTOWN: Shane S. Harper Interview
Although appearing in the controversial Dirty Dancing remake (I won't hold this against him), Shane Steven Harper is likely best known for his comedic or dancing talents in a range of television young adult roles.
In Hightown, high quality thriller from legendary producer Jerry Bruckheimer, he portrays a past, present and future full of dilemmas.  As our publicist introduced us down the line, the genuinely nice guy responded: "Two Shane's, I don't really know that many Shane's. Nice to meet you and hope you are doing ok in the self isolation situation."
As Junior, it's one of your most mature roles. How did you land it?
SH – Absolutely he is, I just got an audition with a set of sides (not the full script). Suddenly a month later, a call arrived saying I was at the very end of consideration. Then I went in to test and read entire script, they hired me. One of the most simple processes I've had casting. Was so grateful.
He's a complicated character and a lobster fisherman, can you fish?
SH – Not really, I do remember my dad surfed / fished around the water so he taught me familiarities. But Junior has an entire different skill-set I somewhat researched.
Drug culture depicted around Cape Cod location is authentic I assume.
SH – A lot of research was done reading books, listening to podcasts as was not familiar with the culture at large. I was talking about the role with a friend of a friend so they referred someone who grew up out there, a former addict. I cold-called (the person) explaining the show. We discussed the dialect, townie culture and existence around the area.
How intense does this show get? What I have seen so far is chilling.
SH – Can't give too much away, let's just say episode six / seven takes sharp turns, then eight goes to the unexpected. That tension of redemption or falling back into old ways is something sustained. I'm excited for people to watch it ramping up.
Any word on a Season Two?
SH – It looks good as the response has been positive but due to global crisis, things will be up in the air longer than anticipated.
What can you tell me about Monica Raymund, you two have chemistry.
SH – Thank you very much, that means a lot. We both felt that early on. My chemistry read was with Monica on the final audition round, she had the part. I read with her and knew immediately everything clicked. She's a TV star for a reason, her stepping into this role was tremendous. It was a gift to learn from her in every scene we shared.
Amaury Nolasco with yourself share solid dramatic moments.
SH – Pretty intimidating guy, but really sweet (laughs) in scenes – it is perfect that he intimidates me, helps reactions. His long history of iconic roles like Prison Break speak for itself, an honour to work with and scary.
Did producer Jerry Bruckheimer send you a note when getting the role or regularly visit the set?
SH – Glad you asked that, I was a little starstruck to be on a Bruckheimer show. Been in the entertainment industry quite some time, just never been involved in anything like this. He is responsible for many of my favourite films: Top Gun, Bad Boys. I was shocked, then nervous when turning up for a first day table read – he's in the middle of the room. Afterwards, he called me over for a conversation about Junior – a memorable experience – continuing to be hands-on through production.
Could you write a special Hightown 'The Musical' episode?
SH – (laughs) Maybe,  I joked around about that on-set occasionally. There's much hidden talent of co-stars I won't name with great singing voices. We should do it.
Quick Takes:
SOMETHING NOBODY KNOWS ABOUT YOU – Childhood hero was Steve Irwin and wanted to be on his show or a version of the crocodile hunter.
ITEM OF CLOTHING YOU HAVE OWNED THE LONGEST – Hoodies I've had for years that I should get rid of but refuse.
OTHER THAN DIRTY DANCING, AN '80s FILM YOU'D REMAKE – One is enough for me (laughs) Honestly they're so iconic, impossible to remake
ACTING, SINGING OR KARATE HARDER TO DO – Something about karate between discipline, physical – getting good at it is the hardest of those.
DREAM ACTOR YOU'D LIKE TO WORK OPPOSITE – Shia LaBeouf is one of the best and incredibly talented. Tom Hardy too, he always brings it.
Why should people choose Hightown amongst so much quality TV?
SH – Content is better than ever on television. Hightown is a fresh take on a cop drama that most people love, it's honest, grounded. With opioid epidemic as a backdrop, it sadly rings truthful for many. People may connect in a truthful way. Diversity in our cast too, creator Rebecca Cutter delivers a unique show, viewers will relate to the exceptional writing. She was very open to the conversation around characters but in this case, we did not elevate or change it up. Thanks Shane, I'm glad we got to do this!  One of my closest, dearest friends lives in Australia, I love your country.
HIGHTOWN: SEASON 1 – now streaming on Stan.
Shane A. Bassett
Sydney Unleashed is one of Australia's premier entertainment publications exploring the latest in lifestyle trends. From Sydney's finest restaurants, cafes and bars to the hottest in gadgets, products, and home entertainment, Sydney Unleashed is your one-stop lifestyle platform.