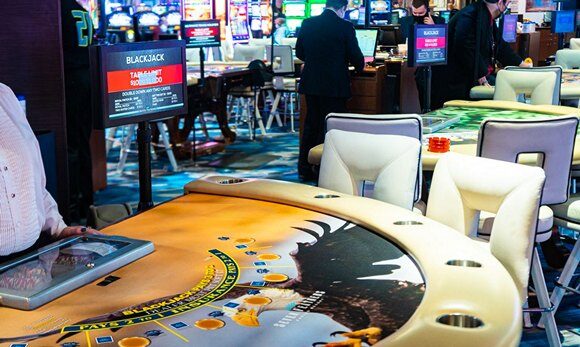 How do you become a casino dealer in Australia?
Sydney is a great city to both live and work in. From its live music scene and restaurant culture to its job prospects and prospective earnings, it's no surprise that people flock to the city for an all-round improved way of life. One such career which some people consider is becoming a dealer in one of Sydney's many casinos.
If you're partial to the odd game of poker or blackjack, then joining the team at a local casino may well appeal to you. The job is generally considered to be fun and it pays extremely well in some instances. Quite understandably though, not everyone knows about how to get into the industry and become a casino dealer. It's not exactly common knowledge as it's a relatively niche job, but if you have the passion for casino gaming, perhaps occasionally dabbling in the odd online casino game at casino.com or hosting a few poker nights at your house with friends, then it could be the profession for you. It does involve some training, although it's not as daunting as it perhaps sounds. In fact, in Australia, there is some excellent training on offer which will help you learn about what the role entails.
You must be a permanent resident or citizen
There is no use in looking into becoming a casino dealer if you're only planning on staying in the country for a few months or so. Every dealer position requires that people have either Australian citizenship or a permanent residency in the country.
In-house training on offer
Once you've established your status in the country, many of the larger Australian casinos have in-house teams which offer specialist training to help get you up to speed before you're unleashed on the casino floor. The casino team will train you on all the processes of running a casino, from how to do the job properly to a variety of health and safety procedures that employees need to be aware of. On top of this, and somewhat crucially, training focusses on the rules of the chosen game and how to properly deal out the cards, while also learning how to deal with guests around the tables and making sure that all players are having a good time. Being a successful dealer is ultimately about providing a memorable experience for a wide range of customers.
Table-specific training
As well as getting to grips with casino life and how things function, prospective dealers generally train for a specific game at the beginning. Dealers will then undertake numerous table tests in order to determine whether or not they understand the rules and workings of a specific game. Sadly, should a prospective employee fail to grasp how certain games work, then the casino could opt for someone else to do the job.
School training programmes
Instead of offering in-house training, some casinos might form a partnership with an outside school in which its prospective employees can receive training. The casino you're interested in will generally inform you of the potential training processes, but it might be worth contacting your dream casino to find out where the training programmes take place and any other details you might need. Some casinos, for example, require official licenses, whereas others don't.
Things to keep in mind
If that all seems relatively straightforward, then a job working as a casino dealer could be the ideal profession for you. It's worth noting, though, that the job can be challenging and requires long hours and hard work. Some jobs come with additional perks and additional training opportunities too, though. Overall, it's an excellent career choice.
Image via https://twitter.com/7FeathersCasino
Sydney Unleashed is one of Australia's premier entertainment publications exploring the latest in lifestyle trends. From Sydney's finest restaurants, cafes and bars to the hottest in gadgets, products, and home entertainment, Sydney Unleashed is your one-stop lifestyle platform.