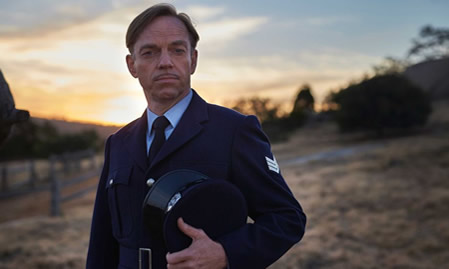 When it comes to well known Australian actors who have successfully performed on stage and screen, Hugo Weaving stands high. From the biggest Hollywood blockbusters to miniscule budget independent films, the standard of quality to his varying performances are of equal excellence. Appearing as the kind-hearted policeman with a sense of fashion in new Australian madcap drama The Dressmaker, it's a unique role that fits into his already interesting career.
Shane A. Bassett: After all these years and a few characters that have demanded it, how comfortable are you wearing a dress?
Hugo Weaving: It's great fun, easy and I would slip into a frock any day.
SAB: What was worn under your police uniform in The Dressmaker?
HW: You probably have some inside information, I demanded we have a corset for myself before we shot. I thought that the Sergeant needed a particular demeanor, a way of holding himself and the corset would provide that. The costume maker was so great tailoring the police uniform so beautifully though after a couple of weeks, I thought maybe I didn't need that corset. The idea was that he was living this kind of hidden life so it was a great way to start in his shoes. There is a scene later on where I am drinking with Tilly (Kate Winslet) out of my dress and the corset may be in view.
SAB: Did you keep any part of the costume as a memento?
HW: No not for this one but I do have those thong earrings from Priscilla to match the iconic thong dress remembered in the film.
SAB: Were you handpicked by the director (Jocelyn Moorehouse) for this role or considered for any other parts in the film?
HW: Joss wrote me a beautiful letter. She wanted me to play Sergeant Farrant and sent me the script and very happy to do it.
SAB: Appearing in a variety of films, would comedy be harder to perfect, is there a science to it?
HW: There might be a science but there's an intuitive art as well to keep a sense of humour and humanity or a sense of freedom and truth as well. You've got to believe in the role. It depends because there is much technical work in the craft of acting anyway, it's all sensibility and tone in the completion, I enjoy the craft so much.
SAB: Did you work off the amazing cast to create comic timing?
HW: The Dressmaker is full of fantastic actors, Kate is a wonderful comedienne, Judy is just brilliant anyway without any fuss, just divine to be on set with. The central relationship of those two is both heartbreaking and hilarious. You know people like Shane Bourne who is a song and dance man with comedy background is powerful as the villainous baddie, he's great. Sarah Snook has never given a soft performance, all of the ensemble possess high talent in comedy or drama.
SAB: Speaking of Sarah, working with such an array of actors of quality over the years in films around the world, what is your opinion of her? In my mind she's about to break out.
HW: Agreed, I rate her highly. Although we didn't have too much time together in the film, we shared each other's company off set sitting around and I have seen all her work. I had lunch with her yesterday, she is terrific, an extraordinary actor, hugely talented no doubt going to be a big star and this film is full of stars.
SAB: Some Australian films struggle at box office, what is it about The Dressmaker that may get audiences back into the cinema?
HW: Good question Shane, it's unique and quintessentially Australian in many ways with sense of landscapes, period settings in small bush towns then marries it with a triumphant style, flair and energy. The film is a hybrid of styles which sounds like a possible mess, it's actually synthesised beautifully in a brave bold trajectory of film with a host of grotesque characters but goes places which are also emotionally moving. The climax is fabulous after a big build up, I would call it a revenge western with a dark underbelly, very different indeed.
SAB: Did you stick to the script or improvise along the way?
HW: No the script was great, most of it directly from the original novel, some scenes were looser than others (laughs) again to mention Tilly and Farrant getting drunk. There might have been a little bit of real alcohol at the end of the day shooting that one. Depending on the scene really, it was all to the script, occasionally an idea was floated to make a scene better.
SAB: Being so recognised, how do you react to being called a national acting icon? Do you think there may be a Hugo Weaving statue constructed one day?
HW: (laughs) That's lovely but I don't know (lowering head seemingly humbled). The movies I've made that people ask me about the most are the most obvious ones (Matrix, Lord of the Rings, V for Vendetta) but my favourites are usually the smaller ones that nobody saw or have ever heard of. As actors we celebrate success but then we often equate success with box office results, but at the same time it's not the only measure for a thespian. So many films I've done may not have seen the light of day, although many to me, they are superlative. I agree with an article I read that movies made in Australia from 1995 to present is a golden era
Shane A. Bassett
Sydney Unleashed is one of Australia's premier entertainment publications exploring the latest in lifestyle trends. From Sydney's finest restaurants, cafes and bars to the hottest in gadgets, products, and home entertainment, Sydney Unleashed is your one-stop lifestyle platform.