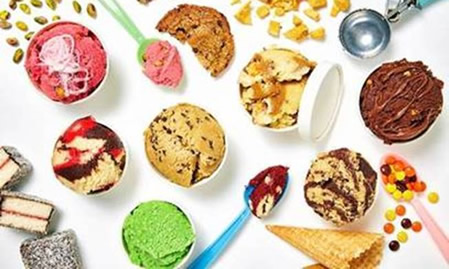 One of the biggest, fun food trends is about to hit Sydney.
The humble cookie is making a huge comeback, with a little twist. We're serving it to you straight up, in dough form, before they hit the oven. Why? Because that is exactly how we've always liked it. Your childhood dreams of licking clean nan's cookie bowl is now a sweet, sweet reality.
Doughlish – the Sydney-based edible cookie dough company will be bringing carts of Doughlish-ous goodness to you one scoop at a time. Doughlish will be available from October 30th starting in Westfield Parramatta and from this day forward, it's all about the Doughlish life.
Started by two brothers Saul Caspary, 21 and Adam Caspary, 23. The pair came up with the idea after seeing firsthand how this trendy new food fad took over New York City. They went, they savored and they concluded that cookie dough is life and life needs to hit the Sydney food scene, pronto. Inspired by New York City and mixed in Sydney, Doughlish will be bringing scoops of fun, quality product with a gourmet twist. You no longer have to wait for mum to bake cookies for your dose of cookie dough!
Now connoisseurs of cookie dough, the young entrepreneurs saw a gap in the local market, set out to source high quality ingredients. Working closely with a leading chef in Bondi, the three rolled up their sleeves and over six months crafted their own unique blend of cookie dough with better flavour, balance and texture and gourmet ingredients.
Doughlish comes served in a cup or cone with an optional scoop of vanilla ice cream. It's edible AND "bake-able" so you can take it home and pop it in the oven! Doughlish will be launching with seven flavours that we promise you will love oh Dough much – from good old-fashioned Original Choc Chip, Rainbow, Salted Caramel Honeycomb, Reece's, Brownie, Lamington and Pandan.
Availabilities and Locations
Doughlish will be available in Westfield Parramatta, 159-175 Church St, Parramatta NSW 2150, from Monday 30th October 2017 to Tuesday 30th January 2018. More cart locations will be revealed soon!
Pricing
Small [1 flavour] – $4.80
Medium [up to 2 flavours] – $5.95
Large [up to 3 flavours] – $7.95
Add ice cream $2.50
Ingredients
Doughlish is made from high quality ingredients with a gourmet twist. Doughlish edible cookie dough is safe to eat – does not contain eggs and uses only heat-treated flour for safe consumption.
Sydney Unleashed is one of Australia's premier entertainment publications exploring the latest in lifestyle trends. From Sydney's finest restaurants, cafes and bars to the hottest in gadgets, products, and home entertainment, Sydney Unleashed is your one-stop lifestyle platform.