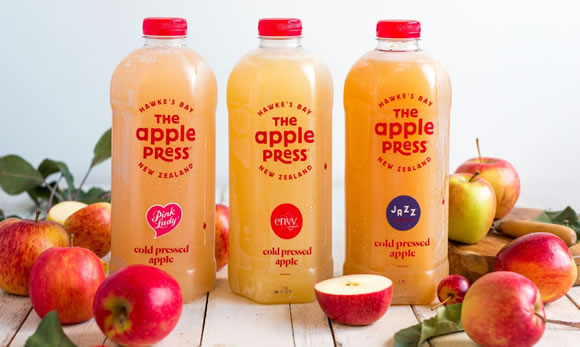 Introducing The World's Best Apple Juice
Looking for apple juice that just tastes like real apples? Look no further than The Apple Press. To put it simply, it is cold pressed apple in a bottle – pure, simple and delicious. The freshness and flavours of the apples speak for themselves.
The fruit is hand-picked, cold-pressed just once to capture the pure apples' flavours and aromas and then bottled. The juices don't contain any water, preservatives and no added sugar… no nasties! Just apples, pressed to give you the very best.
At the core of The Apple Press is Founder Ross Beaton and his passion for premium produce. Hawke's Bay born and bred, Ross started out planting apple trees with his two brothers back in 1984 – 8,484 of them, to be precise. It was love at first bite.
But with a booming business came consequences and that meant watching tonnes of "ugly fruit" get rejected each year. The apples with blemishes, scratches and sunburns don't make it into the crates, meaning 13,000 tonnes of 'cosmetically challenged' apples were not being used each year. So, ideas man Ross Beaton came up with a low waste model to make some apple magic.
"Whilst not all of the wasted apples looked good, they all had that same crisp texture and were bursting with flavour," Ross said. "I wanted to do something meaningful with that fruit – something that meant we weren't literally wasting great fruit and so The Apple Press juices were born."
Ross joined forces with local food innovation specialist Sally Gallagher and together the pair have spent the last six years developing and honing The Apple Press and its juicy offering. Following its official launch in New Zealand 15 months ago, the pair are now introducing Aussies to the best apple juice in the world.
"The response to The Apple Press in its launch year has been unreal. The people of New Zealand are falling in love with apple juice all over again thanks to the flavour, freshness and purity in every bottle," Sally said. "We have the world's best ingredient… so why not make the world's best juice? It's something I'm proud to bring across the ditch.   I stand by the quality of our juice and we're excited to bring our amazing product to apple-loving Aussies."
Available exclusively at Woolworths stores or online at www.woolworths.com.au, you can pick up The Apple Press in three varieties –JAZZ™, Pink Lady™ or Envy™.  1.5 litre bottles are available with a RRP of $6.50, with a handy sweet to tart metre on the side of the bottle to satisfy everyone's taste buds!
Sydney Unleashed is one of Australia's premier entertainment publications exploring the latest in lifestyle trends. From Sydney's finest restaurants, cafes and bars to the hottest in gadgets, products, and home entertainment, Sydney Unleashed is your one-stop lifestyle platform.