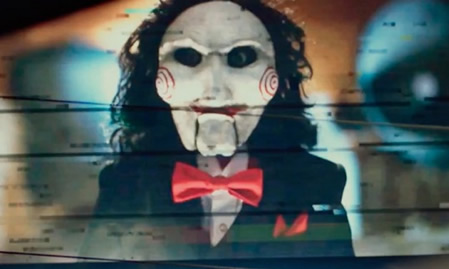 JIGSAW: Spierig Brothers Interview
In 2004, when a little non-glossy, low-budget independent horror film, SAW, was released into cinemas, a much revered scary movie legacy was born. Initiating its very own sub-culture catchphrase, Torture-Porn, it also spawned other comparable schlock efforts such as Wrong Turn (2003) and Hostel (2005).
The unusual situation of strangers mechanically trapped together in kill or be killed was thought up by Australian James Wan (Conjuring). Seven movies into the series ended with an irrepressible Saw 3D, which although left a minor open-ending, was supposed to be the last one.
With frightening celluloid once again bringing credibility back to the cinema this year after the recent success of IT, or Get Out or Happy Dead Day, we now have the return of Saw with the presumed dead orchestrator (the Jigsaw Killer) back, or is he. Australian director twins Michael and Peter, The Spierig Brothers (Daybreakers) are at the helm.
SHANE A. BASSETT – Did you guys have to pitch the project or was it a series you had planned to revive?
SPIERIG BROTHERS – We had made two films at Lionsgate Company – Daybreakers & Undead. They called us to come in and read a secret script which was the latest Saw draft. We thought it was interesting with a clever aspect to story, jumping at the opportunity to do it. It was brought to us, we didn't originate the project. An exciting change and first for us.
Did you come in under budget?
SBros – Yes, I'd say we came in on budget (laughs). Which is as good as coming in under.
Is there a director's cameo to look out for?
SBros – Not that we are aware of but it was a crazy intense shoot, so it wouldn't surprise us. Maybe a hand or a foot or a finger in there.
The last Saw film was 3D, did you consider filming Jigsaw 3D?
SBros – Not a huge fan of 3D, that film was shot stereoscopically 3D – that's two cameras converging together. The hard way of doing it, time consuming. Just not a fan of the process and most films are post-3D.
How is this different to the previous instalments?
SBros – Set a decade after John Kramer has been dead, all these bodies start turning up and are linked to him although not possible due to his demise. An investigation ignites if it's copycats or followers, mysteries unveil on progression. Our goal was not to make it more gory or shocking than previous films, we are fans but felt our focus should remain on the thriller themes plus twists and turns. While there's still a ton of blood for us, it was the idea of an exciting mystery.
The original was like that.
SBros – Yes Shane, it wasn't that gory. It's a suspense with beats of what exactly is going on to the captures.
How important is a good soundtrack to make an effective scary movie?
SBros – 50 percent of the film is a soundtrack to provide shocks. We are fortunate enough to get Charlie Clouser back to write the music for us. Saw fans will be thrilled to hear familiar themes and new jolts while keeping in with what is known to this franchise. He's awesome.
How keen was Tobin Bell to return, did he have script approval?
SBros – He was keen to be involved in the film, whatever way he may be involved. We don't want to reveal details of how big or small. He certainly is an important part of all these films on tape or video or somewhere else. Tobin does make changes to his dialogue for the better every time. He knows the character inside and out. You listen intently to his suggestions as directors; he's the gatekeeper on all that stuff. Not script approval but appropriate goodwill to make changes.
There's a great Australian actor in a lead, Matt Passmore.
SBros – We actually auditioned Matt many years ago for a short film we were doing in Brisbane. We didn't realise until much later on he reminded us of not being cast. At least we paid him back now in this. It was random as just looking for really good actors, his name came up several times. He came in, blitzed the read, a talented guy.
Are you both equally in charge on set directing together?
SBros – Yes it's a fifty-fifty split. We collaborate so well from an abundance of pre-production planning storyboarding so when we come in to the shoot, we are so clear on what to achieve in the same zone all the way. The even split avoids steering people in different areas, particularly Jigsaw which was a quick project. We occasionally split up to shoot two units at alternate sets. Not our preferred way but agreed to do it often before to speediate the collaborative process.
Shane A. Bassett
Sydney Unleashed is one of Australia's premier entertainment publications exploring the latest in lifestyle trends. From Sydney's finest restaurants, cafes and bars to the hottest in gadgets, products, and home entertainment, Sydney Unleashed is your one-stop lifestyle platform.