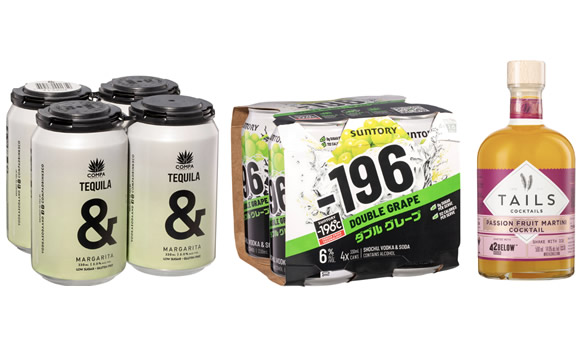 Jimmy Brings Adds 20 New Premix Options
Jimmy Brings, Australia's largest and fastest on-demand service delivering drinks and more in minutes, adds over 20 new premix and cocktail mixers, ready to be sipped in the summer sun.
The expansion comes in response to new sales insights from Jimmy Brings, which showed premix being the retailer's fastest growing drinks category in 2022. With summer meaning longer days, warmer weather and more outdoor social gatherings are on the horizon; insights indicate that the preference for premix isn't temporary.
Jody Liddle, Category Manager at Jimmy Brings says that being in touch with consumer trends and demands is just another way Jimmy is always giving the people what they want, when they want it. "With the consumer shift to premix, we were quick to add onto our existing range of cocktail mixers and premixed drinks. We want to be invited to all summer events, from a quiet birthday party with a few friends to a next-level New Years Eve fest," Ms Liddle says.
"As leaders in the ultra-convenience space, we believe you should look no further than down at your phones to track Jimmy in real time to deliver the goods. Whether craving a fruity cocktail or burning fireball, Jimmy is the guy you've been waiting for."
Gone are the days of the only premix options being variations of bourbon and coke; innovation in this category has been driven by pre-batched cocktails, premium cocktail mixers and light refreshing styles. The selection of new cocktail mixers includes fun fruit tingles and playful passionfruit martinis, all delivered in minutes. If playing bartender isn't your thing, Jimmy also released premix canned drinks including Bacardi Mojito Cans, Tequila Margaritas, Suntory Double Grape Cans and Fireball & Apple.
JIMMY BRINGS NEW PREMIX OPTIONS
Tails Batch Cocktails 42 Passionfruit Martini – Discover the tropical taste of passionfruit, combined with citrus, 42BELOW vodka and a sweet hint of vanilla ($40 each).
MSC Boxtails Fruit Tingle 2L – The Fruit Tingle is a sweet combination of mandarin, raspberry and lemon juice to make for an intriguing coloured cocktail ($33 each).
Bacardi Mojito or Strawberry Mojito 250ml Cans – A perfectly mixed Mojito with BACARDI Carta Blanca Rum combined with lime, sugar and mint ($26 4pk).
Suntory -196 Double Grape Can 330mL – An alcoholic premix made from shochu, vodka and soda. Using Suntory's unique Freeze Crush Technology™ that freezes and crushes real fruit to capture every bit of all-natural bold grape flavour ($26 4pk).
Fireball & Apple 6.6% 355mL – A generous serve of Fireball Cinnamon Whisky pairs perfectly with crisp apple for ultimate refreshment ($29 4pk).
Ampersand Tequila & Margarita Can 355mL – A low-sugar sparkling Margarita mixed with a premium Blanco tequila and that classic limey citrus tang ($24 4pk).
Mr Consistent Sour Mixer 750ml – Sour Mixer is impeccably balanced to ensure the mixer you add with it enhances the flavours inside the mighty bottle. Whether you enjoy the sweet Amaretto Sour or maybe a Gin or Whisky Sour – Sour Mixer has you covered ($32 each).
Visit jimmybrings.com.au to see the full selection of cocktail mixers and premixed drinks or download the Jimmy Brings app via the Apple App Store or Google Play to place your order.
Sydney Unleashed is one of Australia's premier entertainment publications exploring the latest in lifestyle trends. From Sydney's finest restaurants, cafes and bars to the hottest in gadgets, products, and home entertainment, Sydney Unleashed is your one-stop lifestyle platform.