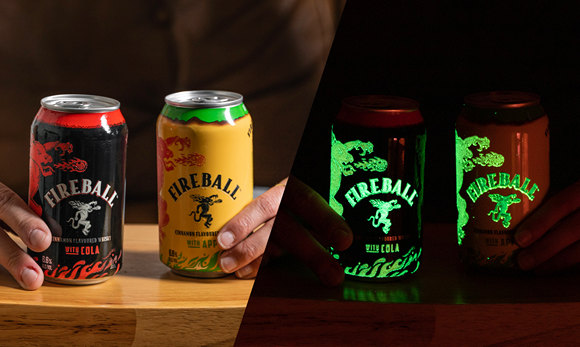 Fireball Whisky Introduces The World's First Glow In The Dark Premix Cans
Fireball is dropping the hottest thing to hit fridges in decades and cranking up the heat with the introduction of Fireball premixed cans. Available in two epic flavours – Fireball with Apple and Fireball with Cola – this new offering keeps the flame burning after dark with an unexpected twist: the cans glow in the dark!
Fireball with Apple and Fireball with Cola premixes still pack that famous cinnamon-whisky punch in a well-loved serve. The 355mL cans are mixed at 6.6% ABV, including 1.8 standard drinks each, and offer a whole load of convenience and smooth transition into late-night shots. Priced at $29.99 for a 4 pack, frothers will be racing to local stores to snag these golden cans snaked with a neon green dragon.
For apple and cinnamon whisky lovers, Fireball with Apple fuses sparkling apple with a generous serve of Fireball meaning these bad boys deliver maximum levels of refreshment in every sip.
Bourbon and cola fiends can score a spicy twist on the classic combo with a Fireball Whisky with Cola premix – similar to the much-loved classic bourbon and coke but with a cheeky cinnamon twist only Fireball can bring. It's a bold mix that goes up in flames, so summon the glowing dragon and fuel the night ahead.
If the combination of Fireball in a glow in the dark can is blowing your mind, another bombshell is coming. In addition to the above, Fireball is coming in hot with an absolute show-stopper, the glow in the dark Fireball "Dragon Serve" with Cola. At 10% ABV this spicy number is intensely heated with more Fireball Whisky, less mixer. At two standard drinks per can, this 10% ABV mix will have you reaching for the lasers in no time.
Go full throttle and knock off with Fireball's new premix range. All three cans are available now (RRP $29.99). Grab a fresh batch at your local BWS, Dan Murphy's, Liquorland, 1st Choice Liquor Market, IGA Liquor, Cellarbrations, The Bottle-O, Thirsty Camel, Liquor Legends, 911 Tasmania or other killer independent bottle-Os.
Sydney Unleashed is one of Australia's premier entertainment publications exploring the latest in lifestyle trends. From Sydney's finest restaurants, cafes and bars to the hottest in gadgets, products, and home entertainment, Sydney Unleashed is your one-stop lifestyle platform.