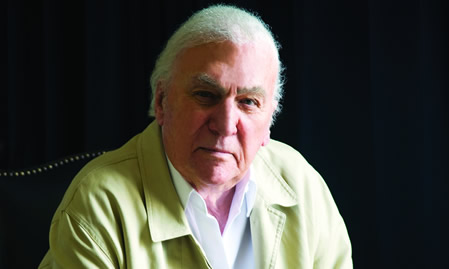 In the ever changing world of modern media outlets, the medium of radio has remained resilient across all age demographics. And in a world where many people come and go, one particular legendary man has been at the top of his game for more than sixty years: John Laws, CBE OBE.
Golden Tonsils, Lawsie, King of Radio, or easy to get along with John (as commonly referred to around his studio) has always graced the airwaves around the nation in some capacity and currently can be heard in the mornings from 9am till midday on Newcastle stalwart 2HD. On a personal note, my grandparents listened to Mr. Laws while I was growing up. His voice became familiar to me and recently I decided to be a talkback caller to ask him his favourite film, quoted as The Letter (1940) with Casablanca (1942) and Magnificent Seven (1960) also mentioned.
Amongst a challenging, motivated and influential life, Mr. Laws survived being struck by Polio twice, escaped tragedy after a truck ploughed into his house and survived many a big night alongside notorious advertising magnate John Singleton. No stranger to controversy, his terrific new book Lawsie: Well…You Wanted To Know (New Holland Publishers) is a semi-autobiography packed with interesting stories addressing critics while also discussing success and enlightening the reader to an array of famous people he has met along the way, many of whom became good friends including high ranked politicians and world leaders.
This journalist, yours truly, once interviewed country singer icon John Williamson and he told me off the record that his mate John Laws would like me. Well a couple of years later, he was absolutely right as I had the privilege to enter the extravagant open studio inside 2SM super-network in Sydney. Sitting across from Mr. Laws, it was apparent an icon was before me reaching out to shake my hand. I was in awe to just listen.
Do you you think you are more entertaining now than you were in the early days, have your talkback methods changed?
John Laws – Much more entertaining (laughs). No, I've matured so my outlook could be slightly different apart from that no, I'm just as obnoxious now as I was then.
Frank Sinatra certainly degraded Australian media in 1974 during his visit, as you mention in the book. However, having been part of it for so long yourself, what is good about national media in your opinion. Has it regained a global good reputation?
JL – It matches any media in the world. In current affairs and the like, we surpass other international reporting, nothing to be ashamed of at all. Our radio broadcasting, certainly not just because I am involved in it, is hugely superior than American radio, it's silly. We are good at what we do.
Has the medium improved with the advent of social media, or indifferent to you?
JL- Indeed better, especially talkback having the facility to converse with someone in New York, London. What makes it attractive is the immediacy of radio.
Being a tall strong athletic man still going well into your eighties, do you still go ten pin bowling?
JL – (laughs) No but used to love it and tennis both were a passion that remind me of good times.
Would you say a Disc-Jockey is a thing of the past? What memories do you have of playing vinyl records on stations around the country?
JL – Didn't have many mishaps which could become prevalent with the touchy nature of records. Used to love playing my own records, choosing songs. I do that now.
Working for free when starting out, did that help you strive to become the best you could be and value your career?
JL – Probably but I don't know if I ever strove to become anything at all! Never have consciously thought about ambition or consciously wanted to be this and that, just living my life doing what I do has worked out pretty well. Certainly won't interfere with it.
You're not considering a second retirement anytime soon (John announced retirement several years ago before returning to air after a short break to 2SM Sydney)?
JL – No, although you do think about it every now and again. What would I do?
One passion is spending solitary time reading in your extensive library. How big is it, are all titles on display?
JL – Couldn't tell you…thousands across three libraries. Two in the house and one in the office which is the same building anyway. Books are wonderful. Reading is something that expands the mind and entertains you, can't ask for more than that, to gain knowledge. They are all standouts in their own way, all very special. Some first editions are highlights like an 1832 edition of Arabian Knights.
I was surprised to read in your book that after being cast in 1970 Australian film Ned Kelly alongside Mick Jagger, you didn't film any scenes although to this day you're listed in the credits. Did you actually film any scenes?
JL – Nothing. No royalties either (laughs), going out with the director Tony Richardson for a drink was eventful (story in the book).
Are there any particular celebrities you got along with off the air or personally?
JL – All round entertainer Roger Miller. Also Willie Nelson, probably got on too well with wonderful Willie (laughs). Johnny Cash, honest personable fellow, he was great. There were plenty of stories Shane but can't tell you about them (laughs). There is quite a few I spent time with, Glen Campbell was another.
Whenever I am not watching movies or reading books for my job, I tune in to your 2HD show. Is callback regular 'Norman' for real?
JL – Absolutely! He is real, calls at random. My friendly neighbourhood psychiatrist (not that I go to a psychiatrist), we've got one living in the building, says Norman is in love with me (laughs).
How long did it take you to recall memories for this book or had notes been kept?
JL – It was a series of interviews that were done like you and I now, me answering questions over a twelve month period of telling stories.
What tips or ideals would you pass onto a person wanting to break into a would-be successful radio career (*Writers Note: I did not understand the following answer when first told. It took another listen on playback to appreciate his advice)?
JL – Fill your mouth up with marbles, try talking. Gradually take one marble out at a time and continue to try talking. Keep taking each marble out and when you've lost all your marbles, then you go into radio.
Not trying to be morbid but what would you like to write on your tombstone for everyone to remember you by?
JL – Thank Christ it's over.
LAWSIE: WELL…YOU WANTED TO KNOW
Available now through New Holland Publishers.
Shane A. Bassett
Sydney Unleashed is one of Australia's premier entertainment publications exploring the latest in lifestyle trends. From Sydney's finest restaurants, cafes and bars to the hottest in gadgets, products, and home entertainment, Sydney Unleashed is your one-stop lifestyle platform.