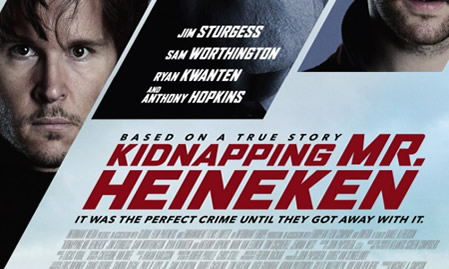 Ryan Kwanten Interview.
Largely unappreciated upon cinema release, this is an impressive movie about the unbelievable factual account concerning the fiasco surrounding the abduction of one of the richest men in the world, the heir of the Heineken beer empire. The retro setting of Kidnapping Mr. Heineken and excellent cast including Australian duo Sam Worthington and Ryan Kwanten make this a must-see.
Born in Sydney and making a start as a child actor on television and playing The Kid in the little known B-Movie Signal One before an extended stint on soap opera Home & Away, Ryan Kwanten hit the big time on vampire series True Blood. But Ryan Kwanten remains very grounded.
Shane A. Bassett. When first cast for the role did you know anything about the actual incident?
Ryan Kwanten. No not at all, I was kind of surprised not to know anything seeing at that time in the 1980s, it was significant to that particular decade as an international story. Being the biggest ransom ever paid at the time for a hostage and a successful kidnapping at that, in the case of our story it's a very lucrative one.
SAB. Did you use much of your own personality in the role or was the portrayal all to script?
Actually I wanted to pull back much of the script and be the quieter guy in the background as my character was known for, so I just went for fewer actions while attempting a certain look to be unique.
SAB. Working with Sir Anthony Hopkins must have been exciting. What was he like behind the scenes?
Pretty electrifying. Even in the days leading up to his arrival, a powerful feeling came over the set that we were about to be touched by royalty (laughs), Thank god he lived up to all the expectations. He did everything so professionally, a pleasure to be around. He stayed around the location on the last day to sign autographs or take photos or watch a couple of scenes he didn't appear in. He really was a true gentleman.
SAB. Did you enjoy appearing in an action thriller and what about the period costumes – how was that for inspiration?
Yes I love what I do bouncing around to different periods. I certainly wouldn't like to be stuck in one genre. I'm too active to become bogged down, coming off a seven year stint on one show (True Blood). I'm looking at staying relatively free formed for now.
SAB. When filming Kidnapping Mr Heineken in Amsterdam and around Europe, could you walk the streets incognito?
With that ridiculous wig I wore, it was surprising how easy it was. I love that city, my dad was born in Holland arriving in Australia when he was four so there was a somewhat connection to the Dutch-land. One of the greatest memories I'll never forget is sitting in a speedboat racing down the famous canals with a World War 2 artillery gun being chased by police, it was all kind of surreal to be honest.
SAB. How would you describe Kidnapping Mr. Heineken to someone who might hire it on DVD or buy the Blu-ray?
The retro feel of it all gives it edge. It is dramatic and a somewhat amusing story that really shows how a bunch of normal knockabout friends who out of desperation are capable of anything.
SAB. Do you miss working on True Blood or happy there is no more bloody ramifications in Bon Tempts?
More than happy we went for as long as we did because I had an incredible time on that show working with such a caliber of girls and guys. Look I got nostalgic after Season 2 so I was stoked to get 7 in the mix, but very happy to close the book on that. See where life after True Blood takes me.
SAB. Through True Blood mania, were there any strange moments concerning fans or requests for publicity?
No there was the odd question or interaction on the street but nothing really phases me. I'm pretty easy going and seen most things.
SAB. Since Not Suitable for Children and Red Hill were praised, are you keen to keep Australian-made projects on your agenda?
Absolutely. There is one in the works producing right now called Stolen. There is a conservative effort to get back to the country, make some films that gave me the passion in the first place and a head-start to have a career in this awesome business.
SAB. Being a surfer myself, I wondered after appearing in Liquid Bridge, do you still surf?
Ha yes! Just got back to Australia ten days ago and made an effort to get out for a surf. So trying to make a serious effort at some family time because usually visits are only fleeting. Dad and I took a trip up the coast to the Crescent Head area to get some surfing in there. The area is great but gets a little crowded for my liking so trying to find secret spots off the track is well worth it.
SAB. You may not believe this but I saw your early film Signal One at the cinema and have this vivid memory that I was the only one there. Having written reviews on every movie I have ever seen since I was nine years old, it would be noted down somewhere.
(laughs) Oh wow, I'll have to take your word for that and your life has never been the same since right? (laughs) It is a title I never thought I would hear again that's for sure.
SAB. The Signal One lead Christopher Atkins actually resembles you now.
He probably does, I agree.
SAB. You recently worked with Mickey Rourke in a new film Blunt Force Trauma. How was that experience and what can you tell me about the film?
It's a western of sorts with an underground kind of style of gun battles that happen. My character is traveling across Mexico who along the way meets the ultimate gunfighter (Mickey Rourke) and female equivalent (Frida Pinto) whom I have a torrid love affair with. She tries to show me the correct way out only to face inner demons before a duel with Mickey.
SAB. Do you take notice of critics regarding your films or social media?
No mate I don't have the time to be perfectly honest. I love the ambiance of making the films I do without worry of success or failure of box office. The experience is why I do what I do, does that make sense?
SAB. Completely. I think you had accurate and enjoyable comic timing in a relatively poorly received film (Knights of Badassdom) with Peter Dinklage (Game of Thrones).
(laughs) Thanks, much appreciated Shane. It will not appeal to everyone's comedic sensibilities but I'm glad you personally had fun with it.
SAB. Keep up the good work Ryan. All the best with acting in and producing Stolen. Looking forward to speaking again upon release, if I find a rare copy of Signal One I'll keep it for you.
Great you do that and keep surfing uncrowded waves. Nice interview mate.
KIDNAPPING MR. HEINEKEN now available from Becker Film Group Home Entertainment on DVD and Blu-Ray.
Shane A. Bassett
Sydney Unleashed is one of Australia's premier entertainment publications exploring the latest in lifestyle trends. From Sydney's finest restaurants, cafes and bars to the hottest in gadgets, products, and home entertainment, Sydney Unleashed is your one-stop lifestyle platform.