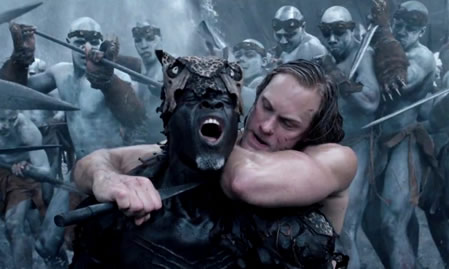 The Legend Of Tarzan Feature
Djimon Hounsou Interview.

You know his voice from the How To Train Your Dragon adventures and no doubt recognise him from an array of excellent films such as Gladiator, Amistad, Fast & Furious 7, or Guardians of the Galaxy.
Academy Award nominations for In America (2002) and Blood Diamond (2006), the former male model who grew up in France is part of the latest Tarzan big screen adventure also starring Australian Margot Robbie, Christoph Waltz and Alexander Skarsgard as the jacked up vine swinging lord of the apes. When we begin talking down the line, Djimon Hounsou is excited to be talking to an Australian mentioning how Heath Ledger is still close to his thoughts.
Shane A. Bassett – Have you ever been to Australia?
Djimon Hounsou – No bro, came very close a couple of times. Also a couple of iconic actors from your country, one being my great friend Heath Ledger, the other being Russell Crowe, have invited me over time. Sadly I didn't make it before the late Heath Ledger (passed). I almost made a film with Alex Proyas (Gods of Egypt) but another opportunity will arise soon, most definitely.
SAB – What are your memories of Heath when working on The Four Feathers (2002)?
DH – Great journey making Four Feathers, what a top notch guy. Sadly he left us too soon and unbelievable talent at the time, blooming with another degree of talent on top of that. Unforgettable memories.
SAB – As a former male model, what led you to becoming an actor in the early years?
DH – The dream was acting career first, modeling was a complete accident, it just happened. So around it, I leveraged for the time being which led me to America and my love of cinema.
SAB – How much of the legend of Tarzan did you know before being cast? Had you read the books, seen films?
DH – Knew a little bit growing up in France early 1980s, everyone saw Frenchman Christopher Lambert as Lord Greystoke (1984). That was inspiring to me back then and a fun story to watch. Our look at Tarzan is as mature with a great amount of subtexts: political, environmental and looking at ravaging the animal kingdom.
SAB – Your character has scars all over his chest. Is there a back story on that we didn't see?
DH – Yes definitely, a story behind Chief Mbonga that speaks about his justifiable rage and revenge ethics. I have signed on for further films when we will better understand the drama between the Chief and Tarzan.
SAB – What kind of fitness techniques do you do to prepare for a physical part such as Tarzan?
DH – I keep regular conditioning anyway but for a role of this nature, you have to step it up especially running onto the set and seeing how unbelievably fit and dedicated Alexander (Skarsgard) was looking, like an elite Tarzan (laughs). That really inspired us all to get into the right frame of mind with help of a nutritionist and trainer.
SAB – Do you think you could have played Tarzan if offered? They could always change it up.
DH – (laughs) No, it's an iconic fictional portrayal of a white orphan getting lost in the wilderness in a foreign land so to me, it wouldn't make sense. But if it was changed up, it would be a different story, not Tarzan. On this one, we did try to highlight social issues relevant in our world.
SAB – Many of your scenes are with Christoph Waltz, he seems like a wonderful person.
DH – Indeed, a lovely genuine man. So talented playing those characters in a variety of great movies.
SAB – Your costume was elaborate, did you like wearing it?
DH – No, it's not something I would contemplate wearing again (laughs). You never know, it could make a great halloween costume.
SAB – Being nominated for two Academy Awards, how did it feel when your name was announced?
DH – I've been there a couple of times, both unbelievable, almost a surreal roller coaster you navigate from the moment you hear your name. From that moment, the phone rings like crazy and you wish it would be like this always.
SAB – As an actor, do you look for specific roles or wait to be offered projects?
DH – You get to a point where you're not just working to work but working to leave a legacy of a career.
SAB – What will we expect from your character CJ in upcoming Wayward Pines episodes?
DH – He gets very edgy towards the end, I only finished working on it Friday, it is absolutely WOW! You're about to enter a crazy world. Really enjoyed being part of season two.
SAB – You have produced projects, would you consider directing or writing?
DH – I did a mission statement to direct a story but am still battling with it, struggling with ideas because it takes a lot of commitment. You're there from beginning to end and that's huge dedication and I want to keep acting jobs, but still contemplating it. I have directed an interesting cultural African people documentary but not done with it yet, only seventy percent is complete. It is a pleasure to be able to do these fulfilling things.
SAB – On Amistad, how was Steven Speilberg different to others you may have worked with?
DH – That was my first major motion picture, learning so much from the man the way he approaches the work. His love of film was made visible how he goes about things on set and personally to cast members.
SAB – What new things do you want audiences to get out of this latest Tarzan adventure?
DH – I would like to say mostly the subtle messages how back in the day colonies were being destroyed, the social inequality of our society, the military occupation across the continent of Africa to the developing economic occupation which seems to be so much more of a stronghold today. I like how the story shows the need for family and togetherness, all that essence radiates into our movie alongside fantastic action scenes.
SAB – You agree David Yates was the right choice as director in his style of storytelling?
DH – An amazing job highlighting some of those stories I mentioned. Just a wonderful person to be around: his demeanour, humbly poised with obvious creativity. On set everyone listens closely to him with respect.
SAB – Finally, what can you tell me about your role in the upcoming Guy Ritchie version of King Arthur?
DH – It is a great character of a knight who has been there from the beginning of the rise of King Arthur up to his doomsday. I play a profound, extremely important knight on the round table, it's an action driven fun film. I am looking forward to publicising that with you Shane.
SAB – Did you learn about action on set with Michael Bay filming The Island?
DH – Loved doing it but not one of my best roles (laughs), so much more to come. I am still growing, stories  being offered are evolving from different places so it's nice.
Shane A. Bassett 
Sydney Unleashed is one of Australia's premier entertainment publications exploring the latest in lifestyle trends. From Sydney's finest restaurants, cafes and bars to the hottest in gadgets, products, and home entertainment, Sydney Unleashed is your one-stop lifestyle platform.