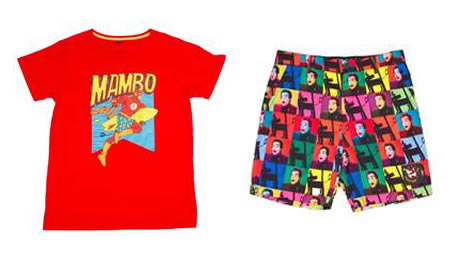 Mambo DC Comics Collection
Warner Bros. Consumer Products and DC Entertainment has teamed up with Australian icon Mambo to launch a first of its kind collaboration. The collection features men's clothing and men's and boy's sleepwear. The highly anticipated women's and kid's range is also available.

Mambo has partnered with Warner Bros. Consumer Products Australia and New Zealand, on behalf of DC Entertainment, to access the hugely popular Super Heroes and Super-Villains of DC Comics, including Batman, Superman, Wonder Woman, The Flash and Catwoman seizing inspiration and themes for the collection.

The limited edition range has been developed with Mambo's stable of renowned and emerging artists including Ben Brown, James Jirat Patradoon, Bei Badgirl, Lee McConnell, Numskull, Meggs, Emily Vanderlism and Reg Mombassa, who have put their own artistic and often humorous "Mambo" spin on the designs, creating a DC Comics apparel collection unlike anything the world has seen before.

Tim Everett, Warner Bros. Consumer Products Director of Licensing and Sales Australia and New Zealand said, "The power and popularity of DC Comics Super Heroes continues to go from strength to strength in Australia so partnering with apparel icon Mambo and fusing its charming and irreverent brand personality with the mass market adoration of the DC Comics brand is tremendously exciting – and we can't wait to see the consumer's response."

The men's range is in stores just in time for Father's Day, and features colourful briefs from RRP $13 cotton boxer shorts from RRP $15, and comic inspired printed tees from RRP $22 with names such as "Bat Crisis Tee" and "1st Class Clown", the perfect accompaniment to the "Kryptonite" and "The Joker Days" board shorts, from RRP $35.00. The boy's sleepwear and women's range are available now.

With a history of bringing artwork and a sense of cheeky Aussie humour to many brand collaborations, Mambo is thrilled to be adding a globally recognised and much loved brand like DC Comics to its portfolio.
Mambo Managing Director, Angus Kingsmill said, "What is there not to get excited about when Mambo gets to put a cape on our farting dog, and turn Super Hero legends like Batman, Superman and Wonder Woman over to some of the planet's most creatively brilliant artists. It is a heroic collaboration of epic proportions."

The Mambo DC Comics men's collection is available in Big W. USA, New Zealand and Asia will also be treated to this limited edition offering!
Sydney Unleashed is one of Australia's premier entertainment publications exploring the latest in lifestyle trends. From Sydney's finest restaurants, cafes and bars to the hottest in gadgets, products, and home entertainment, Sydney Unleashed is your one-stop lifestyle platform.