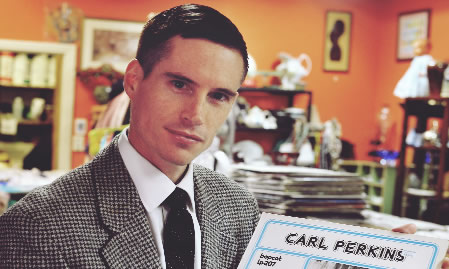 Matt Charleston Interview
Matt Charleston, the lead actor in Sydney's newest rock n roll play Sons of Sun chats with Sydney Unleashed. Sons Of Sun -The Sam Phillips Story is a rock and roll play about Sun Records, Memphis, and the artists that started their careers there.
How did you get your start in the entertainment industry?
My grade 6 teacher pointed at me in class one day and said in front of everyone, "You should do Rap Dancing." (a Tassie version of Break Dancing).  We were working on a Michael Jackson styled routine for some presentation and she noticed I could isolate my chest (I know, weird). I'm still mystified as to what sold it, but I started these dance classes anyway which led to an offer for a mate and I to appear in the local theatre production of Aladdin and his Magic Lamp. Cut to: A couple of characters on stage … "Nah, that's not dancing….THIS is dancing!"  That was our cue, we grooved on with our little beat box did our routine, ripped out a couple of backspins and that was it, we were hooked. Of course, the number of pretty girls in the show may have factored in there somewhere…
Best part of what you do?
It's always a great privilege to collaborate with other creatives and bring projects and stories to fruition.  I particularly love working on new material. Acting provides a great opportunity to explore all the manifestations of light and dark in the self and in others.  Of course that can be confronting but hopefully the end result is a greater level of empathy for all.  It certainly makes me feel very alive.  Challenging, and rewarding.  To play, perform, write, teach and hopefully entertain, encourage and inspire.
And the worst part?
The worst parts of the acting game are a given.  Actors are no strangers to: rejection, criticism, competition, excessive worry, waiting, lack of routine, career unpredictability, financial insecurities, personal insecurities, juggling jobs, difficult people/ego's, dating other actors (didn't I make a resolution about that?); the fact that that dude no-one thought could act just landed a lead an American series….I  could go on!  The challenge is to get to a place where you can be grateful for all of it. To blend with the ebbs and flows and stay present, and focused. For me, the practice of Shin Sen Aikido has been invaluable in developing a stable foundation for now, and for the future. Incidentally, I did not get that from the very famous Acting School I attended.
Any interesting experiences you can share?
Indy theatre can be a great training ground for all sorts of reasons.  Often throwing you in the deep end, and sometimes in deep shit.  I once had to do a show at La Mama in Melbourne after very limited rehearsals with half my face paralysed from an ear infection. Obviously it affected my speech, but my fellow "supportive" actors thought it kind of suited the character.  I've no idea if they meant it but the point was – the show must go on! The reviewers came on opening night…."Charleston twists his mouth to the point where his words are incomprehensible".  Little did he know……the bastard!
Favourite album of all time and why?
Best album….well, impossible question so you will have to put up with two answers; Michael Jackson's  Thriller and the first Chipmunks album I ever heard.  Can't remember what it was called but it probably had something to do with Christmas.
Best live performance that you've ever seen?
Best Live performance…oh good, another impossible question. I saw a panto in England when I was 8 which must have been good, because I loved it…and I was determined to HATE it.
Favourite bars/clubs/pubs to hang out in?
I live in Redfern and will sometimes meet friends at the Woolpack, it's pretty relaxed and the food is great.  Other than that, I tend to end up in the vicinity of whatever gig I'm performing in or seeing.
Take us through a typical day in the life of …
There really is no such thing as a typical day for me.  Each week presents a new juggling act.  Tomorrow will involve some Aikido training, some time on preparing for an audition, also an upcoming film project.  In the evening I have a tech run for our show at the Bridge on Saturday night.
Any news or final comments?
I am enjoying our residency for Sons Of Sun at the Bridge Hotel in Rozelle. It's a really enjoyable show to be part of and I'm looking forward to our November gigs. I also look forward to starting work on a New York/Australian feature called Defences shooting in Sydney in November/December.  I play the lead girls' AFL obsessed boyfriend.
Sons Of Sun – The Sam Phillips Story Sydney Show Dates (2013):
November 15: Bridge Hotel, Rozelle
November 22: Bridge Hotel, Rozelle
November 29: Bridge Hotel, Rozelle
All shows $25+bf from moshtix.com.au and ticketek.com.au
© Danny Canak
Sydney Unleashed is one of Australia's premier entertainment publications exploring the latest in lifestyle trends. From Sydney's finest restaurants, cafes and bars to the hottest in gadgets, products, and home entertainment, Sydney Unleashed is your one-stop lifestyle platform.