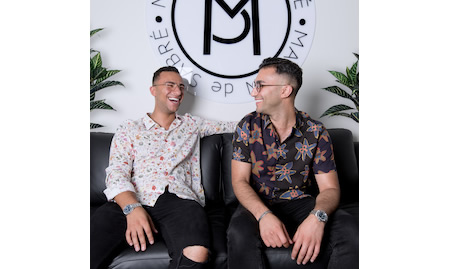 Meet the owners behind your favourite leather goods brand; Maison De Sabré
Motivated to help finance their father's medical bills, two brothers: Dr Zane Sabré, 23 and Dr Omar Sabré, 26, founded luxury leather goods brand MAISON de SABRÉ in 2017. Originally a side hustle to their dental degrees, the now multi-million dollar monogram brand is set to showcase its new collection at MBFWA (Australian Fashion Week) in May 2019.
"We sought to find ways to support our family both emotionally and financially when Dad got sick," explained Zane, "we then combined a few creative ideas, with a number of family values, namely encouraging self-expression and just like that MAISON de SABRÉ was born."
In less than 12 months, MAISON de SABRÉ grew exponentially and amassed international recognition. This growth inspired the two brothers to work part-time in their clinical profession, which allowed them to spend more time on the business, this included hiring of their first employee just last year.
"Our best selling feature has been the quality of our products. It's the incredible look and feel people love, and in our initial start up period, we saw thousands of organic purchases and brand growth," said Omar. "Word got out across a number of social platforms which helped us become the international namesake we identify as today."
Fast forward two years where MAISON de SABRÉ employs 16 staff to help operate out of their commercial warehouse and office space on the Gold Coast. The new headquarters are a welcome change to working from their apartment's garage, where MAISON de SABRÉ began.
The luxury leather goods brand has since been spotted in the hands of a number of celebrities thanks to its high quality, such as Sean Kingston, Millie Bobbi Brown, Dev Windsor, Youtube queen Shani Grimmond, and Instagram sensation Isabella Mathers.
"We're thrilled with our international presence," said Omar. "We ship to over 100 countries with buyers from all over the world. US, MENA, Japan and the UK are currently our strongest markets."
Style and quality are central to the Sabré brothers' product, and their foray into Australian Fashion Week 2019's onsite showroom is a milestone for the brand. The showroom, known as The Suites, will serve as the ideal launch for the brand's new styles and colourways set to launch at the event.
"It's so great that events like MBFWA offer the ability for premium accessory brands like ours to showcase our products beyond the more obvious confines of a fashion runway. What is fashion without fashion forward accessories after all?" Omar said.
With MBFWA less than a few weeks away, it's hard to imagine that MAISON de SABRÉ began as a humble side job to offer family support. Add the endearing story of mixing the clinical world of dentistry with creative accessory design and the Sabré brothers' rise may just be the best entrepreneurial story Australia has seen yet.
Sydney Unleashed is one of Australia's premier entertainment publications exploring the latest in lifestyle trends. From Sydney's finest restaurants, cafes and bars to the hottest in gadgets, products, and home entertainment, Sydney Unleashed is your one-stop lifestyle platform.