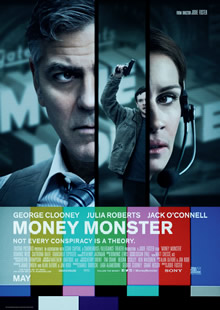 Starring: George Clooney, Julia Roberts, Jack O'Connell, Caitriona Balfe, Emily Meade, Giancarlo Esposito (Rated M – 98 min).
Pulsating drama based around a hostage situation playing out on live television, from the set of a top rated business show, has combined moments of mystery, thrills, and suspense all leading to an augmented finale.
Two of the true modern silver screen stars – Julia Roberts and George Clooney – light up scene after scene with enthusiasm and class while fellow Hollwood royalty Jodie Foster sits in the director's chair for only her fourth feature as auteur.
Scenery chewing Clooney plays handsomely smug Lee Gates who partakes in ridiculous dance routines or runs amongst special effects to help audiences of his finance show understand the stock market and money matters clearly. It's safe to say he is disliked by as many viewers as he is adored for the antics.
Somehow (in one of the only loopholes throughout the entire film) a young upset man walks onto the set armed with a bomb vest demanding Gates puts it on while the cameras continue to roll.
Bizarre circumstances are revealed related back to advice Gates had freely endorsed previously on the show. Against her better judgment, stalwart producer Patty Fenn (Julia Roberts) reluctantly lets things progress, for now as curiosity combined with the safety of colleagues. However changing dynamics to the situation evolve as does reasoning to the point of this whole ideal.
Deeply moving emotion unexpectedly sets in changing the tone in a heartbeat, literally. To tell you anything more would be irresponsible from me as a film critic but although this may be no classic dramatic media satire such as Network (1976) or last year's Oscar nominated The Big Short, this movie is alive. Admirers of the hit series Outlander will be excited to see former runway model, beaming Irish star Caitrona Balfe in a significant role while Foster directs with maturity simply letting her cast shine with effortless intensity. Must see!
Shane A. Bassett
Sydney Unleashed is one of Australia's premier entertainment publications exploring the latest in lifestyle trends. From Sydney's finest restaurants, cafes and bars to the hottest in gadgets, products, and home entertainment, Sydney Unleashed is your one-stop lifestyle platform.