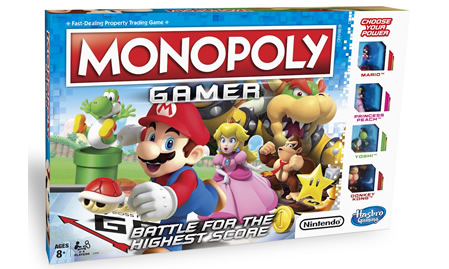 Monopoly Gamer: A New Way To Play Monopoly
The MONOPOLY brand from Hasbro and Nintendo have announced the launch of the MONOPOLY GAMER Edition game that introduces beloved Nintendo characters and new twists to the MONOPOLY game.
The MONOPOLY GAMER Edition game will feel familiar yet fresh to both MONOPOLY and Nintendo fans, as players race around the board to complete levels (buy property), collect coins (money)—either from the bank or by using special powers to take them from other players—and battle legendary bosses to rack up points and win the game. Players can choose from fan-favourite Super Mario character tokens, such as Mario, Donkey Kong, Princess Peach and Yoshi.
For the first time in MONOPOLY history, each character token will have its own unique Power-up ability, introducing another layer of strategy for new and old players alike. For example, landing on the Super Star board space will activate Princess Peach's Super Star ability to collect rent from the bank. Players can also activate a special Power-up boost by rolling the Power-up die.
"The MONOPOLY GAMER Edition game combines the world of Nintendo with the physical, face-to-face world of the MONOPOLY game," said Jonathan Berkowitz, senior vice president of global marketing for Hasbro Gaming. "By giving MONOPOLY tokens unique abilities and adding game-play elements such as the Power-up die, we are offering fans an exciting new way to engage with two of their favorite gaming brands."
"The MONOPOLY brand has been a staple in the gaming aisle for more than 80 years, and we're excited to give Mario, Yoshi and other characters the chance to 'Pass GO' and bring their powers to life in MONOPOLY GAMER Edition game," said Tom Prata, Nintendo of America's Senior Vice President of Strategic Initiatives. "This collaboration is the latest example of Nintendo's efforts to give fans a variety of fun and surprising ways to interact with their favorite Super Mario characters."
The standard MONOPOLY GAMER Edition game is available at major retailers for RRP $44.99, and is for ages 8 and up. Fans can take their MONOPOLY GAMER experience to the next level with the purchase of MONOPOLY GAMER POWER PACKS (each sold separately), which include one of several Super Mario character tokens like Luigi, Boo, Rosalina, Wario, Diddy Kong and more. The POWER PACKS are available for RRP $5.99 each.
The MONOPOLY GAMER Collector's Edition game is available exclusively through EB Games (RRP $64.99), featuring premium packaging and a bonus Bowser token, available exclusively in this edition of the game. The MONOPOLY GAMER Collector's Edition is also available at additional online retailers.
Sydney Unleashed is one of Australia's premier entertainment publications exploring the latest in lifestyle trends. From Sydney's finest restaurants, cafes and bars to the hottest in gadgets, products, and home entertainment, Sydney Unleashed is your one-stop lifestyle platform.