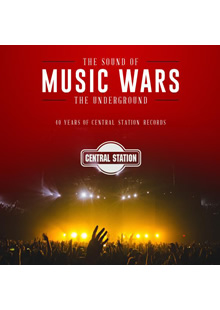 40 Years of Central Station Records.
Founded in the 1970s, Central Station Records grew from a small independent Melbourne based store into an iconic dance music brand, recognised on a global scale.  By the mid-90s, the brand held physical stores in major cities, busy mail-order and export operations, successful recording labels and street wear lines.
The focus was electronic dance music – from disco and house, to hip hop and hardcore – and the whole lifestyle surrounding it.  Meanwhile, its sideline business, 'Metal for Melbourne' catered for another emerging and neglected market – heavy metal fans.
In many ways, original owners Giuseppe (Jo) Palumbo and Morgan Williams were unlikely entrepreneurs.  Both from the wrong side of the tracks in their respective birthplaces (Italy and New Zealand).  They were motivated more by the prospect of achievement, freedom and fun, than by any hunger for money and status.  Unfortunately for them, freedom and fun were hard to come by for many years, as they contended with legal threats, supply embargoes and intimidation tactics.
Fortunately, dance music took off in a big way.  Generations of DJs, clubbers, ravers and radio listeners supported their stores and tunes.  It is to the dedicated and loyal fans that Central Station Records owes their thanks, in celebrating 40 extraordinary years.
This 3x CD release is a look into the world that was and is, Central Station Records. With CD 1 focusing on music prominent in the original store between 1970 – 1990, including: Chic – Le Freak, Crystal Waters – Gypsy Woman, and Donna Summer's – I Feel Love.  CD's 2 & 3 highlight the varied success the record label has achieved over the years, including hits from international icons such as: Vengaboys, Scooter, DJ Sammy, Hardwell, Chicane, Tina Cousins, ATB and more recently our home grown heroes, Bombs Away, Odd Mob, and Starley.
CD 1 – The Record Store (1970 – 1990)
1. Eric B. & Rakim – Paid In Full (Mini Madness  – The Coldcut Remix)
2. Chic – Le Freak (Single Edit)
3. Cameo – Word Up!
4. Grace Jones – Pull Up To The Bumper
5. Womack & Womack – Teardrops
6. Crystal Waters – Gypsy Woman (She's Homeless)
7. Rick James – Super Freak
8. Candi Staton – Young Hearts Run Free
9. Soft Cell – Tainted Love
10. Chaka Khan – Ain't Nobody
11. Diana Ross – I'm Coming Out
12. Donna Summer – I Feel Love
13. Fine Young Cannibals – She Drives Me Crazy
14. C+C Music Factory feat. Freedom Williams – Gonna Make You Sweat (Everybody Dance Now)
15. Salt-N-Pepa – Push It
16. CeCe Peniston – Finally
17. Whitney Houston – How Will I Know
18. Hithouse – Jack To The Sound Of The Underground
19. Technotronic – Pump Up The Jam
20. S'Express – Theme from S'Express
CD 2 – The Record Label Pt.1
1. Starley – Call On Me (Ryan Riback Remix)
2. Hardwell feat. Jason Derulo – Follow Me
3. Odd Mob – Into You feat. Starley
4. Alexandra Stan – Mr Saxobeat
5. September – Cry For You
6. Bombs Away – Party Bass
7. Qwote feat. Pitbull & Lucenzo – Throw Your Hands Up (Dancar Kuduro)
8. Eiffel 65 – Blue (Da Ba Dee)
9. DJ Sammy & Yanou feat. Do – Heaven (S 'n' y Mix Radio Edit)
10. LMC Vs U2 -Take Me To The Clouds Above
11. Chicane – Saltwater (Original Radio Edit)
12. Mousse T. vs. Hot'n'Juicy – Horny '98
13. Panjabi Mc Featuring Jay-Z – Mundian To Bach Ke (Beware Of The Boys) (Jay-Z Remix Radio Edit)
14. Chili Hifly – Is It Love?
15. Freeform Five – No More Conversations (Mylo Remix)
16. The Source feat Candi Staton – You Got The Love
17. Slinkee Minx – Summer Rain
18. Infernal – From Paris To Berlin
19. Cascada – Every Time We Touch
20. Nick Skitz – Excalibur
21. Scooter – The Logical Song
22. Hocus Pocus – Here's Johnny!
CD 3 – The Record Label Pt.2
1. Kernkraft 400 – Zombie Nation
2. Vengaboys – We Like To Party (The Vengabus)
3. Alice Deejay – Better Off Alone
4. ATB –  9pm (Till I come)
5. Darude – Sandstorm
6. 4 Strings – Take Me Away
7. Inna – Hot (Play & Win Mix)
8. Edward Maya & Vika Jigulina – Stereo Love
9. Azzido Da Bass – Doom's Night (Timo Maas Remix)
10. N Trance – Set You Free
11. Amen – Passion
12. Frisco & Corona – Rhythm Of The Night
13. Tina Cousins – Wonderful Life (Dance Version)
14. Red Carpet – Alright
15. Klubbheads – Kickin Hard
16. DJ Jean  – The Launch
17. DJ Sakin & Friends – Protect Your Mind (Vocal Edit)
18. Da Hool – Meet Her at the love Parade
19. Fragma – Toca Me (Inpetto remix)
20. Nalin & Kane – Beachball
21. Rui Da Silva Feat. Cassandra – Touch Me
22. Porn Kings – Up To No Good
23. Ultrasonic – Annihilating Rhythm
MUSIC WARS: 40 YEARS OF CENTRAL STATION RECORDS is available now.
Sydney Unleashed is one of Australia's premier entertainment publications exploring the latest in lifestyle trends. From Sydney's finest restaurants, cafes and bars to the hottest in gadgets, products, and home entertainment, Sydney Unleashed is your one-stop lifestyle platform.