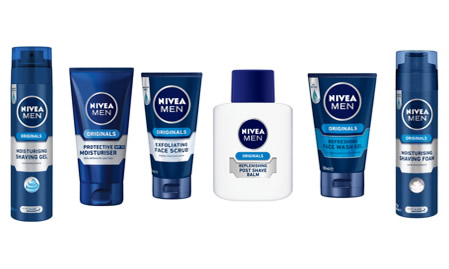 NIVEA MEN understands that men's faces go through a lot daily. That's why, as the number one men's skin care brand worldwide, NIVEA MEN is the right choice to give back to stressed skin that feel and show the effects of shaving.
NIVEA MEN has relaunched its range of skin care products to help men unlock their everyday potential, because if you have great looking skin then you'll feel good in your skin, and have confidence to achieve more everyday.
Relaunching as NIVEA MEN (previously NIVEA FOR MEN), the entire product range – from face care, deodorant and shower products – is sporting a fresh new logo and sleek look. So if you prefer to stick to the moisturising blue range, need to soothe your sensitive skin, are looking for an energising Q10 boost or trying to keep older skin strong and healthy looking with active-age care, NIVEA MEN has your needs covered for simple yet effective skin care solutions.
NIVEA MEN understands that men need to discover and take action themselves and not wait for someone to tell them, after all, it begins with you! Simply by kicking the day off with a regular grooming routine will leave you feeling empowered to achieve more in the day ahead. Previously the core blue range, the new NIVEA MEN Originals range has undergone a formula upgrade as well as a packaging overhaul to provide you with quick and simple way to refresh, soothe and protect your skin. The NIVEA MEN Originals range includes:
NIVEA MEN Originals Protective Moisturiser SPF15. Included is Vitamin E and SPF15 defence, this daily moisturiser is perfect for the man who wants long-lasting 24 hour moisturising care while actively protecting his skin from harmful UVA and UVB rays.
To prevent skin drying out and becoming irritated from shaving, NIVEA MEN Originals Moisturising Shaving Foam is an ultra-rich foam jam-packed with Aloe Vera, Vitamins and active moisturisers. Thanks to its Ultra Glide Technology™, this product actively softens beard hair to give a close and extra comfortable shave without those painful micro-cuts and irritations.
For an extra-gentle shave for skin that tends to be dry and easily irritated, try NIVEA MEN Originals Moisturising Shaving Gel. Built with Ultra Glide Technology™ and packed with Aloe Vera and Vitamins for healthy and refreshed skin, this shaving gel is perfect for men who want to avoid skin irritations and protect against dryness during and post shave.
For men who want thoroughly clean and smooth skin without tightness, NIVEA MEN Originals Exfoliating Face Scrub is a fresh foaming gel containing Vitamin E, Minerals and Menthol. The fine exfoliating particles deeply cleanse to unblock pores, remove dry and dead skin, while smoothing skin to look clean and healthy.
To feel cleansed and refreshed, use NIVEA MEN Originals Refreshing Face Wash Gel. This effective cleansing gel formula with Vitamin E and menthol removes all dirt and excess oils helping to unclog pores and prevent breakouts. Skin is left refreshed, cleansed and relaxed. Perfect for men who want immediate relief for dry and tight skin postshave, NIVEA MEN Originals Replenishing Post Shave Balm is a mild and non-greasy formula created with special moisturisers, Vitamin E and Provitamin B5, that soothes and nourishes skin whist providing long-lasting moisture.
Unlocking your full potential everyday starts with looking and feeling good. NIVEA MEN products feel good on your skin, so you feel good in your skin, giving you a daily boost of confidence to get the most out of your day and achieve your goals. Remember, it begins with you!
Sydney Unleashed is one of Australia's premier entertainment publications exploring the latest in lifestyle trends. From Sydney's finest restaurants, cafes and bars to the hottest in gadgets, products, and home entertainment, Sydney Unleashed is your one-stop lifestyle platform.