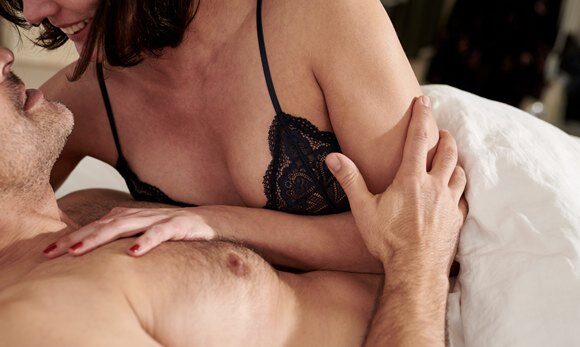 Not a Fan of Being on Top? Here Are 7 Tips to Change Your Mind
Unlike missionary sex, a cowgirl position isn't a go-to for many women, and there are obvious reasons for that – it can make you feel less confident, not to mention how exhausting this one is. However, being on top of your partner is one of the most convenient positions for reaching orgasm, as it allows you to control speed and depth of penetration while also making you feel closer to your partner.
For this reason, you may want to give a cowgirl and other on-top sex positions a chance and get more comfortable with performing them – after all, practice makes perfect!
Below, you will find several tips on making being on top during sex as enjoyable as possible. Apart from not comparing yourself to porn and allowing your partner to help, you can also try grinding instead of bouncing, using pillows to help yourself balance, masturbating, and using sex toys for increased satisfaction. Read on and put yourself in charge of your own pleasure!
​​Stop Comparing Yourself to Porn
While there are many positives to watching porn (e.g., it can be a great way to learn new moves and get more comfortable with your body), there are negatives, too. For example, porn often portrays women in a very specific type of sexual encounter, which can make you feel like you need to fit the same, often unrealistic, model.
Porn is great when it comes to the pleasure of viewing, but it's not great when it comes to the joy of performing. Once you start comparing yourself with porn stars, you may start feeling insecure about your body and your performance in bed, which is not something you want to do. Therefore, even though watching porn may seem like a good idea, try not to get caught up in it – instead, focus on enjoying yourself and having fun during sex.
Masturbate While on Top
Apart from giving you control over the speed and depth of penetration, a cowgirl is one of the most convenient positions to touch yourself during sex, helping you reach orgasm much faster. If you think that combining both is too much work, you can always ask your partner to do it for you – they can caress your breasts, play with your clitoris, or simply kiss and touch you wherever you please.
Additionally, a cowgirl position is also good when it comes to solo sessions if you're using bigger sex toys, such as dildos, sex doll torsos, or life-size male sex dolls.
Allow Your Partner to Help You
You are in charge! However, this doesn't mean that you should do everything by yourself. Just as it's easy for you to lose control and get exhausted, it's also easy for your partner to lose control and not last long enough. In order to prevent this, simply ask your partner to help you out – let them know that you are still extremely aroused and want more stimulation or which parts of your body they can support to make it easier for you to move.
Use a Vibrator
Using sex toys during sex is something that makes sex even more fun, which is something that we all want – right? And the best way to enjoy yourself while being on top is simply using a vibrator. You can simply slide it between your legs and use it to stimulate your clitoris – this way, you can easily drive yourself to orgasm while still enjoying the pleasure of penetration.
Experiment with Different Sex Positions
If you are bored of a regular cowgirl, you can always try other on-top sex positions like a reversed cowgirl or the lotus. The most important thing here is to be able to experiment without feeling insecure or awkward. If you are in a long-term relationship with your partner, you both should try to be open-minded regarding different sex positions.
Remember that the most important thing here is to enjoy yourself – if a certain position doesn't work for you, there's no need to force yourself into it. Instead, find out what you do and don't like about each sex position so that you can continue trying different ones until you find a perfect fit for you and your partner.
Use Pillows to Help Yourself Balance
If you feel uncomfortable with being on top and constantly worry about getting too exhausted to enjoy the process or, let's say, accidentally falling on your partner, you should try using pillows to help you balance. This way, you can enjoy yourself without having to worry about holding yourself up – the pillows will do that for you.
Even though it may seem like a silly tip, it can actually make a huge difference in your sexual performance. Besides, placing a couple of pillows in front of you while performing reversed cowgirl will make the process more comfortable and relaxed for everyone involved.
Try Grinding Instead of Bouncing
It's easy to get carried away and start bouncing up and down when you are on top, but this isn't necessarily a good idea – while it may feel nice for your partner, it may not feel as good for you. Instead of bouncing, try grinding yourself against your partner instead – this way, you can ensure constant stimulation and control the pace of penetration.
Conclusion
Being on top of your partner during sex is one of the most enjoyable positions for women's orgasms, making it all even more disappointing when you feel uncomfortable in this position and can't reach climax. However, as we have already mentioned throughout this guide, there are several things that you can try to make being on top as comfortable and pleasurable as possible.
Apart from allowing your partner to help you, experimenting with different sex positions, or using toys during sex, you can also stop comparing yourself to unrealistic expectations set by porn videos. This change will not only make sex even more relaxed and fun but will also improve your self-esteem.
So, if you want to get rid of your insecurities around the cowgirl position, don't hesitate to use these tips! Good luck!
Sydney Unleashed is one of Australia's premier entertainment publications exploring the latest in lifestyle trends. From Sydney's finest restaurants, cafes and bars to the hottest in gadgets, products, and home entertainment, Sydney Unleashed is your one-stop lifestyle platform.