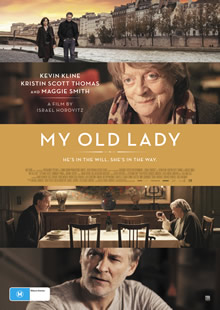 Starring: Maggie Smith, Kevin Kline, Sophie Touitou, Kristin Scott Thomas (Rated M – 107 min).
Surprisingly much more dramatic than I expected, veteran British cinema royalty Dame Maggie Smith is at her commanding best as Mathilde, a wisecracking elderly occupant of an inherited Paris apartment.
Another wonderful actor, Kevin Kline plays Mathias Gold, the borderline fully blown alcoholic and failed writer who travels to Europe to claim the apartment his late father left him. Unbeknown to Mathias, there is the complicated agreement that the senior tenant must remain in house and he can only take ownership when she passes away.
With no money and nowhere to stay in the city of lights, the grumpy American is reluctantly welcomed by his new landlord to stay on, much to the disagreement of her resentful daughter Chloe (Kristin Scott Thomas). From the moment those two headstrong individuals lock eyes you know love is in the air, even if during constant bickering, they don't.
Based on a play, the story goes deeper into dysfunctional family situations as opposed to comedy set pieces; however the powerhouse trio of actors deliver many jarring one-liners. Certain scenes do feel boxy, but witty dialogue, alongside regular panorama shots of arty neighborhood keeps up momentum. Incidentally, Kline is no stranger to the charm of Paris having starred in another case of opposites attract, the romantic hit French Kiss with Meg Ryan.
Entertaining if somewhat dark at times, life changing discoveries in the script are present for melodramatic effect. Assorted music including classic opera over the soundtrack is a delight. From winning an Oscar for The Prime of Miss Jean Brodie, to playing Mother Superior in Sister Act, the versatile and elegant Smith takes control in My Old Lady, proving ever so emotional on cue when the black humour takes a backwards step. The adorable icon is the main reason to watch this tone-shifting film.
Shane A. Bassett
Sydney Unleashed is one of Australia's premier entertainment publications exploring the latest in lifestyle trends. From Sydney's finest restaurants, cafes and bars to the hottest in gadgets, products, and home entertainment, Sydney Unleashed is your one-stop lifestyle platform.