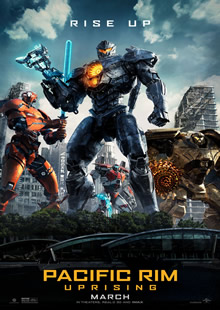 Pacific Rim Uprising: Movie Review
Starring: Scott Eastwood, John Boyega, Cailee Spaeny, Charlie Day, Rinko Kikuchi (Rated M – 111 min).
Did we need a sequel to the 2013 Guillermo Del Toro moderate hit action spectacular, Pacific Rim? Probably not but fan urgence speaks volumes. High octane Jaeger pilots return to fight as robotic warriors for humanity against bigger stronger infiltrating Kaiju aliens surfacing in cities including Sydney, Australia.
Agile John Boyega (Star Wars) plays Jake Pentecost (son of the high command Idris Elba character of Part 1) who goes from denial and trash black market dweller to military promotion, something he abandoned years earlier.
Friend, foe and former colleague Nate Lambert (Scott Eastwood – Longest Ride) joins the recalled Jake heading up the operation of training recruits in preparation to take down the influx of new improved menacing Kaiju. Mechanical genius teen rebel Amara is literally dragged out of homelessness reluctantly chosen to use her skills in training by Jake, sort of becoming a viable team in the eventual armageddon battle.
Watching state of the art special effects is one thing but seeing them over and over punching each other in a whirl of mayhem while shattering buildings around them is not something to behold unless aesthetically, you're in withdrawals for the next Transformers epic.
Plot certainly doesn't have to be a major priority in popcorn entertainment, but there needs to be present an effort in original story arcs to avoid blandness. Anime threads go hard, totally the reason these films have a following. Latching onto the characters here is hard, personality goes a long way and the central performers here are too dull to spark interest.
Newcomer Cailee Spaeny is telling as Cadet Amara, springs of talent is obvious, she stands out as the kid with no family being accepted into a team then helping save the world. Hopefully her next project lets her evolve. Stirring in Fury (2014), Scott son of Clint, is literally on autopilot. While Boyega is cool although innovative acting is not happening here, it's all run and quip.
Terrific to see Sydney Harbour, Opera House, Circular Quay, Harbour Bridge and surrounding streets used to full cinematic effect with local newsreader Peter Overton in a cameo. These movies are made to entertain, not compel, audiences. It's fine as a visual feast, badly edited, idiotic science-fiction escapism.
Shane A. Bassett
Sydney Unleashed is one of Australia's premier entertainment publications exploring the latest in lifestyle trends. From Sydney's finest restaurants, cafes and bars to the hottest in gadgets, products, and home entertainment, Sydney Unleashed is your one-stop lifestyle platform.