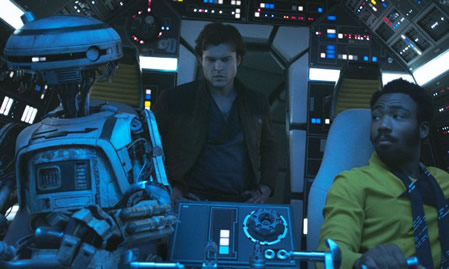 Solo: A Star Wars Story | Patrick Tubach Interview
Although unable to divulge in what he is working on next, under strict instructions to keep it zipped, it was my absolute pleasure to wake up for a 3:30am down the line interview with double Oscar nominee Patrick Tubach – VFX supervisor on Solo: A Star Wars Story. Sought after for his special effect prowess, he is a proud Industrial Light & Magic (ILM) team member. We discussed creation of characters including my favourite droid L3-37 plus why Solo deserves to be seen by a larger audience than its theatrical run.
Are you a little upset about the initial critical response and box office?
Patrick – Honestly, box office is not something I think about much. The main focus is all the positive responses I have had while to me, I am proud of Solo, especially now it's being discovered openly by more people on Blu-ray or digital. From fans to just a general viewer, I believe minds will be made up to a new degree. I feel like Solo has a feel of the older films I find interesting.
The crisp Blu-ray and 4K look amazing. Do you think new fans will enjoy?
Patrick – I think so, it's a great family film in my eyes, something you can't always find. Star Wars hits the sweet spot for most ages, Solo is funny too!
Congratulations on your two Oscar nominations so far. Will Solo be a third?
Patrick – You never know, nor will I predict it before or now. It's not something I expect. Competition is fierce in visual effects. Naturally I feel we are out there in a block of amazing work while we try our best so others can judge for themselves.
Where did your career at ILM all start, was it an application process?
Patrick – Yes I applied, I was already working on slight effects for another company but had put my name into ILM as they were so inspirational to me then didn't hear back for over a year. When working in Seattle, I got that call to drop in for a really intimidating interview, sitting me in a room with a bunch of supervisors peppering me with questions. The philosophy was you can learn technical tasks but were deciding how they felt about you as a person or artist. It came down to your ability to work with a select group to collaborate. That's how it all began, dream come true, exciting to work at ILM.
Do you prefer practical or computer based effects in film?
Patrick – Tend not to think about that in quite clear cut terms, especially if you know how many invisible effects are in films today. I like creating seamless effects, invisible or to blend in so that they don't show as CGI or practical. You want to get to a point where an audience is not thinking about what kind of effect it may be. Star Wars films as a kid did that to me, no idea of how exactly the effects were achieved. To this day, I watch the original trilogy with my kids guessing if what we see is a puppet or animatronic, the illusion is terrific. We just have different creative tools now.
How do you know when a character creation is complete?
Patrick – Really good question Shane. We have an idea of assets, creating a real asset in the business but as you get into it, especially for a Solo film character like Rio. You see how Jon Favreau brings something in a performance you didn't expect. You suddenly realise broadening eyes or mouth to smile needs to be done to coincide with Jon. Discovering things as you go, evolving characters, creating characters in assets. Then by the end, the creature things change, a process of little fun moments to completion.
Love L3-37, did you model around the personality of Phoebe Waller-Bridge?
Patrick – L3 and Phoebe, that whole performance kinda took place on set. The way she chose to interpret to give L3 that distinct personality with attitude all came from here which we saw immediately during filming. We matched her movements precisely on animating her. Basically just going with whatever she was doing. A little different to how we handled Rio, for deviating to what Jon was doing afterwards, making post decisions. Phoebe was her on set keeping the authenticity of her magnificent voice and physical performance. She had something to make L3 special, I fell in love immediately to have a droid with that much attitude.
Were you under pressure for the Kessel Run, a big deal for fans?
Patrick – Did feel a lot of pressure. As you go through the film, a big moment for visual moment royale is that whole scenario of us driving the story forward with multitude of effects. We were telling the story then bringing in a space monster at the end. We felt pressure that we did not want to have a third act where there is so much CG people, audiences tune out. You're invested in the characters inside the cockpit, what they're doing on a journey. For us it was point A to point B in a cool sequence delivering on a spectacle.
Any particular film in your career you're most proud of?
Patrick – That's like choosing children (laughs). The last six years or so have been great for me since episode seven. Having been in the diverse Star Wars world for a while now, I find myself satisfied with the different stories to be told, especially Rogue One. Doesn't feel like work, pure excitement.
When I think of Perfect Storm (2000), I think of that wave I guess you did.
Patrick – I helped (laughs), no pun intended, thrown in the deep end. Fondly, it was my first ILM assignment, challenging collaborating with fine creatives. I learned so much with that crew. That movie was about getting people to believe something feeling danger, peril of a wave never there. That holds up, a special place in my heart.
Have you got a desire to direct a feature?
Patrick – Interestingly growing up, that's all I thought of. Through high school, that was an extra curricular activity recruiting friends to be in films. Number one ability to be a director is to convince others to appear in or help you. Quite happy doing what I'm doing now, visual effects has you touching a film as much as anyone on a crew possibly can having an effect in its composure. I never dreamed I'd have an influence on these 'big' movies.
With deleted scenes and making of documentaries, among other cool insights, 'SOLO' is now on Blu-ray, DVD & 4K Digital from Disney Home Entertainment.
Shane A. Bassett
Sydney Unleashed is one of Australia's premier entertainment publications exploring the latest in lifestyle trends. From Sydney's finest restaurants, cafes and bars to the hottest in gadgets, products, and home entertainment, Sydney Unleashed is your one-stop lifestyle platform.