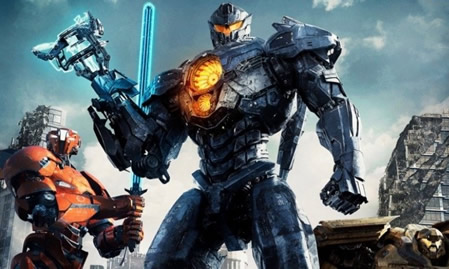 Pacific Rim Uprising: Steven S. DeKnight Interview
Talk of unnecessary sequels aside, Pacific Rim became a moderate 2013 cinema hit finding an influx of fans after DVD/Blu-ray release. If mechanical mayhem of robotic battle royales with twisted metal and destruction of property is your thing, heaven can wait.
Partially filmed in glorious Sydney Harbour and Fox Studios Australia, I sat down with Joss Whedon protege, debut director Steven S. DeKnight exuding affection to the process of making this big film.
Did you come in under budget?
Steven S. DeKnight – For a movie this size, unless you're three million over, there will always be give or take. However I think we came in under.
Is there a director cameo I may have missed?
SSD – I had a bigger cameo that got cut out of my own movie (laughs). Although if you look closely during the battle in Tokyo, when Mega Kaiju hits the ground sending Jaegers airborne, I am the guy on the electronic billboard right behind Gypsy.
Are you under pressure on set as opposed to filming a TV series?
SSD – Pressure is THE pressure, television schedules are intense. If you go over and don't make your shooting day, another episode will lap across immediately giving you pressure to not screw up filming slots. With a movie of this size, I wanted to finish on time, its in me to do so. I certainly had leeway to add a day if needed but being my first feature, I did not want a reputation as the guy who cannot finish shooting.
You're in for the next instalment?
SSD – Absolutely from when I signed on, I was developing story threads as I was developing this one as assurance not to paint ourselves into a corner with nowhere to go. There's quite a few things set up that will carry onto a third instalment.
The Sydney sequence is quite huge. Was it already in the script or written in?
SSD – It was written before we knew we were to shoot Down Under. When trying to find a place to put our headquarters, I knew I needed a bay area on the Pacific Rim. Kicking around multiple locations story-wise, then it sparked. I wanted an iconic opening shot, you knew where it was, so Harbour Bridge and Opera House is just beautiful to look at screaming you're in Sydney. The entire action sequence had been written but as production got going, that's how we adapted it into Sydney after working out crew availability, production tax rebates. Canada was out due to Winter, Australia has superior Fox Studios, everything we needed. It's a thrill to see the sequence that takes part straight outside of where we sit now (Park Hyatt).
It moves fast, how much content was deleted?
SSD – Director's cut was around 2 hours, 10 minutes. Although something bothered us all. Producer Mary Parent mentioned, do we really need this Santa Monica beach scene (actually filmed in the Sutherland Shire of Cronulla). I wish I had seen this at script level but you're in so deep, you can't. The fact the drones go bad leaving our main actors to go to characters we never return to, light bulbs went off so it had to be cut.
Did Scott's dad, Mr. Eastwood, visit the set?
SSD – We did not get a chance to see Mr. Eastwood, there's a person I grew up watching. My dad took me to the Drive-In to see Eastwood movies so to have Scott was a joy. He is his own man although carries that same kind of persona or aura on set.
How did you cast Amara, significant role for an unknown?
SSD – Casting a worldwide net to find Amara, looking at so many different people coming down to two we were really taken with. John scheduled to fly into LA for screen-test with both. Literally 24 hours beforehand, we get a call from casting director Sarah Finn telling us she had a self-tape from Missouri we had to see. It was Cailee Spaeny. Catching our eye, we scrambled for her to fly in to audition. The other two actors were fantastic with experience, Cailee had practically no experience but John Boyega felt, as we did, strongly of her as the one. Nervous thoughts in the back of my mind as I've seen good auditions before that don't translate to a performance in front of sixty plus crew. We made the right choice, Cailee is cool, grounded, fun, you can see chemistry. John took her under his wing on and off screen.
PACIFIC RIM UPRISING
IN CINEMAS NOW: Rated M – 111 min
Shane A. Bassett
Sydney Unleashed is one of Australia's premier entertainment publications exploring the latest in lifestyle trends. From Sydney's finest restaurants, cafes and bars to the hottest in gadgets, products, and home entertainment, Sydney Unleashed is your one-stop lifestyle platform.