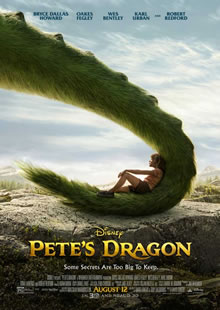 Starring: Robert Redford, Bryce Dallas Howard, Karl Urban, Oona Lawrence, Wes Bently, Esmee Myers, Oakes Fegley (Rated PG 103 min).
Not exactly a remake of the original 1977 half animated half live action Disney musical treasure (starring Australia's own Helen Reddy), more an equally magical update on the friendship between an orphan boy Pete and his best friend Elliot who just happens to be a mythical dragon.
Pete (Oakes Fegley) has been dwelling within an isolated forest for around six years before being discovered by Ranger Grace (Bryce Dallas Howard). Maternal instincts kick in as Grace takes in the presumably abandoned lost boy into her family while continuing to wonder how he survived all alone.
Stories regarding a beast within the woods have been rife among the locals and a good tale to tell to warn of unwanted tourists. However Pete slowly reveals the reason for his endurance in the midst of dense scrub is being taken care of by Elliot, the jolly green dragon.
Faith, belief and childhood innocence are all explored themes here while obvious inspiration must be attuned to classics E.T The Extra Terrestrial (1982) with shades of The Goonies (1985) for the coming of age adventures lovingly told.
Despicable villain of the piece Gavin (Karl Urban) is out to capture the creature for himself with ideas of exploitation to gain financial benefit. Not too harsh or scary for kids, Urban plays the bad guy soft so viewers will pick in advance he won't really hurt Elliot although emotions do run high. More than a few tears may be shed with ramped-up sentiments in true Disney tradition, don't hold back.
Filmed in the glorious New Zealand wilderness, there are no Orcs, Elves or even Wilderbeasts to be seen but the familiarity of surrounds will make ex-patriots or anyone who knows the shaky isles smile.
Legendary Robert Redford does not make many films these days so when The Sundance Kid ever accepts a role, there is a good reason be it script, story or quality. Pete's Dragon is all three and his character Meacham is a lovable wise soul taking a shine to to the lonesome boy helping him to protect best friend Elliot from prying outsiders.
Must see delightful film for the entire family and the pick of school holiday entertainment. Walt Disney pictures are on an absolute roll of success lately, wide eyed children may just be convinced Dragons are real.
Shane A. Bassett
Sydney Unleashed is one of Australia's premier entertainment publications exploring the latest in lifestyle trends. From Sydney's finest restaurants, cafes and bars to the hottest in gadgets, products, and home entertainment, Sydney Unleashed is your one-stop lifestyle platform.