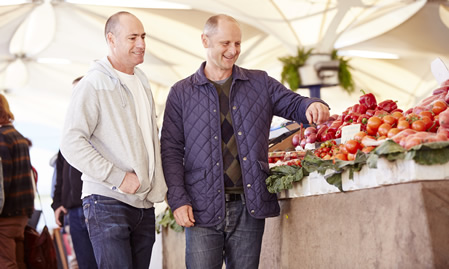 Phil & Guy's Wholesome Food
Two top film industry chefs Guy Firth and Phil Lethbridge are raising the bar on home-delivered meals with the launch of a new food delivery service that brings film-set quality food to Sydney families at accessible prices.
Having spent nearly two decades catering to the cast and crew of blockbuster Hollywood films – from Mad Max: Fury Road and The Great Gatsby to Superman Returns and Alien: Covenant – the cooking duo are passionate about food and know what it means to deliver fresh and nutritious, wholesome meals fit for the stars.
"For any one film we are cooking for hundreds, often in remote locations for weeks on end. As well as catering to the likes of Hollywood stars such as Leonardo DiCaprio and Charlize Theron, it's all about serving wholesome food that keeps the crew going for long hours on set. The stakes are high," says Firth, co-founder of Phil & Guy's Wholesome Food.
"We always receive amazing feedback and requests from the cast and crew who wanted to eat our food at home, so we decided to offer our fresh, convenient and wholesome food to people at home." Also catering for Australian film and TV productions, they know what it takes to deliver great tasting food in challenging locations: "It means our food always arrives fresh, balanced and nutritious."
Originally hailing from New Zealand's North Island, the farm boys-turned chefs bring a paddock-to-plate approach to their meal planning and cooking style. "I think that because we grew up on farms we really know and understand produce, where it comes from and the way to use fresh ingredients to bring out the best flavours." Firth adds that everything – including stocks and curry pastes – are made by hand using premium ingredients from their trusted local network of greengrocers, fishmongers and butchers.
Menus, which update regularly, focus on the needs of busy people and families. Family favourites include classic Classic Black Angus Beef Lasagne, Butter Chicken and Snapper & Leek Pie with Potato Top. "We also wanted to offer more sophisticated dishes for the adults such as Marseille-Style Seafood Bouillabaisse, Green Thai Chicken Curry and Slow Cooked Duck Ragu as well as a variety of fresh salads and hearty soups that are great for a healthy lunch or light dinner. Weekly specials, inspired by the best seasonal produce available at the markets, are also on offer," says Firth.
Meals range from $8 for a single serve salad or soup up to $24 for a large lasagne or pie, which serves 4-5 people. More information on Phil & Guy's Wholesome Food can be found online at www.philandguys.com.au
Sydney Unleashed is one of Australia's premier entertainment publications exploring the latest in lifestyle trends. From Sydney's finest restaurants, cafes and bars to the hottest in gadgets, products, and home entertainment, Sydney Unleashed is your one-stop lifestyle platform.