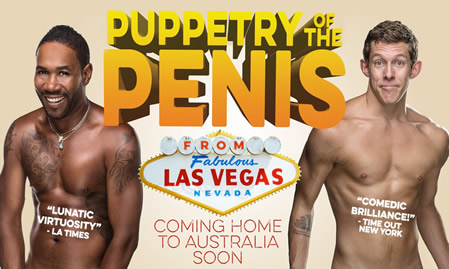 Puppetry of the Penis Interview
Rich Binning, a trained stage actor who grew up on isolated farmlands in Ohio went on to live a dream learning his skill in Pittsburgh and tread the boards of musical theatre in New York. He is part of the Australian conceived Puppetry of the Penis – the long-running, sometimes controversial comedy, and depending on who you talk to, global sensation.
I found Rich passionate and genuine. It's all about the audience to have a good time as we spoke about such things as life in the nude, celebrity fans and Star Wars.
Are Australian audiences more rambunctious than the rest of the world?
Rich Binning – Depends where in the world you are. Doing the show for two years in Las Vegas, you would think Sin City audiences would be down for everything. But really, the show has a lot more shock to them with many people leaving not handling nudity. An Australian is open and accepting (laughs) knowing that they are in for full frontal. Certain American audiences amazingly don't come prepared.
Do you ever get hecklers? How do you guys react?
Rich – Not too often, I think it has to do with the fact we are naked. It's already one thing to heckle someone holding a microphone that's not their own. It's kind of like a dancer in a strip club where it's an empowering thing to stand on stage naked so I think that's why we don't get challenged.
If a latecomer to the show arrives, do you give them special attention?
Rich – We don't really want to embarrass anyone in our audience. I love going to shows when that does happen but in our show, there is a nervousness in the air although we do wait for about 5 minutes before unravelling our capes. We tend to give people leaving a harder time.
Are most people first-timers to the show or repeat attendees?
Rich – We get a lot of people who don't know what to expect which still astounds me (laughs). The show has been in Australia for almost twenty years also touring the world, recently in Melbourne we had people meet us and say they saw the show in 1998. In Vegas a handful of groupies see the show regularly bringing friends.
Have there been many celebrity visits to your shows or famous fans?
Rich – A few now and again, it's a compliment to be approached by anyone though. Christina Aguilera was fun, she really wanted to see the show but could only come on our day off so we came in on our day off to do a show just for her and a mixed bunch of her friends.
Travelling the world, do you get complaints or people picketing the show to stop?
Rich – Yes, often. Ultimately it's a good thing for us giving us more attention. Some city councils have tried to object to it. In one instance over in the UK, our tickets had been selling poorly. (Then) a town councilman labelled us absurd and vulgar. We suddenly sold out the show!
What tricks get the biggest laugh?
Rich – We have added new ones recently, some of them prop tricks. All of them a big hit but we do Yoda which gets a massive reaction. Kim Kardashian is a new one we do that raises the roof. We also do Trump; it's a bit of a cheap shot but the way we do it, the audience seems to appreciate it.
As a Star Wars aficionado, I won't be turned off the saga for life will I?
Rich – (laughs) You may never look at Yoda the same again Shane.
If a movie was made about the Puppets, what would you suggest it be called?
Rich – Oh what a good question, that's hard. 'Avatar 2', no that's a joke but I'm open to suggestions. It could be tough to get it into the cinema (laughs). I would say 'E.T The Electric Testicle', it is one of my favourite tricks we do and eerily accurate.
How does one become a 'member', did you audition for the role?
Rich – You're a funny guy Shane (laughs). Yes I auditioned alright, it almost felt like American Idol. My background is theatre acting so normally you would walk into a room with four people behind a table. However when I auditioned in New York in 2009, they rented out a theatre inviting the press. We signed release forms and were interviewed by them before even getting naked. I kept thinking, I only wanted to attend to have a story to tell going to this audition and got naked, totally not expecting to be filmed, photographed dropping my pants in a full house.
What would you say to anyone sitting on the fence deciding to see the show?
Rich – Well it's for men and women of any sexuality, it's a non-sexual show to the point of being nude but not saying or doing anything sexual. We do comedy, the vehicle happens to be nudity presented in an amusing manner.
Do either of you literally get stage fright? What is your regular warm-up procedure?
Rich – (laughs) Not really, we have been doing the show many years, all is good. Never nervous, just pumped up to get on stage. Push-ups or jumping jacks maybe but anything concerning the genitals is warmed up right there on stage.
Is the show ever mixed up to suit a crowd or present an extra encore if the audience is over-responsive?
Rich – The tricks will stay the same but because we are talking directly to the audience, we might riff on something a little longer, making local references or joke call-outs to people in the audience. Sometimes bring a person on stage if keen, but it's a scripted show in a sense but kept loose.
Where do you see yourself in five-years – more acting or continuing with the show?
Rich – Definitely more acting, after this tour heading back to New York but I wouldn't mind touring the show having already been at it eight years. It's still astounding fun to perform. I always said I'd leave the show when I got tired of it but it may turn out I'll leave to pursue other things. I grew up on the farmlands of Ohio but my wife and I lived in New York quite some time until the Las Vegas run and now touring here.
PUPPETRY OF THE PENIS: Live on Stage
ENMORE THEATRE, 9.30pm FRIDAY April 28th, Tickets: 9550 3666.

Shane A. Bassett

Sydney Unleashed is one of Australia's premier entertainment publications exploring the latest in lifestyle trends. From Sydney's finest restaurants, cafes and bars to the hottest in gadgets, products, and home entertainment, Sydney Unleashed is your one-stop lifestyle platform.