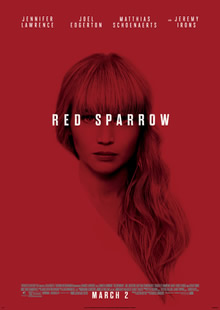 Red Sparrow: Movie Review
Starring: Jennifer Lawrence, Joel Edgerton, Jeremy Irons, Mary Louise-Parker, Ciaran Hinds, Charlotte Rampling, Sasha Frolova (Rated MA – 140 min).
Conspiracy theories and spy thrillers are my kind of film attraction – either fast moving action-packed or simmering mystery drama such as Red Sparrow.
Throw in Academy Award winner Jennifer Lawrence, acting beyond her years in a harsh role of former elite Russian ballet queen Dominka Egorova (such an outstanding name) recruited by a government secret sex intelligence team to become an undercover agent.
Her opening assignment after an extended intense training regime has her infiltrating a C.I.A officer who threatens to expose dual nations of integral secrets. Reliable solid lead, Australian Joel Edgerton, is an American opposite trying to convince her to join the USA without breaching contact with her native Russia forming an unlikely partnership and forbidden romantic situations. Dominka has family whom she helps in quieter scenes proving her rare vulnerability.
Directed by her former Hunger Games auteur, Francis Lawrence creates eerie atmosphere of unsavoury proportions for her lead to lurk around in. The uncertain miserable future of Egorova carries over into the audience with moderate suspense as you never really know what is coming next. Little is what it seems although keeping up with exact proceedings is like putting a jigsaw puzzle together with missing pieces.
The great Jeremy Irons can do no wrong in my eyes, most of the time, so the fact I liked Red Sparrow helped me accept his toxic character mannerisms. Focusing more on deliberately slow dramatic ascendance rather than sweeping momentum may not sit well for some, building to a twisted ending sure to shake up the viewer or at least a chance to wake up.
Shane A. Bassett
Sydney Unleashed is one of Australia's premier entertainment publications exploring the latest in lifestyle trends. From Sydney's finest restaurants, cafes and bars to the hottest in gadgets, products, and home entertainment, Sydney Unleashed is your one-stop lifestyle platform.