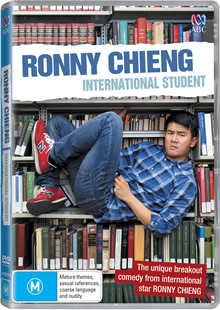 International Student.
Meet Ronny Chieng (The Daily Show). He's a Malaysian student who's come to Australia to study law. He's smart, driven and  competitive, which would make him the perfect law student, if he actually wanted to be a lawyer.
Blunt, barbed and not afraid to cut through BS, it's not long before Ronny is at odds with most people on campus. A genuine outsider, Ronny is suspicious of any group that wants him as a member – be it the rowdy Australians, the Mah-jong playing Asians or the blueblood…idiots.
Thankfully, Ronny makes an unlikely ally in Asher Angus (Molly Daniel; Upper Middle Bogan), a fellow first year from a small country town whose laconic nature and eternal optimism makes her the absolute opposite of Ronny. But the one thing they do share is a feeling of being on the outside looking in, and seeing a bunch of idiots staring back.
Ronny Chieng: International Student is available on Digital HD & DVD. 
Sydney Unleashed is one of Australia's premier entertainment publications exploring the latest in lifestyle trends. From Sydney's finest restaurants, cafes and bars to the hottest in gadgets, products, and home entertainment, Sydney Unleashed is your one-stop lifestyle platform.