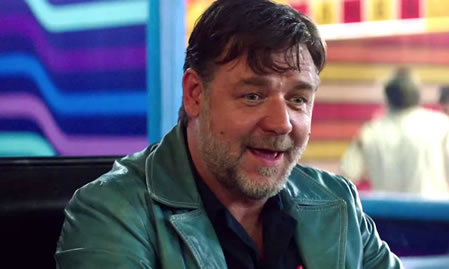 Russell Crowe Is A Nice Guy
An actor of consummate skill, doting father of two, South Sydney Rabbitohs co-owner, Oscar winner, Russell Crowe has always been an above-average genuine nice guy in my eyes. Having been privileged enough to interview Rusty on four occasions with each interaction not only incredibly entertaining but personal too, taking time to answer questions in detail while attentively looking you in the eye with a smile.
Incidents like throwing a phone in a hotel lobby or taking Meg Ryan (his romantically involved co-star in Proof of Life) is all just media fodder of the past. Specifically versatile although not essentially known for his comedy, other than recent success guest hosting cult television show Saturday Night Live, he last stretched his funny bone cinematically in the little seen wine tasting grape growing romp A Good Year (2006) which also starred Hunter Valley thespian Abbie Cornish. Wildly lambasted, I found it fresh and humorous.
Audiences may have stayed away in droves not accepting the Gladiator cracking jokes but they won't disregard his latest film, tenacious gem The Nice Guys. A black comedy following mismatched private eyes on opposite ends of the investigation spectrum getting together on the beat of a missing girl in 1970s smog filled Los Angeles.
Action-a-plenty, extremely funny but dark, really dark thanks to masterful writer director Shane Black (Kiss Kiss Bang Bang, Last Boy Scout) showcasing his skills of unconventional moviemaking is a masterstroke to the enjoyment. Chemistry of Crowe with co-star Ryan Gosling (The Notebook, Drive) as licensed detective Holland March is of a high standard. Single father, borderline alcoholic, it's a wonder he finishes any job. Nervous ticks, offensive wit and obvious respectful man love, these two zap with chemistry on screen. I could only imagine what went on behind the scenes.
Fellow Australian Angourie Rice, whom I earmarked for stardom after an impressive appearance in the virtually unknown These Final Hours (2013), is a revelation opposite these two professionals as Holly March the 13 year old daughter of bumbling dad Holland.
Like so many before him, Crowe appeared on Neighbours which lead to movie roles, including Australian Film Institute darling Proof (1991) alongside blind photographer Hugo Weaving. However in 1992 after the film created walkouts and heated discussion, the world took notice of Romper Stomper and the dynamic kid playing Melbourne skinhead Hando.
Local production, underrated Love in Limbo (1993) opposite Sir Anthony Hopkins and Sum of Us (1994) as legend Jack Thompson's homosexual son led into being handpicked by Sharon Stone for 1995 western Quick and the Dead. Indeed a good year (pardon the pun) as science-fiction oddity Virtuosity was also released. Lead Denzel Washington would later work again with Crowe on American Gangster and become good friends. LA Confidential (1997) took Crowe to the next level, the applauded noir detective saga with an all-star cast including fellow Australians Guy Pearce and Simon Baker remains essential viewing.
First of three Academy Award nominations in successive years came for The Insider (1999) followed by Gladiator then A Beautiful Mind. Remaining selective of writers and directors he wanted to work with, Rusty made variable roles unique morally complex and often extremely prescient.
Squaring off opposite Dame Helen Mirren in State of Play (2009) is a masterclass, stepping into legend Marlon Brando's shoes as biological father to Superman Jor-El in Man of Steel (2013) worked in his favour as did going biblical as Noah (2014).
The list of adverse films is endless, a Robin Hood remake and directorial debut of Anzac story Water Diviner are relevant, he even starred with Burt Reynolds as a former Canadian ice hockey champ in Mystery Alaska (1999)
Being ridiculed for his singing prowess as part-time frontman of band 30 Odd Foot of Grunt came full circle as against all odds, he held a decent tune in the screen adaptation of much loved musical Les Miserables (2012). Purists and many critics had their say but it was a huge Oscar nominated hit, I welcomed his contribution.
Soon to be seen in critical family drama Fathers & Daughters, the indestructible Russell Crowe should gain admirers with his comical routine in The Nice Guys, a must see. Dare I mention it's a good year!
THE NICE GUYS – RATED MA – NOW SHOWING.
Shane A. Bassett
Sydney Unleashed is one of Australia's premier entertainment publications exploring the latest in lifestyle trends. From Sydney's finest restaurants, cafes and bars to the hottest in gadgets, products, and home entertainment, Sydney Unleashed is your one-stop lifestyle platform.