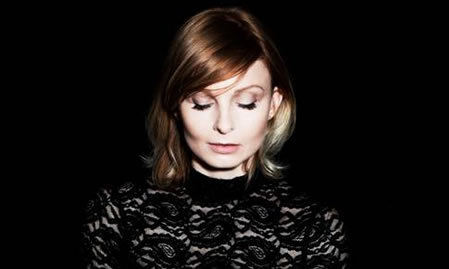 English singer-songwriter Saint Saviour has revealed that she has a new album on the way. 'In The Seams' will be released on 7th November in Australia through Shock Records. Ahead of the release, the former Groove Armada and The RGBs vocalist (also known as Becky Jones) recently took some time out to chat with Sydney Unleashed.

How did you get your start in the music industry?
Me and my first ever band booked and planned our own tour around Ibiza, around maybe 2005, before live music on the island was even dreamt of. We were a bit early and things like Ibiza Rocks didn't even exist, but we met enough promoters and people to keep pushing it and I developed my electronic/dance collaboration slowly from there. It was pretty exciting to go back there years later and headline Ibiza Rocks with Groove Armada. Now I've stepped away from electronic music a bit, but I still hold Ibiza in my fondest memories.

Best part of what you do?
The best part of what I do is the feeling of unparalleled pride and fulfilment when you crack a good song and people like it. I quite often get emotional messages from people who get in touch to say a song of mine has helped them or been a significant accompaniment to something in their lives. Sad things as well as happy things. I absolutely love meeting these people at shows and putting faces to names. I've sang at a lot of weddings too!

And the worst part?
Keeping things a secret for ages. A big part of releasing a record! It's really difficult because I'm a simple creature, I do things and I just want the applause, the validation, immediately. I wrote some of the songs on this new record about two years ago. It's been dead hard keeping it all a secret when I think it's the best music I've ever written.

Any interesting experiences you can share?
Too many really. My whole career has been a bit of a rip roaring bungee-run. I guess people find it interesting when I say I've headlined a big stage at Glastonbury. That was pretty cool, but I find smaller gigs more interesting because you can really connect with people and get sweaty together. I tend to keep a lot calmer now, something that's developed with me getting a bit older, but I have many happy memories of jumping into crowds of sweaty people wearing nothing but a gymnastics leotard.

Favourite album of all time and why?
Ha! Too many to mention and dependent on mood! But 'The Rise and Fall of Ziggy Stardust' is a big one from my childhood and beyond. My mum used to play it in the car and we'd sing in perfect Bowie-esque vowel-warping drawl. During my teens I wore out 'Black Sunday' by Cypress Hill and 'The Miseducation of Lauren Hill' both of which I think retain their power now.

Best live performance that you've ever seen?
The best thing I've ever seen in terms of a performance was a circus act by Charlie Chaplin's daughter, Victoria Chaplin. She is breathtaking in every way. When I saw it, I felt sure I was watching the product of a long life dedicated in monk-like dedication and obsession with a craft, like she's sacrificed everything for it. Her body totally defeats gravity in the most serene way I can imagine.

Take us through a typical day in the life of Saint Saviour.
I wake early, do about an hour of Pilates, then I go to my writing room and write music for whatever I have to. I do a lot of pop writing nowadays and I have always done 'top-lines' for tracks so I might have one or two of them. I write til about two, then my head begins hurting so I might do some admin, or go out walking (I write lyrics while I walk because I find it easier), and catch up with emails, admin and stuff. I'm also the Head of Songwriting at a music conservatoire in London so I do a lot of work on that too. If I'm touring, obviously this is all different and I'm doing my Pilates in a hotel room and then getting ready for the show by warming my voice up for an inordinate amount of time and annoying everyone.

What advice would you give to someone looking at getting involved in the music industry?
Just get on with it. Abandon all preconceptions immediately, build relationships and value them greatly, ignore all pitfalls, keep your eye on the long game, make time to take in a muse; otherwise you won't be able to create anything fresh.

Any news or final comments?
I'm really excited about my new album because I feel it's my greatest work so far. I'd really love it if everyone bought it and told their friends about it.
Check out Saint Saviour's video for the single 'Let It Go'
Danny Canak
Sydney Unleashed is one of Australia's premier entertainment publications exploring the latest in lifestyle trends. From Sydney's finest restaurants, cafes and bars to the hottest in gadgets, products, and home entertainment, Sydney Unleashed is your one-stop lifestyle platform.