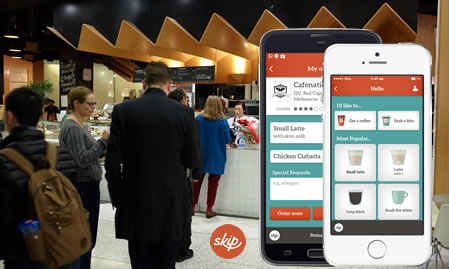 Skip The Queue with the Skip App
Skip is an online ordering and payment app for smartphones that helps customers 'skip the queue' by ordering and pre-paying for coffee and food at hundreds of venues across Sydney, Melbourne and Brisbane.
It offers time-poor consumers the ability to pre-order and have their food ready to pick up at a time they nominate – no wait, no cash, no worries.
We recently took the app out for a test drive to experience this revolutionary new way to order. The first step was to download Skip from the app store on our smartphone and then register for an account. After adding our credit card details, we were ready to make our first order and skip those queues. The app conveniently displays all nearby venues so if you find yourself in an unknown location and are desperately in need of a coffee, simply open the app, make an order from the nearest barista, and set a time you'd like to pick the coffee up (whether it be in 5, 10, 15 minutes, etc).
We placed an order, turned up five minutes later, and had our hot coffee waiting for us. No waiting in line and no hassles. There are currently over 300 cafes, restaurants and bars involved in Sydney so far. There were no shortage of venues to visit when we were around the CBD and inner Sydney but once we hit suburbia, it was not uncommon for the nearest cafe to be at least 5km away. This will no doubt change with more venues getting involved by the day.
What is most convenient about the app is the fact that you don't have to carry around loose change or worry about making a minimum order purchase if you prefer to pay with a credit card. You simply tap your phone a few times and don't have to handle cash or hand over your credit card at the counter. It's all handled via the app. Your only job is to pick the order up – which should be ready and waiting at the time you nominate.
The app also tells you which venues are open and greys out the ones that are closed. Some venues appeared as open on the app when they were in fact closed so if you find yourself in an area where you're not a regular, it might be worth checking that the venue is open before you place an order. The app even stamps and stores your loyalty card within the app which saves you from having to carry around a loyalty card for every place you visit.
If you live a busy lifestyle and live or work around the CBD, this app could be highly convenient for you. You can order your morning coffee on your way to work or your lunch just before you leave the office and have it ready to be picked up at a time that suits you – no more waiting in queues.
Skip is available for download on both Android and iOS devices. Visit skip.com.au for more information.
Sydney Unleashed is one of Australia's premier entertainment publications exploring the latest in lifestyle trends. From Sydney's finest restaurants, cafes and bars to the hottest in gadgets, products, and home entertainment, Sydney Unleashed is your one-stop lifestyle platform.