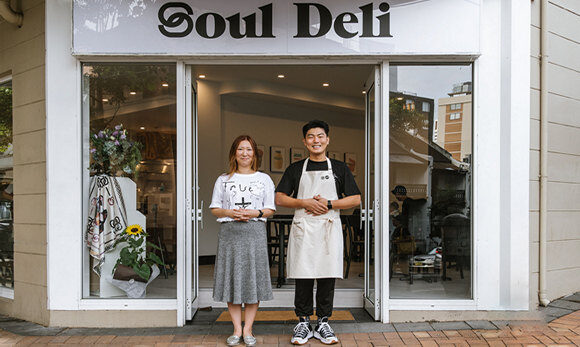 While the COVID-19 shutdown has resulted in many a business permanently closing its doors, it has inspired others to reshape and offer something different to survive. So motivated were husband-and-wife team Daero Lee and Illa Kim – owners of contemporary Korean restaurant SOUL Dining – that they began offering freshly made take-home rice bowls, which revealed their customers' desire for, and interest in, Korean food, design and culture.
Enter their new venture – SOUL Deli – Sydney's first Korean brunch café/deli which has an aim to make Korean food and culture a part of everyday life, not just a restaurant experience. Combining a deli, featuring a range of fresh and packaged Korean goods, a café offering sit-down dining and takeaway, and a range of products made by Korean artisans, SOUL Deli offers something quite unique for the Surry Hills community.
Situated near Taylor Square, the venue has a fresh look with posters depicting iconic Korean food and scenes. With a predominantly white interior, it is purposefully simple and bright ensuring the food is the emphasis. With one of the largest kitchens in town, SOUL Deli make a wide range of Korean deli offerings and meals including varieties of kimchi, house-made tofu, their already-in-demand chilli sauces and rice bowls, cook-at-home meal and barbecue kits, classic breakfast and brunch go-tos, traditional Korean dishes and special Korean versions of classics such as smashed avocado.
The café's all-day eat-in and takeaway menu features a selection of unique Korean-Australian dishes. For breakfast, you can't go past the Smashed Avo with White Kimchi served on sourdough. It's mild and refreshing on its own but add extras such as bacon, eggs and feta to really take your taste buds on a journey.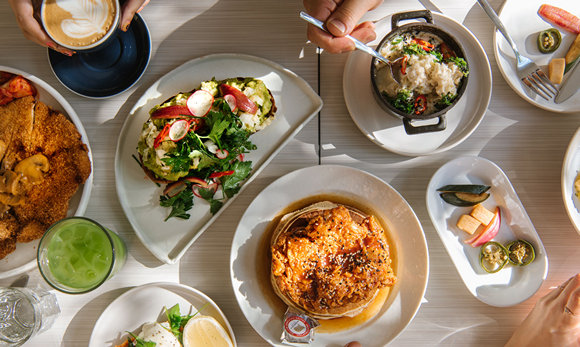 The Ottogi Style House Hot Cakes with butter and maple syrup are also hard to resist. Soft textured, fluffy and simply delicious on their own but as above, you can enhance the experience by adding one of the suggested extras. We highly recommend it with Korean Fried Chicken (KFC) with its addictively crunchy exterior – it's truly finger-licking good.
Other highlights on the menu include a delectable baked pumpkin salad, KFC roll, omelette with Korean 'caviar', house-made tofu salad, and soybean stew with white kimchi, special Korean rice bowls, including spicy pork belly bowl, umamishroom bowl, and Soul galbi bowl. There's even the option to create your own dish from a selection of popular options .
Wash it all down with your choice of Korean green tea and T2 varieties, jars of juices by local Simon Says Juice, Korean soft drinks, or one of their absolutely amazing coffees. Using ethically sourced, high quality beans from Primary Coffee Roasters, we must reiterate – the coffee here is damn good.
While you can dine in and enjoy, you can also take the experience home with you with a range of curated food products from Korea available to buy. There's a Kimchi bar with various kinds of Kimchi in different ageing stages: vegan 'red' Kimchi, Vegan 'white' Kimchi, stir-fried in sesame oil, and fresh, seasonal kimchi (e.g. chive kimchi, or perilla leaves Kimchi). There are also Korean pickles made in-house, house-made tofu, seaweed crackle, and a variety of packaged goods including the deli's special Korean Sauce Trio (Vegan Bulgogi Sauce, Goes with Anything fermented chilli sauce, and Fire Chilli Sauce). In addition, there are meal and barbecue kits such as Daero's special beef short rib, which is prepared sous-vide and comes with galbi jus. And all meal kits even include instructions on how to cook them.
With its three distinct offerings of a café, deli and store, SOUL Deli deliver a great cultural experience for customers. Next time you're in Surry Hills, do yourself a favour and check it out.
SOUL Deli
185 Campbell Street, Surry Hills
Open Wednesday to Sunday (7am – 4pm)
Sydney Unleashed is one of Australia's premier entertainment publications exploring the latest in lifestyle trends. From Sydney's finest restaurants, cafes and bars to the hottest in gadgets, products, and home entertainment, Sydney Unleashed is your one-stop lifestyle platform.