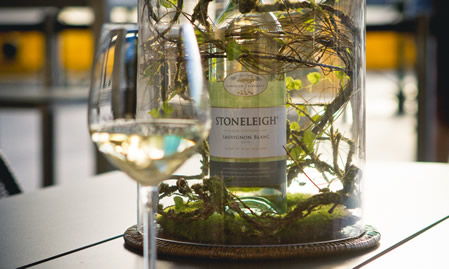 Stoneleigh Metro hits Sydney
Stoneleigh Metro, an urban oasis bar created by Marlborough wine brand Stoneleigh, is giving Sydney locals a unique experience in the heart of the city.
From Thursday 9th October, Stoneleigh invites locals to enjoy a 'Wonder of Nature' at Metro St James as the brand brings to life the essence of the Marlborough region. Visitors can enjoy a range of Stoneleigh wines alongside delicious canapés, while listening to live music or joining a unique Cellar Door experience until 31st January, 2015.
Stoneleigh winemaker, Jamie Marfell, invites visitors to share a glass of Stoneleigh Marlborough wine with friends in this urban oasis. "Stoneleigh wines are created by a small wonder of nature; the stones in our vineyard retain the heat from the sun and spend their nights warming the vines creating our vibrant wines."
"Stoneleigh Metro offers locals the experience to feel closer to nature, to relax in a sanctuary in the heart of the city whilst tantalising their taste buds with canapés matched to Stoneleigh wines," he added.
Created by Australian stylist and Style Director at large of Belle Magazine, Steve Cordony, the 'Wonder of Nature' experience will be full of lush flora, hanging gardens and Stoneleigh's iconic sunstones; for locals to indulge in an urban sanctuary in the heart of Sydney's CBD.
On designing the Stoneleigh Metro, Steve Cordony explains: "Working with nature has always been a passion of mine and I loved the challenge of capturing New Zealand's natural beauty. Stoneleigh Metro offers Australians an environment where they can escape the daily grind and relax while enjoying a glass of wine. With summer just around the corner, it's the perfect venue to appreciate nature."
Celebrated floral sculptor, Tracey Deep, will create an original suspended garden in this urban oasis, to capture the luscious surroundings of the Marlborough region.
In addition to enjoying Stoneleigh wines, visitors can book one of three unique Stoneleigh Cellar Door experiences. The experiences, which can be shared with up to seven guests, see a Stoneleigh Wine Advisor explaining the unique features of Stoneleigh Marlborough vineyards as guests explore the different Stoneleigh varietals.
The Stoneleigh Cellar Door experiences include:
– The Stoneleigh Marlborough Tasting – Guests will take their palate on a journey through the Marlborough selection including Sauvignon Blanc, Pinot Noir, Pinot Gris and Chardonnay. Priced at $10.00 per person, this tasting takes 10-15 minutes.
– The Stoneleigh Rapuara Series Tasting – Experience Stoneleigh's single vineyard range crafted to deliver the iconic flavours of Stoneleigh including Sauvignon Blanc, Pinot Noir and Pinot Gris. Priced at $12.00 per person, this tasting takes 10-15 minutes.
– The Stoneleigh Deluxe Tasting – Enjoy Stoneleigh's Rapaura Series Sauvignon Blanc, Chardonnay, Pinot Noir and Pinot Gris plus expertly matched canapés with a New Zealand twist. Priced at $20.00 per person, this tasting takes 20-25 minutes.
STONELEIGH WONDER OF NATURE
When: Thursday 9th October 2014 to 31st January 2015
Where: Stoneleigh Metro, 110 Elizabeth Street, Sydney (Metro St James)
What: Experience an urban oasis at the Stoneleigh Metro. Take a moment from your busy life to immerse yourself in the suspended gardens of Stoneleigh's Wonder of Nature, inspired by New Zealand's unsurpassed surroundings. Stoneleigh Metro at Metro St James in Sydney, features an original design created by Australian stylist Steve Cordony. With live music and delicious menu options perfectly matched with Stoneleigh wines, this urban oasis is sure to indulge the senses.
Stoneleigh invites you to enjoy a glass of Stoneleigh wine with friends in this urban oasis.
Free entry, guests under 18 years old must be accompanied by an adult.
Sydney Unleashed is one of Australia's premier entertainment publications exploring the latest in lifestyle trends. From Sydney's finest restaurants, cafes and bars to the hottest in gadgets, products, and home entertainment, Sydney Unleashed is your one-stop lifestyle platform.