Sydney CBD Feed for under $50
For those looking for a feed in Sydney for under $50, look no further than Ragu Pasta & Wine Bar.
Located on Level 5 at Westfield Sydney, Ragu Pasta & Wine Bar provides authentic Italian food that is rich in flavour yet light on the wallet.
We recently sat down for a feast at this great venue with its long counter bar and charming atmosphere. For under $50 each, we shared an entree, had a drink and main meal each, and a delicious dessert between us. The mosaic covered bar and dining area, complete with exclusive seating, give the venue its own unique vibe, distinct from the bustling food court that surrounds. It really immerses diners in an Italian experience to savour.
The extensive display of fresh pasta, colourful salads and mouth-watering antipasto plates are perfectly complemented by the beautifully curated wine list, with wines available by the glass, bottle and carafe. On our latest visit, we thought we'd start with a salad. Some of the options include the cold pasta salad, caprese salad, octopus salad, rocket salad, quinoa salad, lentil salad, and barley salad but we opted for the sweet potato salad ($15). With oven roasted sweet potatoes, baby spinach, dried figs, red onion and vinaigrette, it's just mouth-watering and for an extra $3, you can also add some salmon, chicken or steak for a protein boost.
For the main, we thought we'd try some pasta (prices from only $17-19). The menu offers a complete range of pasta and pasta sauces, enabling guests to create their own dish. There's short pasta, long pasta, filled pasta, gluten-free pasta and an endless list of sauces ranging from napoli, gorgonzola and amatriciana to puttanesca and pesto. We tried the spaghetti (long pasta) with ragu sauce (tomato, beef, pork mince, and extra virgin olive oil). The dish was fresh, delicious, and highly filling.
If you're not up for pasta, there are plenty of non-pasta choices such as the eggplant, chicken schnitzel, calamari, grilled sirloin, and a bunch of panini/sandwich options to cater to all tastes. All of the food appears to be prepared fresh with nothing pre-made beforehand assuring diners of the highest quality meals with a distinct Italian flair.
With the main being quite filling, you may not require dessert but if you like to indulge, make sure to try Ragu's delectable tiramisu. This rich, moist and super-delicious treat will ensure you end your night on a high. For a taste of authentic Italian for under $50, head on down to Ragu Pasta & Wine Bar.
Ragu Pasta & Wine Bar
Westfield Sydney, 188 Market St, L5
www.ragu.com.au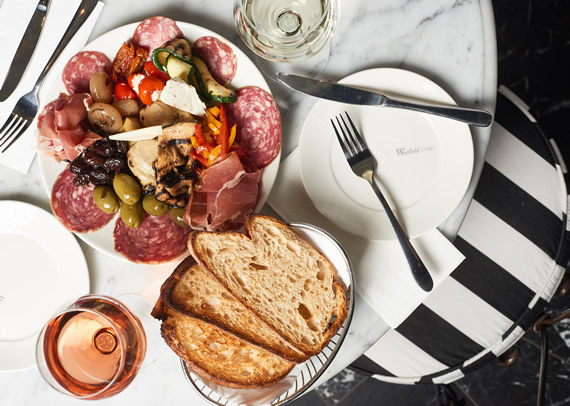 Sydney Unleashed is one of Australia's premier entertainment publications exploring the latest in lifestyle trends. From Sydney's finest restaurants, cafes and bars to the hottest in gadgets, products, and home entertainment, Sydney Unleashed is your one-stop lifestyle platform.