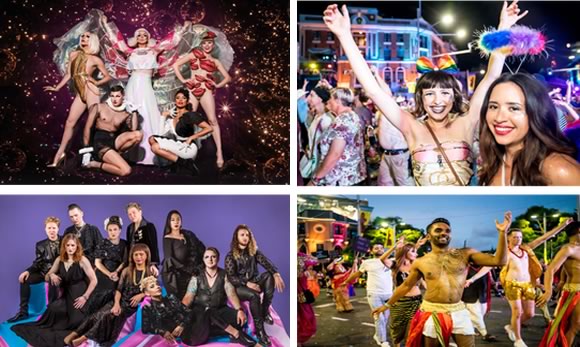 Sydney Gay & Lesbian Mardi Gras 2020 Program
From the sensational spectacle of the Parade to poignant panel discussions, phenomenal parties and pioneering queer performers; Sydney Gay and Lesbian Mardi Gras makes a triumphant return in 2020 with a program bigger and bolder than ever before.
The festivities kick off on Friday 14 February 2020 and run until Sunday 1 March 2020, featuring a fabulously diverse program of events including dazzling dance parties, top-tier theatre, music, world-class workshops and family focused fun, culminating with the iconic Sydney Gay and Lesbian Mardi Gras Parade on Saturday 29 February, 2020.
The 2020 theme is WHAT MATTERS, a motif which builds on the legacy of Mardi Gras as a platform for activism and encourages the public to examine what we can do to build an even more inclusive future. In the afterglow of the marriage equality debate, it's a time to amplify the voices of the marginalised and evaluate the battles that still need to be fought on the road toward complete equality for all.
Mardi Gras Arts Interim CEO, Grant Lowe said "This year we celebrate those at the forefront of the fight for equality. From ground-breaking queer artists to trailblazing thought leaders, Mardi Gras 2020 is an opportunity to visit the next destinations on our journey of diversity, inclusion and social justice."
"With Sydney named as the host city for WorldPride 2023, there has never been a more pertinent time to celebrate LBGTQI+ culture and uplift every shade of the rainbow," said Lowe.
"We are thrilled to announce the expansion of the Mardi Gras Festival Hub in 2020," said Mardi Gras Creative Director Kat Dopper. "A hive of activity throughout the Festival, the Festival Hub will showcase 15 eclectic events including incredible local and international queer performances, inspiring discussions, side-splitting comedy, theatre, music, dance, circus, burlesque and drag all under the roof of Sydney's Seymour Centre, plus the late-night Festival Club from Thursday to Sunday each week."
Highlights at the Festival Hub include: neo-punk cabaret variety show Fuck Fabulous, the sassy, genre-defying smash-hit Hot Brown Honey, electrifying trans and gender-diverse performance Gender Euphoria, the outrageous drag and burlesque infused YUMMY UNLEASHED, award-winning circus extravaganza You & I from Casus Circus, the return of Koori Gras, thought-provoking workshops and community events from Queer Thinking and a night of quintessential queer bangers from LGBTQI+ artists at Homage.
In addition to this year's supersized program of events, Australia's pre-eminent vogue ball Sissy Ball returns, along with iconic Festival classics Fair Day, Parade, Party, and Laneway to deliver a Mardi Gras of monumental proportions.
MARDI GRAS '20 SEASON HIGHLIGHTS
FESTIVAL HUB AT SEYMOUR CENTRE
Prepare to be blown away by the explosive line-up of performers on show at the Seymour Centre's bustling Festival Hub. Featuring a vivacious mix of queer performance, theatre, music, dance, circus, cabaret and burlesque. The Seymour Centre's spaces will be transformed into a rich oasis of queer art, celebration and meaningful conversations.
Australia's biggest line-up of trans and gender-diverse performers to ever share a main stage come together for Gender Euphoria, to flip gender dysphoria on its head and explore the distinctive joys that can come with being trans. Music, dance, comedy, burlesque, circus, poetry and performance that defies labels will come together to seduce and transport you, as emerging talents rub shoulders with some of our stage greats from Saturday 15 February – Sunday 16 February.
Your host, queer cabaret icon Yana Alana, brings together a fierce line-up of dance, circus, drag, comedy and performance artists in the world premiere of Fuck Fabulous. Serving neo-punk, anti-glamour realness, this cabaret variety show is a protest against the commodification of queer culture and a collective reimagining of what it means to be queer and fabulous. Catch it live from Wednesday 19 February – Sunday 23 February.
Blending absurd and outrageous drag and burlesque with scintillating choreography, YUMMY has developed a world-wide cult following. After winning major awards such as "Best Production" (Green Room Awards 2018) and "Best Cabaret" (Fringe World 2019), this legendary ensemble is coming to the Seymour Centre for the first time ever with their latest wild offering, YUMMY UNLEASHED (Wednesday 26 February – Friday 27 February).
Hot Brown Honey turns up the heat with lashings of sass and a hot pinch of empowerment in the smash-hit, genre defying, firecracker of a show that's taken the world by storm. Unapologetically fierce, Hot Brown Honey defiantly shatters preconceptions in an explosion of colour, culture and controversy. Fighting the Power never tasted so sweet.  From Tuesday 25 February – Friday 28 February.
Featuring candid interviews with the people who were there, playwright Campion Decent has fashioned a gripping account of Tasmania's decades-long gay law reform campaign. Honest, raw and urgent, The Campaign won Best New Writing at the 2019 Tasmanian Theatre Awards, and chronicles a community's journey from exclusion to inclusion, from opposition to acceptance, and from hatred to embrace. From Tuesday 11 February – Friday 28 February.
Travel back to 1986 for a live taping of the acclaimed New Zealand TV cooking show, Hudson & Halls. Join the outrageously camp and extremely alcoholic chefs Peter Hudson and David Halls on the most important night of their lives. Expect big laughs, rum-fuelled showdowns, and some very questionable cooking. New Zealand's most successful gay comedy of the last ten years comes to Mardi Gras for the first time from Tuesday 18 – Wednesday 19 February.
Sex Education by Harry Clayton-Wright explores how we learn about sex and how it shapes our lives, blending a no holds barred interview with his mum, startling performance, moving storytelling and some good old-fashioned gay porn that Harry's dad bought for him when he was 14. Delivered with the candour, positivity and charm that have made him an acclaimed international touring success (Briefs: Close Encounters), join Harry as he delves into his sexual past, live on stage from Tuesday 25 February – Friday 28 February.
Join an incredible line up of LGBTQI+ musicians for Homage (Thursday 20 February), as we play tribute to our favourite queer artists, performing covers and reinventions of the songs that helped shape our identities and define our communities. From George Michael to Janelle Monae, Anohni to Ani Di Franco, Electric Fields to Elton John, Courtney Barnett to Frank Ocean, any genre is up for grabs. The only rule? The songs performed must have been made famous by another LGBTQI+ artist.
Experience the best and brightest queer comedy stand-up from Australia and abroad, together for one-night only in a variety night that can't be missed on Thursday 27 February. Laugh Out Proud will feature a stellar lineup of queer acts in a comedy extravaganza hosted by the hilarious Nath Valvo, alongside Zoe Coombs Marr, Rhys Nicholson, Cassie Workman, Karen from Finance, Demi Lardner, Myra DuBois, Geraldine Hickey and Tom Ballard.
Join us on Friday 21 February for Spice Night, a hysterical celebration of queer comedy from across Asia. These four international comedy stars are the new sound of the Asian century. Breaking the rules and queering the mic from Mumbai to Manila, these out, proud and hilarious performers are furiously funny and hot, hot, hot. Coming from countries where homosexuality still is or until recently was criminalised, these jokers are sharp and salty, and pack more punch than a pound of pepper.
Koori Gras, produced by Moogahlin Performing Arts, returns for another year of incredible queer Indigenous workshops and performances, including: Blak Diva For a Day, a one-day (Saturday 15 February) workshop for community members to come along and dress up as their inner drag persona; Sydney's most prestigious Blak drags and drag kings return for a performance of the beloved Black Nulla on Saturday 22 February; and Yellamundie Queer Blak, a one week writing workshop from Monday 17 – Saturday 25 February for emerging queer Indigenous artists which will culminate in public readings of their works at Festival Hub.
My Trans Story features local and regional storytellers exploring place, belonging and the nuances of the trans experience.  They're the "gender whisperers" the Prime Minister warned you about. Join special guests Wagga Wagga Mardi Gras founder Holly Conroy, LGBTQI+ activist Ted Cook and Australian Defence Force Academy alumni Joel Wilson for a powerful first person account of the trans experience on Saturday 15 February.
Queer Thinking event will take over the Seymour Centre for a weekend of workshops, panels and in-conversations from Saturday 22 February – Sunday 23 February. Across two days, leading thinkers, writers, organisers and academics will traverse topics from law reform to prison abolition, mutual aid projects to data marginalisation, religious freedoms to trans liberation.
A fabulous, free social event for LGBTQI+ elders and their allies, LGBTQI+ Elders Dance Club champions the recreational and social nights of rainbow elders, creating a space that is safe and inclusive. Come along and learn new dances, enjoy delicious catering and drinks and interact with the whole rainbow community on Saturday 22 February.
Where are the new gay Australian plays written, what are the stories and how are they told? PLAYLIST is a selection of writers, theatre-makers and new talent who tell bold, unique, LGBTQI+ stories on stage for audiences hungry for new voices. Join us for a day of readings, pitches, presentations and performances with some special guests along the way! From Saturday 15 – Sunday 16 February
SPECIAL EVENTS
For one night only this Mardi Gras, join Austria's greatest glam pop vocalist along with Australia's queen of cabaret in Conchita Wurst and Trevor Ashley in Concert. Eurovision legend Conchita Wurst returns to Sydney with dear friend Trevor Ashley for an evening of musical magic. Joined by conductor Michael Tyack and a full symphony orchestra, they will perform their greatest hits, alone and together at the glorious State Theatre. Join us on 27 February 2019
Myra Dubois: Dead Funny places Myra Dubois in her own funeral to make sure people get it right! An irreverently sardonic side-eye at death, dying and the theatrics of grief, with songs by Richard Thomas (Jerry Springer the Opera) all wrapped up in Myra's trademark acerbic wit. Unpredictable, intelligent character comedy, the self-declared siren of South Yorkshire works the room, sparing no-one her sharp tongue, and yet somehow keeping everybody affectionately on-side. From Thursday 18 – Saturday 29 February
Jenny Kee and Linda Jackson: Step into Paradise, is the first in-depth survey of how the iconic duo transformed the nation's fashion and cultural heritage with their pioneering style. Presented by the Powerhouse Museum visit the exhibition this summer to celebrate the spirit of their social and environmental advocacy through brilliant colours, bold shapes and iconic motifs. Step Into Paradise runs until 22 March, 2020.
Minus18 Queer Formal is an unforgettable evening (Friday 21 February) of live music, dancing, glamour stations, activations, dinner, dessert and much, much more – for all LGBTQI+ young people aged 13-19 and their friends. Minus18 celebrates every identity, in an inclusive space where anyone can bring a same-sex partner, embrace their identity and express themselves however they want.
Celebrate OXTRAVAGANZA on Saturday 22 February as 100+ businesses in and around Oxford Street, Darlinghurst (The Pink Mile) offer up a variety of fun events from midday to very late. Check out retail activations, live gigs and special offers in an unconventional and non-judgmental space where anything goes and everyone is welcome.
SIGNATURE EVENTS
Fair Day
Kicking off the Mardi Gras Festivities on Sunday 16 February, an all-day rainbow adventure for the whole family, Fair Day is a landmark of the Mardi Gras Festival that sees our communities shine brightly together.
Enjoy the summer sunshine with a picnic, shop the community stalls for your Festival outfit or join the fun and games in the Sports Village – there is something on offer for everyone, including your precious fur babies who can strut their stuff at the world-famous Doggywood competition.
Be sure to check out Main Stage which has become a festival hotspot in recent years, proudly showcasing up-and-coming and leading queer performers who are redefining the Australian music and arts landscape to ensure LGBTQI+ voices and stories are heard.
Kaftan Party
Sydney's most stunning tropical rooftop Ivy Pool Club transforms into La Isla Bonita for Kaftan Party on Wednesday 19 February, for our inimitable retro poolside soiree. Join us with cocktail in hand as the summer sun sets, wearing your finest poolside couture – all kaftans, moo moos and chic loungewear welcome, with prizes for Best Kaftan, Best Cabana Lounging Ensemble and Most Outrageous Summer Accessory.
Sissy Ball
After two phenomenal sell-out years, Sissy Ball has established itself as Australia's pre-eminent vogue ball. Taking over the Enmore Theatre on Saturday 22 February, expect attitude, fluidity and finesse on the runway in an evening of extreme excess, celebrating self-expression and identity as vogue houses and individual walkers take centre stage and fiercely battle it out for each category title.
Family Fun Day
For the third consecutive year, Mardi Gras transforms Sydney's world famous Luna Park into a rainbow wonderland for LGBTQI+ families and friends. Enjoy unlimited rides, plus DJs and surprise performances. Children will marvel at the array of materials on offer for them to get crafty, and create their own piece of Mardi Gras art on Sunday 23 February.
Pool Party
Warm up for the closing week of Mardi Gras 2020 at this sun-soaked affair, held high up in the city's favourite rooftop oasis, Ivy Pool Club on Monday 24 February. Sip on delicious cocktails by the poolside, survey the talent from the decadent cabana lounges and make a splash as local DJs spin the funkiest, vocal house. A summertime tradition amongst locals and visitors from around the globe, Pool Party is the hottest party of the summer – let's get wet!.
Diamond Club
Get amongst the action of Mardi Gras at the premier, tiered platforms at Diamond Club, our must-do cocktail party and viewing area at Taylor Square on Saturday 29 February. Elevate your Mardi Gras experience with an unparalleled view of the tremendous Parade, with VIP access to a private bar and gourmet food trucks, plus special guest DJs to soundtrack this night of nights with your favourite dance and pop hits.
Sideshow
Round up your crew and watch the Parade dance past from our family-friendly parade viewing area Sideshow on Flinders St on Saturday 29 February. Skip the crowds and guarantee a premium viewing experience of the 2020 Parade, complete with outrageous hosts who'll provide a running commentary of all the evening's sparkling, standout moments.
Mardi Gras Party
Australia's most treasured LGBTQI+ Party is back on Saturday 29 February – but not as you know it. 2020 will see Mardi Gras transform Hordern Pavilion and its surrounding areas into a brand-new adult play land, bursting with music, light and performance across new fantasy worlds for you to immerse yourself.
Continue riding the joyous vibes post-Parade as our communities come together in this multi-sensory feast. Party will take you on a journey from the late-night and deep into the early hours, while eccentric and extraordinary performers and DJs from home and abroad fill the atmosphere with pulsing techno, tantalising house and euphoric gay anthems.
Parade
Celebrating the colourful collision of creativity and culture across our communities, the world-renowned Mardi Gras Parade unites hundreds of thousands of revellers for the biggest night on the LGBTQI+ calendar.
The iconic procession down Oxford St returns on Saturday 29 February and is sure to dazzle and delight as 200 mesmerising groups and floats roll past, inviting everyone into a world of all things camp, queer, glitz and glamour. Parade remains a vehicle of protest, honouring those who have marched the street over the last four decades, continuing to showcase what matters to LGBTQI+ lives around the globe now, and taking us into the future.
Crowds line the streets for hours in anticipation of the Parade, which is open for all to enjoy, so make your way to Oxford Street or Flinders St early to get the best viewing place and experience this creative playground under the stars.
Laneway
A street party like no other, Laneway is the traditional closing event of Mardi Gras each year and the ultimate recovery party for 2020. Taking over The Beresford and Hill St laneway on Sunday 1 March, farewell summer with old friends and new across multiple dancefloors, with entertainment taking you from day to night including the best local DJs and surprise pop-up performances.
More info at: www.mardigras.org.au
Sydney Unleashed is one of Australia's premier entertainment publications exploring the latest in lifestyle trends. From Sydney's finest restaurants, cafes and bars to the hottest in gadgets, products, and home entertainment, Sydney Unleashed is your one-stop lifestyle platform.