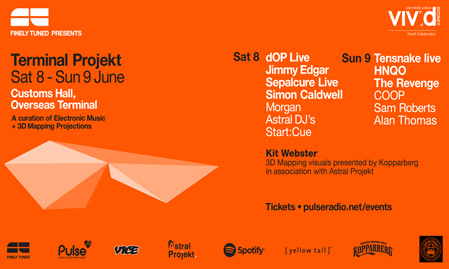 Terminal Projekt Vivid Sydney
Terminal Projekt is a unique event comprising of three days and two nights of electronic music and cutting edge visuals to captivate lovers of all things innovative. Terminal Projekt will take place at the heartbeat of Vivid Sydney, the globally renowned creative industries event that transforms the city into a colourful canvas of light, music and ideas from 24 May to 10 June. This year's Terminal Projekt, part of the inaugural Vivid Music program, will be taking over the Customs and Cargo Hall of the Overseas Passenger Terminal for the highly anticipated finale of Vivid Sydney, culminating in three days and two nights of electronic music mixed with next level visual arts on the 8th, 9th and 10thJune.
In the first of a series of exciting announcements, we are pleased to reveal a fantastic line-up of international electronic artists including Tensnake, dOP LIVE, Jimmy Edgar, HNQO, Sepalcure plus a host of local acts performing across two nights with some of the brightest stars in the world of Video Mapping and 3d Visuals, all to be revealed in the coming weeks prior to the showcase.
SATURDAY 8 JUNE DETAILS:
Finely Tuned welcome you to the Future; an age where machines make everything simple, a time when mankind need not exercise skill nor original thinking when a computer can do the job instead. This philosophy applies to so many aspects of life, perhaps none more so than dance music. When presets, sample packed and templates prevail where is there room for expression, for attitude, for danger? Thank your lucky dancing shoes for artists such as dOP; three vibrant personalities with the musical abilities to express themselves in the most unique and human of ways. dOP bring their LIVE show to enchant an transport you to another plane. Accompanied by two of the most forward thinking acts of today Jimmy Edgar and Sepalcure LIVE this is a night not to be missed.
dOP LIVE – http://finelytuned.com.au/dOP
dOP have known each other and shared their passion for music with each other for over 20 years now. Three guys all from classical music backgrounds, exploring and experimenting with jazz, hip hop and reggae before discovering electronic music. Once they discovered this new creative outlet they started immediately with composing electronic music in their own style.
From this dOP was born and soon Circus Company representation soon followed. They share the same idea of making organic dance music in a classical way of composing with real instruments and voice. The special preference of the dOP guys is their love for collecting intstruments such as flutes, horns, percussions, glockenspiel, saxophones and more. They work if a very collective way and are passionate about using music to speak about experiences, moments, past or future – dOP is always trying to send a message. This passion is shared by friends the three boys regularly work in cooperations with including Noze, Aquarius Heaven, Catz n' Dogz, Dave Aju, Guy Gerber, DJ Koze and more.
JIMMY EDGAR – http://pulseradio.net/artists/jimmy-edgar
Lover. Fighter. Prophet. Freak magnet. Time-traveler. Musician, photographer and designer Jimmy Edgar is a wayward star-child straking across the cosmic dance-floor. Endowed with a supernatural feel for futuristic funk, the Detroit native has been bleeping and grinding about the Milky Way since he was a teenage humanoid. While his peers were worrying about their grades and popularity, Edgar was spinning alongside his hometown's DJ heroes and programming intricate beats that were unquestionably interplanetary communication disguised as dance music.
What Edgar does essentially and very well is make your body move. Most of the time he does it alone, but there has been no shortage of willing partners. Deeply inspired by Michael Jackson and incapable of standing still for very long himself the ever-restless Edgar is eager to take his musical peep show on tour this year.
SEPALCURE – http://pulseradio.net/artists/sepalcure
Sepalcure's combination of love for bass and 90s house acapellas is the culmination of a cathartic two week collaboration between Travis Stewart (Machinedrum) and Praveen Sharma (Praveen). Their mix of tribal dub, house and two step beats works equally well for both late nights in the club and rainy, introspective nights at home. Detroit techno chords cut through wooden beats, neon synths and dubbed out atmospherics. Support: Simon Caldwell, Morgan, Astral People.
SUNDAY 9 JUNE DETAILS:
Finely Tuned are excited to announce one of the biggest names in house music today; Tensnake to headline Sunday's Terminal Projekt with his LIVE show. Recently introduced by BBC Radio 1 Essential Mix host Pete Tong as "the man who brought the disco back to the dancefloor". From the ecstatic rush of Coma Cat to his '90s house throwbacks Something About You and Mainline, as a producer Tensnake does 'feel-good' like a pro. Joining him for the night is HNQO, Hot Creations new star, and forward thinking producer The Revenge to complete the weekends journey of groundbreaking light and sound.
TENSNAKE – http://pulseradio.net/artists/tensnake
Hamburg's Marco Niemerski, AKA Tensnake, is one of the biggest production names in cutting edge house and disco in the world right now. His ubiquitous 2010 track 'Coma Cat' was acclaimed by DJs and crowds the world over, leading to a nomination for Mixmag's "Greatest Track Of All Time". His work as a remixer is just as prolific, his re-workings of dance hits from Azari & III, Hercules & Love Affair and Aloe Blacc being spun by DJs from every genre. Everyone is standing up and taking notice.
As a DJ? Look no further than BBC Radio 1's Essential Mix – a program often referred to as the authority on all things quality in dance music, asked Niemerski to put a mix together for the show early this year. Now, with his debut album set to drop this year, it looks as if the Chinese Horoscope will ring true; 2013 really is the year of the Snake.
HNQO (Hot Creations) – http://pulseradio.net/artists/hnqo
In Curitiba, Brazil, the days are warm, and the nights are long. On the streets of this town, boys become men, and souls are both lost and found. No one knows this better than the artist known as HNQO. As a famed breakdancer in his youth, he went in search of himself, with little more than a dream and the voices of Kool Herc and Grandmaster Flash to guide him.
Before long, he was dexterously layering hi hats onto groovy house beats, and chopping hip-hop vocals with a soft but menacing touch. His music takes hold of you from collar to knee, with cheeky hooks and infectious rhythms. More than a musician, HNQO is an interpreter of the past, fusing elements of hip hop, jazz, and other genres into his very own style of deep house grooves.
THE REVENGE – http://pulseradio.net/artists/the-revenge
The Revenge is a producer who understands the past but embraces the future. The analogue approach, forward thinking productions and his versatility as a DJ, has ensured him a place as one of the leading names in House music in recent years. Support: COOP, Sam Roberts.
Sydney Unleashed is one of Australia's premier entertainment publications exploring the latest in lifestyle trends. From Sydney's finest restaurants, cafes and bars to the hottest in gadgets, products, and home entertainment, Sydney Unleashed is your one-stop lifestyle platform.