The Ultimate Guide To Starting A DJ Career
Many people get into DJing for many reasons; some do it because it's fun, and some want to reach for the moon by getting recognised for their DJ skills. Whatever your reason, pursuing a DJ career is not all rainbows and butterflies. To make an earning out of it, you must prepare more than just the right equipment and DJ skills.
As you pave your career as a DJ, you'll experience a lot of learning opportunities. You can discover different beats and unique sounds, and your passion for music will continue to grow.
To be a successful DJ, receive event bookings, and make a living, you must focus on the most important aspects. Consider this guide as you start your career as a DJ.
1. Knowing The Equipment Needed
If you're getting into the professional side of DJing, you need to up your game with your equipment and DJ tools. For DJs to create their sets, they need a few essential tools. You must have at least good quality basic DJ equipment to make excellent music and sounds. For starters, you need a DJ system with decks and turntables. You can discover these from different music stores and research as much as possible to determine which input device is the most suitable for your DJ style.
Also, invest in mixers. Music can be applied to various effects using these tools, and transitions can be controlled between songs. They come in handy while you perform live at different parties and events. You will also need high-quality headphones to focus on listening to your crafting music. And finally, you should purchase studio-quality monitors. This allows DJs to hear every nuance of their mixes while preparing sets.
2. Decide On What Kind Of DJ You Want To Be
When you decide to fulfill a DJ career, you must consider what kind of DJ you want to be. Here are the different types of DJs, so be familiar with their distinct roles:
– Turntablist
DJs, also referred to as turntablist or exhibitionists, are mainly working in clubs and doing live performances. DJs build their reputations as turntablists, and people come to see them at clubs and events. You can work exclusively in one company or become a freelancer turntablist who can accept various gigs depending on your schedule.
– Club DJ
Like a turntablist, you'll also be doing live performances, but you'll do it in a club. You'll work exclusively for one club and DJ during their operating hours. You're in charge of mixing the music for the night. Generally, club DJs are responsible for keeping people on the dance floor and playing the right music to match the club's atmosphere.
– Radio DJ
You can work as a radio DJ if your music knowledge is vast. Radio DJs are modeled after radio announcers, who make announcements and engage in programs between songs. There are instances when you'll get to interact with fellow DJs or listeners of your radio station.
3. Acquiring Education Or Training
No formal education is required for DJs. However, earning sufficient education and training in DJing won't hurt if you want to stay ahead of the competition. There is formal education available in some music academies or from online resources. The key is to research and enroll in a program that offers relevant coursework to enhance your DJ or music skills.
For instance, if you're interested in formal education, an introduction to the technical aspects of working with audio can be obtained from degrees in broadcasting studies. Another learning option is to self-study through real-life experiences and applications. You can intern or learn side by side with your senior DJs who have been in the industry for many years.
In addition, take advantage of the free online resources that range from vlogs, videos, articles, and tutorials. As DJ techniques and methods continue to grow and change, constantly learning is essential.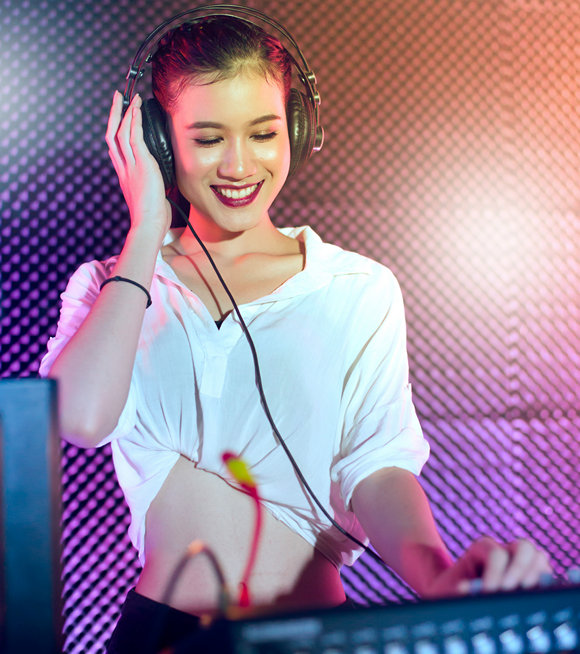 4. Develop Your DJ Skills
The best way to develop your DJ skills is to put them into practice. You must learn and master three basic DJ skills: phrasing, beatmatching, and scratching. You'll be able to learn them by getting educated online. However, you need to practice them in actuality to learn them physically. Acquiring intellectual knowledge is different from developing your skills. This is the time for you to expand your music knowledge. Learn as much music as you can.
Create your own music library and collect all kinds of music genres. Make sure to have the greatest songs of all time. You wouldn't know which music will come in handy for any event or party you'll be in. Music gurus can create outstanding music libraries. Learn some tips from fellow DJs, and be proactive in forums so you'll learn the trick of the trade. Developing your DJ skills also includes blending different songs together; this is where the magic happens. Get yourself familiar with the different DJ techniques and mashups. You can study different DJ styles from other DJs.
5. Learn DJ Software
Like investing in hardware and equipment, you should also select the right DJ software to invest in. Make sure you understand all the features of the DJing software you are using. Learn how to adjust songs' tempos and layer tracks by consulting online tutorials and forums. Ensure you learn every feature or function of the software you choose.
With practice and a better understanding of keyboard shortcuts, you'll be able to complete sets faster. There are different DJ software programs intended for any gadget you prefer. They can be matched with any computer or phone system you use. The key is to read reviews from current users and download those that you find easy to use and learn.
Conclusion
If you've been wondering how hard DJing is and how to prepare for a career in it, this checklist will walk you through some of the basics. However, there are some other things that you need to consider doing. The key to DJing is practicing, learning different skills and techniques, and exploring your talents. Many educational resources are available for you, as well as advanced DJ systems and equipment to improve your music and mixes.
Sydney Unleashed is one of Australia's premier entertainment publications exploring the latest in lifestyle trends. From Sydney's finest restaurants, cafes and bars to the hottest in gadgets, products, and home entertainment, Sydney Unleashed is your one-stop lifestyle platform.