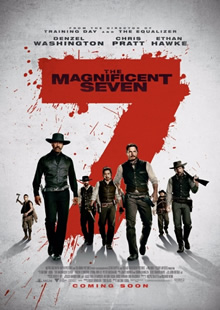 Starring: Denzel Washington, Ethan Hawke, Chris Pratt, Hayley Bennett, Vincent D'Onofrio, Peter Sarsgaad, Matt Bomer (Rated M – 133 min).
Think of this as Suicide Squad for the wild frontier instead of another remake of a revered classic film which probably didn't need to happen. But as I remain quite partial to westerns, there is still much to like here – especially with best actor Oscar recipient front and centre in a blaze of outlaw glory as man in black, Chisolm.
The Magnificent Seven (1960) was itself a reconfiguration of Seven Samurai (1954) with multiple sequels, a television show and low budget science fiction version Battle Beyond the Stars (1980) using the simple scenario of a rag tag group of variable misfits grouped together to assist people in need of specialised protection.
Bouge (Peter Sarsgaard) is first seen threatening townsfolk walking into a church in the middle of a crisis meeting holding a jar of dirt proceeding to tip it out demanding they let him have their land in no uncertain terms of unbalanced capitalism before proceeding to burn down the house of worship to make a point.
When Emma (Hayley Bennet – soon to be seen in the eerie, Girl on the Train) has her husband die point blank by standing up to Bogue, she takes charge and approaches Chisolm as a potential saviour and with some negotiating he agrees to help fight for their rights. New and old friends are rounded up to work in their particular ways to bring justice the only way they know how, brute force.
Firmly aware of the kind of film in which they appear, the cast look to be having fun within the carnage. In particular Ethan Hawke as the outrageously named Goodnight Robicheaux, a man of illusion. It is good to see Hayley Bennet take her character to a higher level throughout matching it with the boys almost enough to rename the film Magnificent Eight actually, she is more than just a skirt in the dirt.
Lighter comedic moments are key to character development but this is no Blazing Saddles, most of the plot points are written quite seriously with humane themes involved.
The reasonable sized final skirmish has a long build up and should suit fans of the cowboy genre although this is no on screen bloodbath, things stay kind of tame. Director Antoine Fuqua (Training Day, Southpaw) knows how to get the best from action camera work on the move so the visuals are anything but subdued.
My biggest gripe is the excellent original theme music doesn't kick in until the end credits. Unless it was a copyright issue, this was a major missed opportunity for heightening ambiance.
Shane A. Bassett

Sydney Unleashed is one of Australia's premier entertainment publications exploring the latest in lifestyle trends. From Sydney's finest restaurants, cafes and bars to the hottest in gadgets, products, and home entertainment, Sydney Unleashed is your one-stop lifestyle platform.