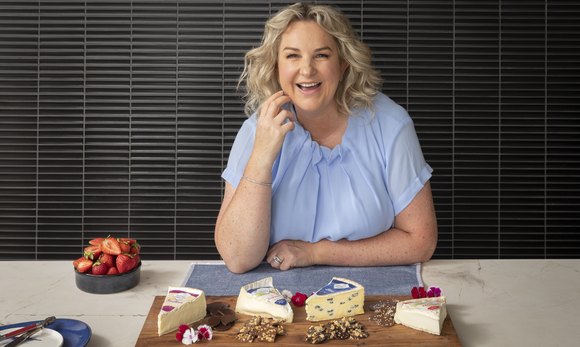 The New Taste Sensation for Easter: Cheese and Chocolate Pairings
Move over traditional Easter treats, there's a new taste sensation sweeping Australia – the surprising yet delicious pairings of chocolate and cheese.
Chocolate expert and award-winning pastry chef Kirsten Tibballs (pictured) says cheese and chocolate pairing platters are the must-have dish to wow your guests this Easter as the combination opens up a whole new world of flavour and texture matches.
Kirsten says the key to wowing your guests is to use good quality cheese and chocolate, such as Fromager d'Affinois range of famous French cheeses renowned for premium quality, silky-smooth texture, delicious flavours and consistent ability to delight. "The creamy intensity of Fromager d'Affinois cheeses balanced with touches of sweetness from chocolate – who needs a cracker or baguette when you have the snap of chocolate with the creamy Fromager d'Affinois range?" Kirsten said.
"What's not to love, it is most people's favourite two treats and paired together they are hard to beat. I find these days I'm being asked more and more about which chocolates goes best with which cheeses. Chocolate on top of a sliver of great cheese is just a match made in heaven."
Kirsten, an award-winning pastry chef and cookbook author, says cheese and chocolate combinations are a natural progression from the old cheese cubes and cabanossi on Jatz crackers – the staple of 1970s entertainment. "Australia has a limited history in food so we are always open to improving our palates and trying new dishes," she said.
"Our cheese platters have turned into grazing platters and are now the highlight of many a gathering, with new ingredients and twists added all the time." And the latest addition of different types of chocolate – to be eaten in the same mouthful with a matching cheese – is the must-have staple of every cheese platter.
"The subtle notes of acidity and sweetness in chocolate highlight the delicate flavour nuances in cheese," Kirsten said. "Chocolate also pairs so well with cheese because of the textures of the two together – the snap of the chocolate and the creamy texture of the cheese that both melt on the palate. The more senses we involve while eating, the better the eating experience. If well balanced, a combination of sweet and savoury can be hard to resist."
But which cheese pairs best with what chocolate? The popular Masterchef guest judge says it all comes down to personal tastes. "I think a great way to start with pairing is offering a range of Fromager d''Affinois cheeses with a selection of chocolate squares and let your guests mix and match to see what works for them," she said.
"It is true that different chocolates will match better with different cheeses but personal preference also comes into play when you are discussing cheese and chocolate. Everyone has an opinion on what will work."
But if in doubt and unsure where to start, Kirsten – who confesses to some "extensive testing of every possible pairing of Fromager d'Affinois cheese and chocolate – has some recommendations  guaranteed to tantalise the taste buds.
They are:
1. Fromager d'Affinois Le Fromager paired with a good quality dark chocolate.
2. Fromager d'Affinois Excellence, a buttery triple cream cheese, paired with a good quality white chocolate.
3. Fromager d'Affinois Bleu, a rich blue triple cream cheese, paired with a higher percentage of dark chocolate.
4. Fromager d'Affinois Florette, a creamy, tangy goat's milk cheese, paired with a good quality milk chocolate.
And her favourite? "For me it is hard to go past the Fromager d'Affinois Bleu paired with a good quality milk chocolate," she said.
So this Easter, add a new and exciting twist to your cheese platter by pairing it with high-quality chocolate. It may just be the flavour explosion you've been missing.
Find out more: https://www.fromagerdaffinois.com/en/
Sydney Unleashed is one of Australia's premier entertainment publications exploring the latest in lifestyle trends. From Sydney's finest restaurants, cafes and bars to the hottest in gadgets, products, and home entertainment, Sydney Unleashed is your one-stop lifestyle platform.