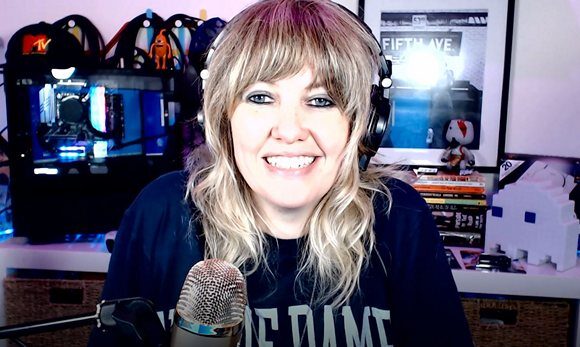 The Return of Ladyhawke: Interview
Strident, glowing, contrasting multi-talented Kiwi performer Ladyhawke – named from the medieval fantasy classic film – has new music out. After a long hiatus, which included a cancer scare, she returns with the tune 'Guilty Love'. A duet of sorts with Georgia of Broods, it's been well worth the wait!
What took you so long?
LH – (laughs) Yes it has been a while, a lot of life stuff. Living in LA then back to New Zealand for the first time in fourteen years. Had a baby daughter who's now three. Had a little cancer diagnosis, some issues of my own which I got through, then a pandemic (laughs). All the music was supposed to be out last year when I was going to fly to the US in April 2020 – exactly when we went into the lockdown in New Zealand. We finished some tracks via Zoom.
New song 'Guilty Love': Do you think die-hard Ladyhawke fans will recognise your signature sound, or something different?
LH – 'Guilty Love' is slightly different to the rest of the record. A cross between my first record (in 2008) and 'Anxiety' (2012). It has grungy guitars and swing beat, some seventies glam and synthesisers.
Collaborating with Broods, was that a long-time plan?
LH – That came about working with Tommy English whom I did my 'Wild Things' (2016) record with. Stuck on a song with finished music and melody sung, we had talked for ages with Georgia of Broods, because she's awesome. Tommy suggested to get her along to help with the track. That afternoon when she arrived, we did nothing but talk about our similar upbringings, not listening to the song at all. Suddenly she exclaimed, let's write a song about shame! So we wrote a song from scratch about our similar experiences at an early age.
Great song with terrific video, tell me about filming it.
LH – That came about catholic upbringing, it affected us both in similar but different ways. Not saying a word, we sent the song to the director. She sent it back with a treatment of location and nailed it, we were all in sync.
Will the record be available on vinyl and cassette?
LH – One hundred percent vinyl. Also keen for cassette, a limited run.
Would you call this your comeback, or did you never go away?
LH – Totally understandable when you say that Shane as I have been away for a long time. I'm happy to roll with it if people want to say comeback. It's a massive privilege for me to do music. Having a baby and cancer diagnosis, it shifted my focus, so anything I achieve now makes me happy to just do it (laughs). You know what I'm saying Shane.
Have you been placing musical instruments into your baby's hands?
LH – Oh yes, she has a little electric guitar of her own but enjoys mine too.
So many of your songs are on movie soundtracks, do you get royalties and have you ever thought of writing music for film?
LH – Again yes, you have no idea. I'm desperate to do that, a dream of mine. I've had an ongoing side project going for quite some time of synthy sound-scapes. I call it 'Sleepwalker' in my head, I know it's perfect for a movie score. I'm waiting for the perfect opportunity. Regarding royalties, you don't get those over a period of time, it's generally a one-off payment through the music company.
Your distinct song 'Magic' features in a 2010 French film, Beautiful Lies.
LH – There's heaps I didn't even know about, like that. I'll check it out.
What occupation would you do if you were not a musician?
LH – If it was a sliding-doors scenario alternate universe, I would've really liked to have been a forensic investigator. Dad was a police officer; I'm interested and fascinated by solving crimes by gathering evidence.
Will this new album bring in new fans?
LH – Already noticing it when I stream on Twitch. As a gamer, I love the reactions, or when people discover me on Twitch opening up listener diversity.
Have you got the second single sorted / picked for release?
LH – (laughs) Yes we have, I'm not really allowed to talk about it. All I'll admit is the rest of the album will be nostalgic, our second single is fun.
You may have answered this infinity, but I don't know;
Did you decide on the name Ladyhawke in honour of the excellent 1985 Michelle Pfeiffer film?
LH – Yes the movie, when trying to figure what to call myself, because I love everything 1980s. I was going through films of the decade and came across it, immediately knowing, this is me!
Ever thought about acting yourself?
LH – No no no,  I struggle with music videos so I'd be a terrible actor.
FIVE QUESTIONS, FIRST THINGS THAT COME TO YOUR MIND:
*Dream musician you would like to collaborate with? Kevin Parker.
*Can you surf? Want to say yes, but I can't. Used to try when younger.
*Oldest item of clothing you own? Snoopy t-shirt that says, "born to sleep", I've had for about fifteen years.
*Your preference, writing or singing? Writing.
*Habit, or something you do, that nobody knows about? Addicted to dark chocolate, specifically NZ chocolate 'Fish'. It's an issue (laughs). I order online, they turn up in a box – although instead of staggering it out over a week, I'll gorge the entire box.
What's your opinion on the current music industry?
LH – It's kind of sad that few people buy physical music. Now it's a novelty to own a CD or record. Art is very important to the record too, it is saddening that work is reduced to a tiny thumbnail on Spotify. I could go on and on.
Good luck with the record, it has been a pleasure to be in conversation.
LH – Thank you so much for the support and brilliant discussion.
'Guilty Love' is available everywhere you get your music or ladyhawkemusic.com
Words © Shane A. Bassett
Image © Ladyhawke
Sydney Unleashed is one of Australia's premier entertainment publications exploring the latest in lifestyle trends. From Sydney's finest restaurants, cafes and bars to the hottest in gadgets, products, and home entertainment, Sydney Unleashed is your one-stop lifestyle platform.