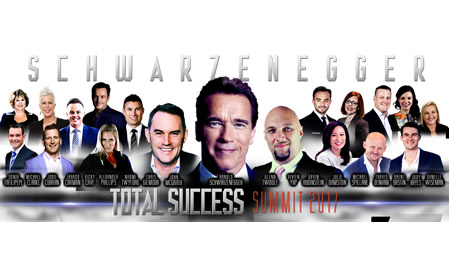 Total Success Summit 2017
Arnold Schwarzenegger said he'd be back and The Terminator always keeps his promises. Almost five years after delivering his last speech in Sydney, the seven time Mr. Olympia world bodybuilding champion, successful businessman, investor, action hero movie star, 38th Governor of California and philanthropist, will be the keynote speaker at Glenn Twiddle's Total Success Summit 2017 on Tuesday and Wednesday 21st and 22nd March 2017 at The Star Events Centre.
The Total Success Summit 2017 featuring over 20 educational and inspiring speakers including Schwarzenegger, Shark Tank investor and real estate legend John Mcgrath, Michelle Bridges, Jeff Fenech, Mark Bosnich, Sydney 2000 Olympic Gold Medal Beach Volleyballers Kerri Pottharst and Natalie Cook and master motivator and teacher Glenn Twiddle will be a unique opportunity to learn the secrets to success in life, business and personal relationships. The Total Success Summit will also deliver the strategies to financial success from real people who have "been there, done that" and will teach the pitfalls to avoid as well as the pathways to victory.
Arnold Schwarzenegger says, "My 5 tips for success are: have a vision, think big, don't listen to the naysayers, work your ass off and give back!" Arnold continues:
1. Have a vision: As a kid I wanted to be a bodybuilder and a movie star.
2. Think Big: Not just any bodybuilder, I wanted to be the best bodybuilder in the world and as a movie star I didn't want to just be in movies. I wanted to be a leading man in movies. As a politician I didn't want to run for local council or be the mayor. I wanted to be the Governor of the greatest state in the USA, California!
3. Don't listen to the naysayers: When I first got to Hollywood people would say to me you'll never be a movie star! Look at your body shape. Listen to your accent, and what's your name ? Scwharzeshnitzel? That wont work!
4 .Work your ass off: There's no substitute for hard work. It's all about the reps.
5. Give back: I stopped my movie career to go into politics. I gave seven years of my life. You will never be more fulfilled than when you do something for someone else," concludes Arnold.
Total Success Summit creator and organiser Glenn Twiddle, who has hosted Schwarzenegger and Sir Richard Branson at previous events in Brisbane, says, "I have had the good fortune to tap into the success of Tony Robbins, Arnold Schwarzenegger and Sir Richard Branson and know that everyone who attends the two days will benefit greatly from the knowledge and information that will be given to them from this incredible line up of extraordinary and talented speakers. It will be life changing."
Sydney Unleashed is one of Australia's premier entertainment publications exploring the latest in lifestyle trends. From Sydney's finest restaurants, cafes and bars to the hottest in gadgets, products, and home entertainment, Sydney Unleashed is your one-stop lifestyle platform.