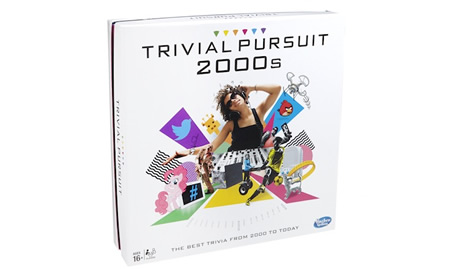 Trivial Pursuit is being relaunched to prove trivia buffs' love of the naughties to the present day, with many questions featuring Australian trivia.
From Humphrey B Bear to Fatty Vautin, The Big Marino along the Hume Highway and Adriano Zumbo's red velvet Tim Tams, the new Trivial Pursuit 2000s will have an authentic Australian touch, as well as questions featuring the likes of Katy Perry, Angry Birds and Mad Men to name a few.
So, do you know your Taylor Swift from Katy Perry? Nicole Kidman's first daughter's name, and the furry little animal located on an island off Western Australia who has become a selfie superstar? Then get ready for this new reboot of an old classic!
– Trivial Pursuit 2000s will only feature questions from the year 2000 to the present day, including recent events, current celebrities and pop culture phenomenons, many with a uniquely Australian theme
– Trivial Pursuit 2000s includes 300 trivia cards with 18,000 questions across six categories Places, Entertainment, Events, the Arts, Science & Tech and Sports & Hobbies
– Along with questions from 2000 to the present, Trivial Pursuit 2000s features new gameplay option 'Stump'. 'Stump' allows a player to pass a tricky question to their opponent to try and move ahead in the game. However the move comes with a risk, if the opponent gets the answer right the opponent gets to move forward and the player stays where they are. 
Trivial Pursuit 2000s is available now.
Sydney Unleashed is one of Australia's premier entertainment publications exploring the latest in lifestyle trends. From Sydney's finest restaurants, cafes and bars to the hottest in gadgets, products, and home entertainment, Sydney Unleashed is your one-stop lifestyle platform.