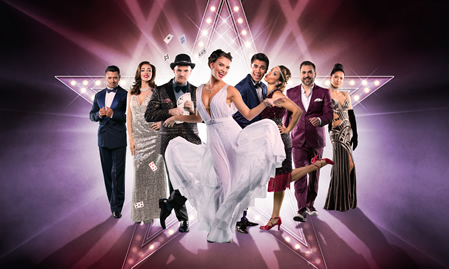 The Unbelievables arrive in Australia
A dazzling selection of the finest entertainers, cherry-picked from stages around the world will star in this summer's biggest show, The Unbelievables. The incredible cast includes; a Tony-Award winning ventriloquist, 4 times Guinness world-record quick-change artists, plus circus performers specialising in death defying aerials, acrobatics, knife-throwing, juggling as well as spell-binding magicians, comedians, and world-class dancers.
The Unbelievables kicks off its national tour at the Sydney Opera House Concert Hall, 19-29 December, before travelling to the Arts Centre Melbourne 3-13 January and Crown Theatre Perth 18-28 January 2018. The show of the summer will be filled with the same belly-laughs and heart-stopping thrills and spills audiences have come to expect from the producers and director of the international hits The Illusionists and Circus 1903.
Director Neil Dorward said "We know what audiences want with a summer spectacular, they want pure entertainment. We have a long history of creating astonishing and entertaining stage shows, so we knew we had to travel the world to find the very best talent to create something truly unique. The cast we've assembled for The Unbelievables all bring something, unmissable and unlike anything audiences have seen before."
Meet The Unbelievables:
Harrison Greenbaum – The Comic
Described by Time Out New York as "the hardest working man in comedy", Harrison Greenbaum is one of the most in-demand comics in the United States and performs more than 600 shows a year. A New York Comedy Festival & Shorty Award Winner, its Harrison's quick wit, which makes him the perfect master of ceremonies for The Unbelievables. Hecklers beware!
Sos and Victoria Petrosyan – The Transformationalists
Sos and Victoria are a husband a wife act like no other! This award winning duo combine fashion, stage-craft and sleight-of-hand to dazzle audiences all over the world. The remarkable couple hold four Guinness World Records in High-Speed Costume Change Illusions (the fastest 16 costumes in 120 seconds!), in addition to their two Merlin Awards and a variety of international accolades. This couple are world famous masters of quick couture and will leave you breathless with a flick of their wrists.
Shin Lim – The Virtuoso
Shin Lim is the Reigning World FISM Champion for Close Up Magic and a self-proclaimed "Sleight-of-Hand Artist". He has been awarded by the International Federation of Magic Societies, International Brotherhood of Magicians and IBM Close Up Magician of the Year. His Mind boggling finger moves have confused even the pros in the industry, Shin has appeared twice on Penn and Teller: Fool Us, in the U.S., a segment with over 47 million views on YouTube, and managed to completely stump the professional magicians with the tricks he performed, both times.
Artem Lyubane – The Titan
Artem Lyubane is known the world over for his strength and power. As one of the world's top aerial gymnasts his prowess on the flying swing pole is the stuff of legend. Combining strength, flexibility endurance dance and gymnastics Artem's show stopping performances see him lift and contort himself on a sometimes stationary, sometimes moving apparatus suspended 20 feet in the air – the highest aerial act ever performed in the Sydney Opera House Concert Hall.
Brett Loudermilk – The Blademaster
One of the youngest professional sword swallowers in the world and dubbed a "master showman" by Neil Patrick Harris, Brett Loudermilk has performed in over 20 countries and shared the stage with everyone from Perez Hilton to Snoop Dogg and Penn and Teller. An expert on the history of magic and sideshow performance, Loudermilk regularly showcases his skills at L.A.'s world renowned Magic Castle and has performed at The Montreal Comedy Festival, Kids Choice Awards and at Speigelworld's Vegas Nocturne in Las Vegas.
Julia Kurkina – The Artist
Whilst studying various graphic techniques like watercolour painting, engraving and ink drawing Julia became fascinated by the vivacity, flow and complexity of creating art with sand. In 2012 Julia joined the studio of sand animation in Kharkov, Ukraine and began spending 24 hours per day perfecting the craft of sand drawing. Today she's world renowned, her sand drawing videos have gone viral online and she's performed all over the world.
Jay Johnson – The Ventriloquist
Tony Award Winner Jay Johnson is a one-man duet who has perfected his craft over 30 years of performing and delighting audiences. To date Jay has hosted three comedy specials, produced and performed in two network television specials, two HBO specials, hundreds of guest appearances and starred in four television series. However extensive his television credits are don't compare to the thrill of seeing him perform live on stage. His one man show "Jay Johnson: The Two and Only" opened on Broadway to rave reviews and won him the American Theatre Wing TONY Award for "Best Theatrical Event" for 2007.
Alfredo and Anna Silva – Deadly Games
America's Got Talent finalists' Alfredo and Anna Silva are a daring and deadly husband and wife duo. Alfredo is a sixth-generation circus performer who has studied magic and juggling during his career. In the end however, he fell in love with the most dangerous of performing arts: Knife-throwing. Anna, originally from Russia, is a professional ballerina who in 2009 combined her love of dance with Alfredo's dangerous passion, and Deadly Games was born. After wowing the judges as semi-finalists on 2016's America's Got Talent, the duo now bring their heart stopping routine to the stage in The Unbelievables.
Robert Karlos – The Dexterous Dynamo
Robert Karlos is a fast, furious and dexterously skilled speed juggler from Mexico. The 27 year old is a fourth generation juggler and has been honing his craft since the age of 15. His skills are so mind blowing he sometimes juggles without using his hands, which is one of the ways he impressed all four judges on 2016's Britain's Got Talent.
Aleksandra Kiedrowicz – The Floating Phenom
As the winner of "Got Talent" Poland in 2015, Aleksandra Kiedrowicz is one of the most sought after aerial performers in the world. Soloing on 4 continents and in 21 different countries, Aleksandra combines elegant gymnastics with emotion as she hangs high over the heads of the audience, floating in a clear sphere.
Alan Pagnota and Rafael Ferreira – Dupla Mão na Roda
Alan and Rafael use the time-honoured circus art of hand balance as the basis of their performances. Rafael was born with a pathology called Congenital Arthrogryposis and although he has needed a wheelchair throughout his entire life, this has never prevented him from becoming a gifted artist. Alan is a talented performer who perfected the art of clowning by touring with the Blue Man Group and performing on Broadway for many years. Together they combine Alan's incredible upper body strength with Rafael's muscle control to create a performance of playful poetry with their bodies.
Ballroom Dancers
The Unbelievables also features incredible ballroom performances by a troupe of top professional dancers from Australia and the around the world. Included in this line up are Singapore International Latin champion Jarryd Byrne, 2007 Dancing with the Stars winner Criag Monley, Australian Latin Dancesport Champion Sirani Argaet, 2015 Adult Open Ballroom champion Andrew Nolo and So You Think You Can Dance Ukraine super finalist Kateryna Klishna.
Music
The entire show spectacular also features live music throughout from an incredible swing band lead by Matt Cusson. Cusson is no stranger to entertaining large crowds having performed on The Tonight Show with Jay Leno, The View and during the live broadcast of the star studded Christmas in Rockefeller Center special. With a strictly limited season don't miss the chance to witness the world's most truly unbelievable experience!
SYDNEY: 19 – 29 December 2017
WHERE: Concert Hall, Sydney Opera House
MELBOURNE: 3 – 13 January 2018
WHERE: Hamer Hall, Arts Centre Melbourne
PERTH: 18 – 28 January 2018
WHERE: Crown Theatre Perth
Sydney Unleashed is one of Australia's premier entertainment publications exploring the latest in lifestyle trends. From Sydney's finest restaurants, cafes and bars to the hottest in gadgets, products, and home entertainment, Sydney Unleashed is your one-stop lifestyle platform.