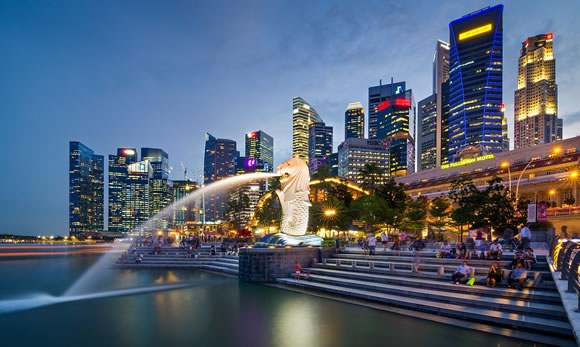 What To Do In Singapore: Travel & Nightlife
Checking out of your hotel during your Singapore holidays, with eight hours (or less) to spare before you head to the airport?
If you're a guest at PARKROYAL on Pickering, you can leave your luggage for safekeeping after you check out, so that you can continue, unfettered by baggage, on your Singapore explorations.
As for where you should spend these precious hours, we've got three suggested itineraries for you, all within easy reach of PARKROYAL on Pickering. Simply select one and be on your way!
1. History and Tradition in Chinatown
Nanyang Old Coffee
Address: 268 South Bridge Road, Singapore 058817
Telephone number: +65 6221 6973
Opening hours: 7.00am to 9.45pm daily
Singapore Musical Box Museum
Address: 168 Telok Ayer Street, Singapore 068619
Telephone number: +65 6221 0102
Opening hours: 10.00am to 6.00pm (closed on Tuesdays)
Peranakan Tiles Gallery
Address: 168 Telok Ayer Street, Singapore 068619
Telephone number: +65 6684 8600
Opening hours: 12.00pm to 5.00pm daily
Chong Wen Ge Cafe
Address: 168 Telok Ayer Street, Singapore 068619
Telephone number: +65 9099 3535
Opening hours: 11.00am to 5.30pm daily
Chinatown Heritage Centre
Address: 48 Pagoda Street, Singapore 059207
Telephone number: +65 6224 3928
Opening hours: 9.00am to 8.00pm daily
For breakfast, take a two-minute walk to Nanyang Old Coffee, where you can enjoy toast and your morning cuppa, Singapore-style.
In Singapore, traditional coffee beans (usually Robusta beans, or a blend of Robusta and Arabica) are wok-roasted with caramel sugar and butter, before being ground and brewed the old-fashioned way—with a cotton strainer in pots that resemble watering cans. It's not fancy, but many locals would swear that such coffee is superior to the espresso-style versions.
Post-breakfast, pop in next door to view the vintage paraphernalia at Nanyang Old Coffee's mini museum. If you need to purchase a last-minute souvenir, head directly across Smith Street to Kele, a favourite place for Singaporeans to pick up their pineapple tarts, especially during the Chinese New Year. (If you happen to be shopping at VivoCity, near the HarbourFront MRT station, Kele's melt-in-the-mouth creamy roll cakes are also worth a try!)
Next, walk to the Chong Wen Ge heritage building, which houses two hidden gem museums and a cafe.
Book a 40-minute guided tour at the Singapore Musical Box Museum, to see a demonstration of how vintage music boxes work, and learn about their place in global culture and history.
Indulge in more nostalgia when you visit the Peranakan Tiles Gallery. Here, you can admire 20,000 ornately designed tiles on display—these include heritage tiles salvaged from demolished shophouses, as well as replica tiles.
Your visit's not complete until you enjoy an authentic Peranakan meal at the adjoining Chong Wen Ge cafe. It's your chance to try Nyonya mee siam (rice vermicelli dish), laksa (rice noodles served in curry), or Nyonya kueh (cake) if you haven't yet had the opportunity.
If you still have time, the Chinatown Heritage Centre is also in the vicinity, and it's here that you can experience what life in the area used to be like for Singapore's early settlers, who not only carried out backbreaking work, but often had to share resources and very limited space.
2. Surprise Finds in City Hall
Battlebox
Address: 2 Cox Terrace, Singapore 179622
Telephone number: +65 6338 6133
Opening hours: 9.30am to 5.30pm daily
Tim Ho Wan
Address: 68 Orchard Road, Singapore 238839
Telephone number: +65 6251 2000
Opening hours: Monday to Friday: 10.00am to 10.00pm
Saturday to Sunday: 9.00am to 10.00pm
Bras Basah Complex
Address: 231 Bain Street, Singapore 180231
Telephone number: +65 9111 3257
Opening hours: Monday to Thursday: 10.00am to 7.00pm
Friday to Sunday: 10.00am to 9.00pm
Just a train stop away (via Raffles Place MRT station) is City Hall, where life in modern Singapore began. Most of Singapore's best museums, such as the National Museum and the National Gallery, are located in this area.
However, if you are pressed for time, consider devoting your energies to a smaller specialty museum such as the Battlebox. This rustic attraction was named the country's top museum in the TripAdvisor Travellers' Choice awards last year.
Built in 1936, Battlebox was a former World War 2 British underground command centre, located on Singapore's Fort Canning Hill. The command centre was utilised by the famed Malaya Command—the heroic army that defended Malaya and Singapore during World War 2. It was inside the Battlebox that the British made the decision to surrender Singapore to the invading Japanese on 15 February 1942.
Entry to the Battlebox is strictly by guided tour only, and it's a great way to learn about the fall of Malaya and Singapore during the war. Discover what truly went on inside this underground bunker, which is nine metres (three storeys) below the ground.
Food options are aplenty at the nearest mall, Plaza Singapura. This includes a Singapore branch of the Tim Ho Wan chain, which is known worldwide for its "good and cheap Michelin dim sum [Chinese small dishes]".
To get a sense of what the local malls of yesteryear might have looked like, take a longer walk to the Bras Basah Complex. Known as the "City of Books" for its numerous bookstores, the decades-old complex houses shops like Popular (Singapore's largest bookstore chain), Basheer Graphic Books (a favourite haunt for designers and art students), and Evernew Book Store (a treasure trove of pre-loved titles).
3. Architecture and Art in Bugis
The Parkview Museum
Address: 600 North Bridge Road, Parkview Square, Level 3 Singapore 188778
Telephone number: +65 6799 6971
Opening hours: Monday to Saturday: 12.00pm to 7.00pm
Singapore Zam Zam
Address: 697-699 North Bridge Road, Singapore 198675
Telephone number: +65 6298 6320
Opening hours: 7.00am to 11.00pm daily
Thyme @ Aliwal (formerly EatPlayLove Cafe)
Address: 28 Aliwal Street, Aliwal Arts Centre, #01-07, Singapore 199918
Telephone number: +65 6444 6400
Opening hours: Monday, Wednesday, Thursday, Sunday: 11.30am to 9.00pm
Friday to Saturday: 11.30am to 10.00pm
Ask any 20 or 30-something Singaporean what Singapore's most distinctive building is, and there's a good chance they'll direct you to Parkview Square. It's also known as the "Gotham building of Bugis," because—to many Singaporeans—such buildings belong in the realm of movies such as Batman. In reality, the building was inspired by the Chanin Building in New York City, and designed in the Art Deco style.
Here's how to recognise an Art Deco building: such buildings often have a stepped outline, along with a strong vertical emphasis—in other words, all the elements point upwards. Look out too for decorative pieces, especially near the top of the building. In the case of Parkview Square, you'll notice the gigantic fibreglass statues of men holding light balls (eight in total) at the building's crown.
While Parkview Square is primarily an office building, you can spend some quiet time in the open plaza gazing at bronze sculptures of the world's notable figures—Plato, Dante, and Isaac Newton to name a few. Alternatively, enjoy free entry to The Parkview Museum on the third floor of the building, which hosts art exhibitions.
Next, walk over to the nearby Kampong Glam district. Apart from being a district rich in Malay heritage, it's also one of the best places in Singapore for street art spotting—a great activity if you're looking for things to do in Singapore on a budget.
Along the way, look out for the Vintage Camera Museum, which is your chance to step into a camera-shaped building to view cameras from bygone eras. Exhibits range from a six-metre long Mammoth Camera to tiny cameras that were attached to pigeons during World Wars 1 and 2—the precursor to today's drones.
There's too much good food to sample in the Kampong Glam district, but if you need a place to begin, Indian-Muslim restaurant Singapore Zam Zam is popular with the locals, particularly for its murtabak (stuffed pancake). If you're travelling with children or simply have creative energy to expend, Thyme@Aliwal is where you can buy a craft set to work on as you eat.
Prefer to stay indoors? You can continue to use the facilities at PARKROYAL on Pickering, even after you check out. Work out at the gym, take a relaxing dip in the outdoor infinity pool, or pamper yourself with a massage or alternative healing treatment at St. Gregory Spa. Or if you have time for a meal indulgence, check out the new vegan offerings at the in-house Lime Restaurant! For more travel advice, click here.
Sydney Unleashed is one of Australia's premier entertainment publications exploring the latest in lifestyle trends. From Sydney's finest restaurants, cafes and bars to the hottest in gadgets, products, and home entertainment, Sydney Unleashed is your one-stop lifestyle platform.