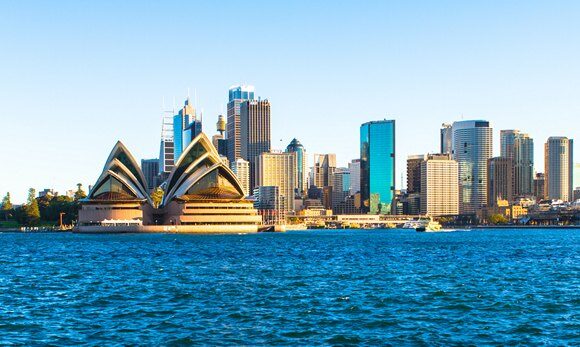 What Are the Best Places in Australia to Live In
Australia is a land like no other. It's a continent filled with natural wonders and an incredible variety of flora and fauna. From the ocean, through the white, sandy beaches and to the majestic mountains, it lets you witness sounds and sights that you won't find anywhere else. It's also full of contrasts, a place where vibrant and busy cities clash with the rough outback towns with tight-knit communities. Lush rainforests contrast with dry deserts that can stretch for hundreds of kilometres.
With so much to offer, the land Down Under is easy to fall in love with, but because of how diverse it is, those who are thinking about relocating might stand before a hard choice. Most of Australia's biggest cities have a great reputation in terms of quality of life. In Sydney, there are plenty of well-paid job opportunities, but housing is quite pricey. Melbourne is a great city for young people, while Perth is famed for the engaging social scene. But what about places such as Adelaide, Brisbane, or the country's capital city, Canberra? And what if you're looking for a more rural place to escape the hustle and bustle of metropolitan life?
Check out our guide full of information about the best places that you too can call home in Australia.
Canberra
Home to the Australian Parliament, Canberra is Australia's capital and its seventh most populous city. Because of its government-related industry, Canberra's unemployment rate is consistently lower than in most other state capitals, and the city is known for a high standard of living. Built around a man-made lake called Lake Burley Griffin, Canberra is often praised for a good standard of schooling and lots of opportunities for young people in terms of pursuing further education.
There are many green spaces, including the Canberra Nature Park and Namadgi National Park. Arts and education enthusiasts will find pleasure in visiting The National Gallery of Australia, the National Library, and the National Museum, which are among Canberra's best-known landmarks. The city also has plenty of excellent restaurants, cafes and bars to enjoy.
However, you might want to check your credit score before moving, as house prices tend to hover around $800,000, making the median dwelling value in Canberra second only to Sydney. In recent years, the city has been experiencing a shortage of affordable housing.
Canberra is a great option for people willing to move somewhere that's modern and vibrant but still has a small-town vibe. It's an excellent choice for those who want to be close to nature but don't mind living in a house or apartment shared with others.
Perth
Perth is Western Australia's capital, and it has around 2 million residents, making it the state's most populous city. It boasts excellent weather all year round, and its inhabitants have one of the highest standards of living in Australia because of its booming economy.
Some of the largest mining companies in the world have headquarters in Perth. There are plenty of job opportunities here, and many young people come to study at Curtin University or Murdoch University, which are both among the best universities in Australia. It is a brilliant choice if you want to kick start your career or improve your education.
The median house price sits at about $885,000, which means that it is much more expensive than the rest of Western Australia's median house price of $495,000, but still, it's much more affordable than other major cities like Sydney and Melbourne. This is a great place for anyone who wants to work hard and earn money in a bustling city that offers plenty of employment opportunities and activities outside working hours.
Adelaide
With its glorious beaches and clean air, Adelaide is one of the most liveable cities in the world. It is home to around 1.3 million people and the second most populated city in the country. The city's excellent beachfront location makes it popular among families, while its proximity to other places such as Kangaroo Island, the Fleurieu Peninsula, and the Murray River makes it a superb location for outdoorsy individuals.
In terms of quality of life, Adelaide is one of the best places in Australia, coming in second place after Canberra. It's a city full of friendly locals who will welcome newcomers with open arms. Thanks to its growing economy, there are plenty of job opportunities here, too. Many companies have set up bases in Adelaide, thus creating lots of jobs.
Adelaide is up to 14% more affordable to live in than other major Australian cities, and, to make things even better, it boasts the lowest average rent in the country. Prices of food and public transportation are also pretty sensible, so that if you decide to move there, you'll be able to afford more of the wonderful lifestyle that Australia offers.
Brisbane
The third most populous city in Australia is Brisbane, a great place for anyone looking for work or fun. Its central location means that it's a mere two-hour drive from some of the country's most beautiful beaches and rainforests. It is quite affordable and offers plenty of job opportunities thanks to its booming economy.
The population is young and students who come here will find plenty of universities to choose from, including Queensland University of Technology and Griffith University, which rank high on the list of the country's top universities. Brisbane is a liveable city with glorious weather (280 days of sun a year!), vibrant green spaces, lots of lively bars and restaurants, world-class galleries and premier events.
Bendigo
If you're looking for a laid-back lifestyle with plenty of nature on your doorstep, then Bendigo could be just what you're looking for. It has many historic buildings, including churches and theatres that add an extra dimension to its charm. It's also full of narrow cobbled streets filled with cafes and restaurants close by.
There are plenty of outdoor activities, including great golf courses nearby as well as bushwalking in some beautiful parks around the city like Lake Weeroona, which has walking tracks running through it. If you prefer indoor activities, then Bendigo's offer includes places such as Bendigo Art Gallery with regular art exhibitions featuring local artists.
Bendigo is a wonderful rural city located relatively close to Melbourne (around 150 kilometres). It's filled with beautiful buildings, parks and is known for significantly lower housing prices than Melbourne.
Sydney
Sydney is one of the most popular places in Australia to live in for several reasons. First, it's the country's biggest city, and a highly regarded financial centre. Then, there are also the marvellous beaches, including the famous Bondi Beach, beautiful parks and amazing, world-class restaurants.
While housing is quite expensive here, Sydney still offers great value for money when it comes to the overall quality of life. It's also one of the most multicultural cities on the planet, and you can enjoy everything from Aboriginal ceremonies to Chinese festivals. Also, Sydney attracts a lot of expats thanks to its large community of international schools and colleges.
Melbourne
Australia's second-biggest city is also a vibrant and multicultural place with plenty of things to do. It's home to students from all over the world, thanks to its reputation as home to some of the country's top universities.
The city has a truly cosmopolitan feel, with so many restaurants to choose from that it's hard to select just one! It's a vibrant, youthful city with lots of great festivals, countless music venues and excellent nightlife. It's also famous for its coffee shops, the best in the country, where you can enjoy a cup of freshly brewed coffee. The other good news is that the cost of living in Melbourne is almost 5% less than the cost of living in Sydney.
Final Word
Australia is a country like no other, and whether you want to live near the beach or be surrounded by culture and history, there's something for everyone here. It boasts plenty of safe and prosperous cities, and moving to one of the places mentioned above could be a splendid choice if you want to experience life in truly unique, vibrant and full of life communities. Whether you want to live in the city or prefer a more relaxed, rural lifestyle, there's sure to be an Australian destination that's perfect for you.
Sydney Unleashed is one of Australia's premier entertainment publications exploring the latest in lifestyle trends. From Sydney's finest restaurants, cafes and bars to the hottest in gadgets, products, and home entertainment, Sydney Unleashed is your one-stop lifestyle platform.