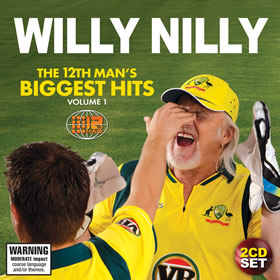 WILLY NILLY: The 12th Man's Biggest Hits
"Oh no! it's one of those willy nilly high fives!" Those were the words Shane Warne used on TV to describe an incident involving Aussie wicketkeeper Brad Haddin during a recent cricket match in India.  Haddin was on the receiving end of a clumsy, mistimed high five from a team mate, and copped a handful of fingers straight in the eyes. Way back in 1990, on his album "12th Man Again", The 12th Man, (Billy Birmingham) had created just such a farcical scenario and Warne's use of the term "willy nilly" was a direct quote from the script of that recording.  The Haddin incident created headlines all around the sporting world, and, for Birmingham, who was putting the finishing touches to his "Biggest Hits" album, "Willy Nilly" seemed like a perfect title for the new release.
"Willy Nilly….The 12th Man's Biggest Hits (Vol. 1)" is a double album collection that marks the 12th Man's debut album for his new record label, Universal Music. Of the new 12th Man signing, President Universal Music Asia Pacific George Ash said. "The 12th Man is the only Australian recording artist ever to have seven consecutive #1 albums, a milestone which has been recognised with numerous ARIA awards and nominations over the years, including his 1995 ARIA win for Highest Selling Album Of The Year.  I am both proud and personally in awe of his original creative talent and when you meet a 12th man fan, you know what an impact Billy has had on Australian culture. A true legend returns with a collection of absolute genius. He is a great man… we love him to bits."
Birmingham says he is very excited to be working with the Universal team for the very first time, having spent his entire 30 year recording career to date with EMI music, where the 12th Man enjoyed his history making run of successful album and single releases. "I've got a good feeling about Universal", said Birmingham. "The first half a dozen people I've met in the company are what you might call 12th Man tragics, and it's a real treat to be dealing with people who genuinely like your stuff and can all do a pretty good Richie Benaud voice."
Where else but in Australia, Birmingham has often asked, could a spoken-word, sports piss-taking comedy artist spend nearly three decades at the top of the charts, right alongside the Barneseys, Farnseys, Kylies, Oils, Madonnas, Chisels, U2s and other international music royalty. The 12th Man's much loved comedy masterpieces have mainly focused on cricketing and commentating legend Richie Benaud and his fellow Channel Nine cricket commentators,  but his 'Wired World of Sports' albums also feature a menagerie of sports presenters and sportspeople from around the globe.  Into their collective mouths, Birmingham has put words their mothers would probably have washed out with soap, as well as quips, comments, twists, stumbles, asides and observations that a commentator would never, ever dream of unleashing anywhere near a microphone. Such has the 12th Man cult become over the years that many of his most inspiring utterances have become part of the language. Kids hurl them across playgrounds, adults across workplaces and sporting fields.
And so, for his many fans, old and new, here is the long awaited, much anticipated double album collection of some of his most memorable moments: "Willy Nilly…The 12th Man's Biggest Hits (Vol.1)"
From the legendary scenes featuring Bill and Tony going at each other in the commentary box, to the outrageous Player Comfort measuring device called the 'scrotometer,' to Big Merv's Big Guts, to Johnny Tapp exploding, Bill Lawry's nose surgery, Kerry Packer from heaven, in bed with the Benauds and so many more. And, of course, the scene where a player suffers a horrible injury after his team mate throws a high five 'willy nilly' and misses, and gets him straight in the eye. With The 12th Man having predicted the perils of throwing 'willy nilly' high fives way back in 1990, and, after seeing the identical scenario play out for real recently when Brad Haddin copped that eyeful from a team mate, Birmingham figured he just had to call the new album "Willy Nilly….The 12th Man's Biggest Hits" and he has cheekily re-created the recent Haddin episode on the album's front cover, injecting himself into the famous photo of course!! The album's back cover also looks eerily similar to the picture of Richie's recent prang in his beloved Sunbeam.
So, if you're a bit of a 12th Man fan (or you know a 12th Man fan), and you feel like taking a funny, nostalgic little trip back through the years, remembering where you were and how old you were when each new 12th Man album came out, recalling your favourite lines from each record and which voice you could do the best, then you're really going to enjoy the hilarious new album… Its over two hours of classic 12th Man silliness and chaos, in delicious, bite-size pieces and is the ideal Christmas gift for 12th Man fans and comedy fans everywhere.
ALBUM 1 – Track listing
1.    Classic Commentary Competition
2.    England v India (1987- 88)
3.    Chappelli's Plays of the Month
4.    Big Merv's Big Guts
5.    Rick Diznek
6.    Pearce off Jack
7.    Straight Down his Throat
8.    Marvellous 1990
9.    Tappy…..Boom!
10.   Australia v Sri Lanka 1991
11.   Richie's Nightmare
12.   Name Pronunciation Lessons
13.   "Bear" at the Sports Desk
14.   Boony's Player Comfort
15.   Protectorcam
16.   England v Sri Lanka 1999
17.   Corm Down Bull
ALBUM 2 – Track listing
1.    Commentary Box Hijack
2.    SPATFA
3.    Scrotometers
4.    Crackcam Says……Gawn!
5.    Bill's Proboscotomy
6.    Max and Rabs Auditions
7.    Bill Lawry….Tributes
8.    Tony's Hair Hat
9.    Reg Warren and Tommy Raudonikis
10.   Tubby and Hansie
11.   Henri Porte
12.   Bill's Nose Job
13.   Bruce 2000
14.   Boned By Phone
15.   Kerry's Heavenly Advice
16.   Bill v Tony 2006
WILLY NILLY: The 12th Man's Biggest Hits is out now.
Sydney Unleashed is one of Australia's premier entertainment publications exploring the latest in lifestyle trends. From Sydney's finest restaurants, cafes and bars to the hottest in gadgets, products, and home entertainment, Sydney Unleashed is your one-stop lifestyle platform.